Vol 9 No 1. Sunday, January 6, 2019: Happy New Year and welcome to 2019! From upcoming events both this month and next, new local and regional conventions, some long-omitted news, and even a few new books, here's what's happening as far as I know:
RECENT NEWS
Obviously I'm omitting dozens and dozens of things since last February, from piles of new books to additional awards news and so very, very many story publications. But to get a new newsletter out for the first time in so long, some short cuts were taken; my apologies for that.
Gail Z. Martin's Scourge was named the winner of the 2018 Manly Wade Wellman Award for North Carolina Science Fiction and Fantasy.
The novel is Martin's 7th nomination for and first win of the Manly Wade Wellman Award, having had at least one novel named as a finalist in each of the award's first five years.
Speaking of the Wellman, if you're inclined to look ahead to the 2019 award season, which gets underway in a week at illogiCon, you could do worse than starting with my Indy Week article running down the best of 2018 in speculative fiction from the Triangle area; and what amounts to a sneak preview of the eligible titles list is available at this Goodreads shelf.
Speaking of 2019, there's another Goodreads shelf for the upcoming year in NC speculative fiction as well, with the caveat being that neither of these novel (and long novella) lists includes collections. So, for that, see (from 2018) A Betrayal and Other Stories by Brian Biswas and (for 2019) The Atlas of Hell: And Other Stories by Nathan Ballingrud.
New NC sf conventions launching in 2019 include the Bull City Robotic Rodeo (in Durham, Feb 1-3), Con-Tagion (in Charlotte, Feb 9), and FantaSci (in Raleigh, Mar 22-24). Meanwhile, illogiCon returns for its 8th year at a new location (near RDU, Jan 11-13), the NC Book Festival re-launches (in Raleigh, Feb 21-24), and ConCarolinas plays host once again to DeepSouthCon (in Charlotte, May 31-June 2).
Upcoming readings on the calendar include Robin Kirk (for The Bond at The Regulator, Jan 8), Holly Black (in conversation with Renee Ahdieh at the Chapel Hill Library, Jan 10), M.K. England (for The Disasters at Flyleaf Books, Jan 19), Jasper Fforde (for Early Riser at Quail Ridge Books, Feb 19), Brian Biswas (for A Betrayal and Other Stories at Dog-Eared Books, Mar 9), and the legendary Samuel R. "Chip" Delany (at Duke University, Apr 4).
Writers! Registration is open for two events at Wofford College in Spartanburg, SC. The first, for teens, is Shared Worlds which runs July 14-27, where visiting authors include Charlie Jane Anders, Gwenda Bond, John Chu, Julia Elliot, Hiromi Goto, Ekaterina Sedia, and Leah Thomas, with editor-in-residence Ann VanderMeer and camp co-directors Jeremy L.C. Jones and Jeff VanderMeer. For the grown-ups, during the middle weekend July 19-21, Hub City Writers Project hosts the 20th annual Writing in Place Conference, 3 days of workshops and readings with Therese Ann Fowler, Nickole Brown, Tessa Fontaine, Emily Pease, and Jessica Jacobs.
RECENT BOOKS
Though the new year is incredibly young, there are already two new books out from local authors, and one very late last year:
Finders by Melissa Scott (Candlemark & Gleam, December 10) kicks off a mythic space opera trilogy. "Set in a fully imagined universe with vividly delineated protagonists, the novel is a seamless fusion of adventure, myth, and science so advanced as to have become magic—a bold, original re-imagining of the tales of Prometheus, Pandora, and the Titans. Those who read The Other Half of the Sky may recall meeting the protagonists in "Finders" and two powerful presences mentioned in Finders are shown in "Firstborn, Lastborn", included in To Shape the Dark."
The Storm by David Drake (Baen, Jan 1) continues his far, far-future Arthurian retelling begun with 2018's The Spark. "A young Champion must rescue a friend and battle an enemy at the heart of a chaotic world. The universe has shattered into chaos and monsters. Jon, the Leader, is dedicating his life to reuniting the scattered hamlets into a Commonwealth where all humans can live protected against the darkness and the things that live in that darkness. But no man can reshape the universe by himself. Jon has Makers to build weapons and clerks to handle the business of government—but he also needs Champions to face the powers of chaos which will not listen to any argument but force. Lord Pal of Beune is one of those Champions. He has fought monsters and evil on behalf of Mankind, and he will fight them again. But now Guntram, the man who transformed Pal from an ignorant rube into a bulwark of the Commonwealth, has disappeared. Pal must locate his friend and mentor—and then he must battle an entity which may be at the core of the splintered universe."
A Fall in Autumn by Michael G. Williams (Falstaff, Jan 1) welcomes readers to "the last of the great flying cities. It's 9172, YE (Year of the Empire), and the future has forgotten its past. Soaring miles over the Earth, Autumn, the sole surviving flying city, is filled to the brim with the manifold forms of humankind: from Human Plus "floor models" to the oppressed and disfranchised underclasses doing their dirty work and every imaginable variation between. Valerius Bakhoum is a washed-up private eye and street hustler scraping by in Autumn. Late on his rent, fetishized and reviled for his imperfect genetics, stuck in the quicksand of his own heritage, Valerius is trying desperately to wrap up his too-short life when a mythical relic of humanity's fog-shrouded past walks in and hires him to do one last job. What starts out as Valerius just taking a stranger's money quickly turns into the biggest and most dangerous mystery he's ever tried to crack – and Valerius is running out of time to solve it.
UPCOMING EVENTS, JANUARY 2019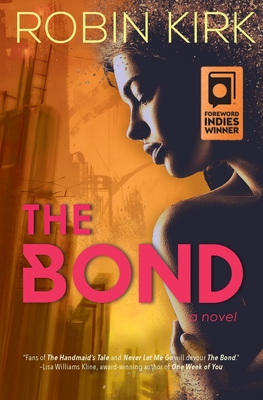 8 (Tue) 7 pm — The Regulator hosts ROBIN KIRK, "The Bond" (BOOK LAUNCH!) "The first volume in a young-adult fantasy trilogy. Dinitra believes the Sower who engineered her made a mistake. She only finds joy after she's drafted into the Legion to train a mutant battle dog called 12. Dinitra and 12 will help in the final battle for their home, the Weave. They'll destroy the rebels who stand in the way of the Weave's ultimate goal: a world without males."
10 (Thu) 6 pm — Flyleaf Books presents Holly Black in conversation with Renée Ahdieh at the Chapel Hill Public Library for Black's new novel The Wicked King. "Jude was seven years old when her parents were murdered and she and her two sisters were stolen away to live in the treacherous High Court of Faerie. Ten years later, Jude wants nothing more than to belong there, despite her mortality. But many of the fey despise humans. Especially Prince Cardan, the youngest and wickedest son of the High King."
11-13 (Fri-Sun) — illogiCon viii at the Embassy Suites and Hampton Inn at the Raleigh-Durham Airport/Brier Creek. Note the location change this year! The 2019 guests of honor are author, editor, and journalist Annalee Newitz (Autonomous) and scholar-artist, young adult author, and geektivist Tracy Deonn Walker (Descendants).
NEW: 19 (Sat) 1 pm — Dog-Eared Books hosts Jorge Cortese Book Signing. "J. D. Cortese is an award-winning scientist and educator, and he received the literary award sponsored by The Writers' Workshop of Asheville. He writes science fiction that echoes magical realism, obsessing about the nature of our humanity, the force of fate, and the passage of time. After generously pinning a world map, he settled in North Carolina's Durham. But memories of Buenos Aires, New York, Shanghai, and Paris haunt his stories—even those set in distant futures. He is the Durham Representative of the North Carolina Writers' Network."
19 (Sat) 2 pm — Flyleaf Books hosts Meet & Greet with M.K. England, author of the YA novel, The Disasters. "The Breakfast Club meets Guardians of the Galaxy in this YA sci-fi adventure by debut author M. K. England. Hotshot pilot Nax Hall has a history of making poor life choices. So it's not exactly a surprise when he's kicked out of the elite Ellis Station Academy in less than twenty-four hours."
FEBRUARY 2019
1-3 (Fri-Sat) — The Bull City Robotic Rodeo at the Durham Convention Center. "The creators of the Festival of Legends bring The Wild West-that-Never-Was to Durham, NC this February! Mechanical bull rides, escape rooms, lazer-pistol slinging showdowns, bull whip workshops, saloon girl Can-Cans, and more! Grab your cyber-spurs, saddle-up that iron horse, and hold on for one wild ride."
NEW: 2 (Saturday) 10 am to 9 pm — 2019 Carolina Games Summit at The Maxwell Center in Goldsboro. "This year's hybrid festival will again deliver industry speakers, video game tournaments, exhibition booths, live bands, and educational sessions. Meet gamers from all over the country and trade winning strategies. Enjoy all your favorite platforms including arcade, computer, console, mobile, and VR, with both tournament and free play options available. The entire family can enjoy a day filled with learning and fun as you explore all that the video game industry has to offer. Learn how games are created or how to break into the industry from actual game designers. Explore the available education and career opportunities by speaking one on one with schools and universities. Tickets are just $15 and can be purchased online now."
9 (Sat) 10 am to 5 pm — New sf convention Con-Tagion in Charlotte at the Queens University Sports Complex at 2229 Tyvola Road. "A creative convention for art and media skills. Catch it! Create it!"
19 (Tue) 7 pm — Quail Ridge Books hosts Jasper Fforde – 'Early Riser'. "Every Winter, the human population hibernates. During those bitterly cold four months, the nation is a snow-draped landscape of desolate loneliness, devoid of human activity. Well, not quite. Your name is Charlie Worthing and it's your first season with the Winter Consuls, the committed but mildly unhinged group of misfits who are responsible for ensuring the hibernatory safe passage of the sleeping masses. You are investigating an outbreak of viral dreams which you dismiss as nonsense; nothing more than a quirky artefact borne of the sleeping mind. When the dreams start to kill people, it's unsettling. When you get the dreams too, it's weird. When they start to come true, you begin to doubt your sanity. But teasing truth from the Winter is never easy: You have to avoid the Villains and their penchant for murder, kidnapping, and stamp collecting, ensure you aren't eaten by Nightwalkers, whose thirst for human flesh can only be satisfied by comfort food, and sidestep the increasingly less-than-mythical WinterVolk. But so long as you remember to wrap up warmly, you'll be fine."
21-24 (Thu-Sun) — North Carolina Book Festival in Raleigh, across venues including CAM Raleigh, Crank Arm Brewing, HQ Raleigh, Kings, Neptune's Parlour, Quail Ridge Books, and NCSU's James B. Hunt Jr. Library.
MARCH 2019
9 (Sat) 1 pm — Dog-Eared Books (4027 Atlantic Ave, Raleigh) hosts
Brian Biswas Reading and Book Signing. "Brian Biswas has published over sixty short stories both in the U.S. and internationally. He has been nominated for a Pushcart Prize, anthologized in the Irreal Reader, had stories read on Australian Public Radio, and translated into Vietnamese. He is listed in the International Writers and Authors Who's Who, Marquis Who's Who, and the Internet Speculative Fiction Database. A Betrayal & Other Stories is his first book, a collection spanning nearly thirty years. Brian writes in a literary style known as magical realism which attempts to portray a slightly exaggerated but internally consistent view of reality. He also writes Gothic or neo-Gothic tales and straightforward science fiction, though often tinged with magical elements."
15-17 (Fri-Sun) — NC Comicon Raleigh at the Raleigh Convention Center.
22-24 (Fri-Sun) — New sf convention FantaSci at the Hilton DoubleTree RDU with guest of honor Timothy Zahn and special guests David Weber and Steve White.
APRIL 2019
NEW-NEW: 3 (Wed) 7:30 pm — The Regulator Bookshop hosts legendary science fiction author Samuel R. Delany (Dhalgren, Babel-17, Nova).
4 (Thu) 7 pm — Duke University hosts an interview with author Samuel R. Delany. "A novelist and critic who taught literature and creative writing at the University of Massachusetts and Temple University, Samuel R. Delany had won four Nebula Awards and a Hugo Award by the time he was 27. He was inducted into the Science Fiction Hall of Fame in 2002, by which time he'd also been chosen by the Lambda Literary Report as one of the 50 people who had done the most to change our view of gayness in the last half-century. In 2013, he was named the 31st Damon Knight Memorial Foundation Grand Master by the Science Fiction and Fantasy Writers of America."
13-14 (Sat-Sun) — The 8th Annual Festival of Legends: Tricksters at Optimist Farm in Apex. "The Festival of Legends is a celebration of the mythic arts and the magic of life itself. It is a playground for the imagination – for children as well as adults – and an escape from the mundane world. It is a journey to the romantic by-gone eras that never were, and an exploration of the fantastical realms that have always been. The inhabitants are magicians and musicians, acrobats and comedians, artists and crafters, proud knights and fairytale creatures. Step into the Festival of Legends, and step into a place of wonder. "
MAY 2019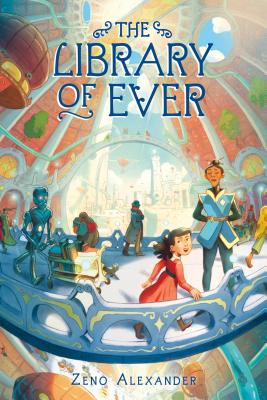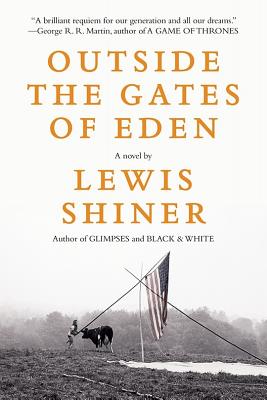 NEW-NEW: 4 (Sat) 4 pm — Celebrate with children's author ZENO ALEXANDER (aka Stephen Messer) at The Regulator on Saturday, May 4 at 4:00pm. We are hosting his launch party for THE LIBRARY OF EVERYTHING, his adventure novel for ages 8 and up.(I'm reading it now!)There will be catered snacks, books, and the mysterious Zeno Alexander will make an appearance!
NEW-NEW: 17 (Fri) 5 pm — Quail Ridge Books hosts Triangle Tolkienists Meetup – 'Beowulf' and 'The Monsters and the Critics'.
NEW: 18 (Sat) 1 pm — Dog-Eared Books hosts NC author Matthew Foster for Journal: One Man's Tale. "Being part man, and part beast wouldn't be easy for anyone, and such is the case for a young man who has his life stolen from him. After being bitten, and turned, Willem must learn to live out his life in ways no one could have every prepared him for. Love, life, heartache, and fear all become parts of his life in ways he couldn't have imagined. Deciding to put his memories on paper in order to try and quell the ghosts of all the people he has hurt in his long life. This stands as a volume in his story."
NEW-NEW: 21 (Tue) 7 pm — Flyleaf Books hosts Over 40 and Female Agency: Panel featuring Tammy Bird, Marina DelVecchio, and Valerie Nieman. Of particular note for science fiction readers is Nieman's new novel To The Bones, a near-future "satirical look at the coal industry's effects on Appalachia through the lenses of horror, tall tales, eco-justice thriller, and romance."
NEW-NEW: 23 (Thu) 7 pm — The Regulator hosts LEWIS SHINER ("one of the coolest writers in town") for a reading and signing of his new books Heroes and Villains and Outside the Gates of Eden. "What happened to the idealism of the 1960s? This question has haunted a generation. Using the music business as a window into half a century, Outside the Gates of Eden follows two men from their first meeting in high school to their final destination in the twenty-first century. From San Francisco to Woodstock, from campus protests to communes, from the Village to Austin's outlaw country music, Outside the Gates of Eden charts the rise and fall of the counterculture—and what came after."
31 (Fri) to (June) 2 — ConCarolinas (and DeepSouthCon 57) at the Hilton Charlotte University Place Hotel. Author guests of honor include Aaron Rosenberg and David Weber.
JULY 2019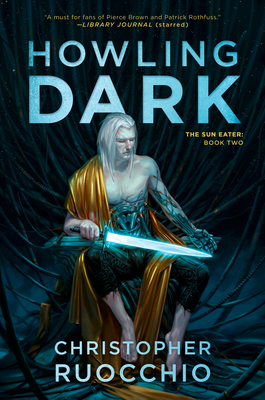 12-14 (Fri-Sun) — ConGregate 6 at the Red Lion Hotel in High Point. Featured guests include Eric Flint, Michael A. Stackpole, Valentine Wolfe, and Toni Weisskopf.
NEW-NEW: 17 (Wed) 7 pm — Quail Ridge Books hosts Christopher Ruocchio – 'Howling Dark', book 2 in Ruocchio's science fantasy Sun Eater trilogy. "Hadrian Marlowe is lost. For half a century, he has searched the farther suns for the lost planet of Vorgossos, hoping to find a way to contact the elusive alien Cielcin."
25-28 (Thu-Sun) — Raleigh Supercon at the Raleigh Convention Center.
END