Vol 11 No 1. Wednesday, January 11, 2023: OK, so, the past three years have been… something. (Understatement much?) As we navigate how to have in-person events again, there's a few of note this month, along with a year of conventions ahead, and plenty of books to read and talk about.
UPCOMING EVENTS, JANUARY 2023
11 (Wednesday) 8 pm — A virtual event ahead of MarsCon in Virginia Beach this weekend, Raleigh's own Madison Metricula Roberts hosts a "tailgate and preview" Facebook live stream which asks: "Excited for MarsCon? Join us Wednesday night to hear previews of the music, events, friends coming, and more!"
13 (Friday) 7 pm — Quail Ridge Books presents an off-site event at NC State's McKimmon Center, Leigh Bardugo | Hell Bent (OFF SITE). Alas, the event is sold out, but it's quite the keystone to kick off the in-person events calendar this year.
18 (Wednesday) 7 pm — Again at Quail Ridge Books, Culley Holderfield in conversation with Heather Bell Adams | Hemlock Hollow (In-store). Holderfield is a Durham author, and this "haunted cabin" novel is his debut.
19 (Thursday) 7 pm — He's baaaaaaack! Quail Ridge Books hosts Grady Hendrix | How to Sell a Haunted House (in store) as the oft-visiting author returns with his newest novel.
19 (Thursday) 5:30 pm (signing) / 6 pm (talk) — Flyleaf Books hosts Joanna "Jo" Sisk-Purvis presents THE WATCHERS, another debut novel from a local author, this time a YA fantasy adventure.
20 (Friday) 7 pm — Chapel Hill's Epilogue Books/Chocolate/Brews presents Cool. Awkward. Black. with Karen Strong and Tracy Deonn at the Varsity Theatre. "Blerds and Black creatives are invited to an evening of expression to center and celebrate the many experiences of being cool, awkward and Black. This event coincides with the January 10th release of Cool. Awkward. Black., a YA anthology of short stories. Karen Strong, the anthology's editor, and Tracy Deonn, a contributor to the anthology, will be joining us as special guests. There will also be light refreshments, spoken word, swag, and more! Friends, family, and all ages are welcome."
30 (Monday) 6 pm to 8 pm — Books and Beer at Charlotte's The Casual Pint (14236 Rivergate Pkwy) with authors John G. Hartness, Rachel A. Brune, Patrick Dugan, and James P. Nettles.
CONVENTION CALENDAR
JANUARY
January 12-15 — Ichibancon 13 — Concord, NC, part of the Carolinas Anime Con 2023 Season along with Banzaicon and the Triad Anime Con.
January 13-15 — MarsCon 2023 — Virginia Beach/Norfolk, Virginia with Guest of Honors author D.J. Butler, artist Chaz Kemp, and YA author Katie Cross. More guests of note (among others!) include authors Alex Matsuo, Chris Kennedy, John G. Hartness, Darin Kennedy, and Jason Gilbert, and musicians Mikey Mason, Valentine Wolfe, Metricula, and Jonah Knight.
FEBRUARY
February 18 — Hickory Comic Con — Hickory, NC, from 10am-5pm at the Hickory Metro Convention Center.
February 24-26 — Ret-Con — Cary, NC with Guest of Honor Michael G. Williams. More guests of note (among others!) include authors Jason Morningstar, Misty Massey, Samantha Bryant, John G. Hartness, and William Tracy.
February 24-26 — TantrumCon — Charlotte, NC hosted by Tantrum House, a board game media group, which promises the weekend "will feature all kinds of tabletop gaming goodness."
February 25 — Wilkes Comic Con — North Wilkesboro, NC from 10 am to 5 pm at The Stone Center for the Performing Arts.
MARCH
March 10-12 — Saga Conference — Winston-Salem, NC, a professional development conference for genre fiction writers with Guests of Honor Jonathan Maberry and Sherrilyn Kenyon. The 2023 faculty includes Natania Barron, A.J. Hartley, Gail Z. Martin, Michael Mammay, Emily Leverett, James P. Nettles, Erin Penn, Vikki Perry, and R.R. Virdi.
March 10-12 — MythicCon West (Asheville) — A new tabletop gaming convention carrying on from the long-running MACE convention, which ended with JeffCon last November.
March 10-12 Banzaicon — Columbia, South Carolina, part of the Carolinas Anime Con 2023 Season along with Ichibancon and the Triad Anime Con.
March 18-19 — Playthrough — Raleigh, NC, billed as "the largest gaming convention in North Carolina", at the Raleigh Convention Center, including video games, eSports, and tabletop gaming.
March 24-26 — FantaSCI — Durham, NC, at the DoubleTree RDU, with Guest of Honor Richard A. Knaak, an anthology writing contest sponsored by Chris Kennedy Publishing, and more.
March 31-April 2 — Triad Anime Con — Winston-Salem, NC, part of the Carolinas Anime Con 2023 Season Pass along with Ichibancon and Banzaicon.
APRIL
April 22-23– Fayetteville Comic Con — Fayetteville, NC, guests TBA.
MAY
May 6 — Concord Micro-Con — Concord, NC, 12 pm to 5 pm at Cabarrus Brewing Company.
May 26-28 Animazement — Raleigh, NC, at the Raleigh Convention Center.
May 26-28 — Carolina Fear Fest — Raleigh, NC, a horror convention with media guests including Dee Wallace, Seth Gilliam, and Brett Wagner.
JUNE
June 2-4 — ConCarolinas — Charlotte, NC, at the Hilton Charlotte University Place, with guests (among others) including Mikey Mason, Alex Matsuo, Tally Johnson, Crymsyn Hart, Michael G. Williams, Rachel Brune, James Tuck, Maya Preisler, Jim Nettles, Darin Kennedy, David Ashura, Jody Lynn Nye, Natania Barron, Jason T. Graves, Chris A. Jackson, William C. Tracy, Dr. Charles E. Gannon, and Jay Requard.
June 16-18 — Heroes Con — Charlotte, NC, with guests (among many others) including Rich Case and John Hartness.
June 23-25 — Cosplay America — Cary, NC, which says of itself: "Join us for the first East Coast Convention dedicated to all aspects and genres of Cosplay! Our event unites a community of amazing and creative people. While celebrating the DIY attitude of cosplay, we create a space for sharing skills and knowledge of Cosplayers from around the world."
JULY
July 14-16 — ConGregate 9 — Winston-Salem, NC, with Guests of Honor John Scalzi and Michael A. Stackpole, and additional guests (among others) including Allen Wold, Patrick Dugan, John G. Hartness, Darin Kennedy, Gail Z. Martin, Larry N. Martin, Misty Massey, J. Matthew Saunders, Melissa Scott, and Fraser Sherman.
July 27-30 — GalaxyCon Raleigh — Raleigh, NC, with celebrity guests (among others) including Paul Wesley, Billy Dee Williams, William Shatner, Kate Mulgrew, Gates McFadden, Denise Crosby, Armin Shimerman, Jaleel White, Dave Foley, and Mick Foley, featured creators (among others) including John Jackson Miller and Travis Langley, as well as voice actors and cosplayers.
AUGUST
August 18-20 — Creation North Carolina — Concord, NC, at the Embassy-Suites Charlotte Concord, starring Jared Padalecki, Jensen Ackles, Misha Collins, and more guests from "Supernatural" and other J&J projects.
SEPTEMBER
September 29-Oct 1 — Beer City Comic Con — Asheville, NC, at Harrah's Cherokee Center.
OCTOBER
October 21 — Smoky Mountain Geek Expo — Waynesville, NC, 10 am to 5 pm at the Smoky Mountain Event Center.
NOVEMBER
November 4-5 — NC Comicon — Durham, NC at the Durham Convention Center, boasting "We're better, badder, and can't wait to show off for our 10th anniversary!"
(And if you don't mind traveling just a little bit further afield, VA, SC and beyond? Bookmark the 2023 Southern Fandom Convention Calendar for events like RavenCon in Richmond and AtomaCon in North Charleston. No word yet that I've seen about the future of the beloved MystiCon in Roanoke, VA. Fingers crossed for 2024?)
LATEST BOOKS
I haven't done a full sweep yet for 2022 NC-authored sf/f books, but the 2022-23 Wellman Award Eligibility Goodreads Shelf is a work-in-progress snapshot of what I do have sorted out, nearing its way to 50 books so far. Some highlights to close out 2022 include Sarah Addison Allen's Other Birds, Tracy Deonn's Bloodmarked, Christopher Ruocchio's Ashes of Man, Natania Barron's Gods of Londinium, and Mur Lafferty's Station Eternity. (And among other anthologies and collections out last year, Richard Butner's The Adventurists was out in March, and John Kessel's The Dark Ride: The Best Short Fiction of John Kessel was out in June.)
UPCOMING BOOKS
I've hardly begun putting together a proper 2023 NC author release list, but here's two to whet your whistles in the coming couple of months, The Foreign Exchange by Veronica G. Henry (February 28), Nathan Ballingrud's The Strange (March 21), and A House With Good Bones by T. Kingfisher (March 28). (I would show book covers for Kingfisher's Thornhedge and A.G. Riddle's Lunar Park but! I do not seem to be able to find covers yet. And I'm waiting with bated breath for news of a new release date for Natania Barron's Queen of Fury…)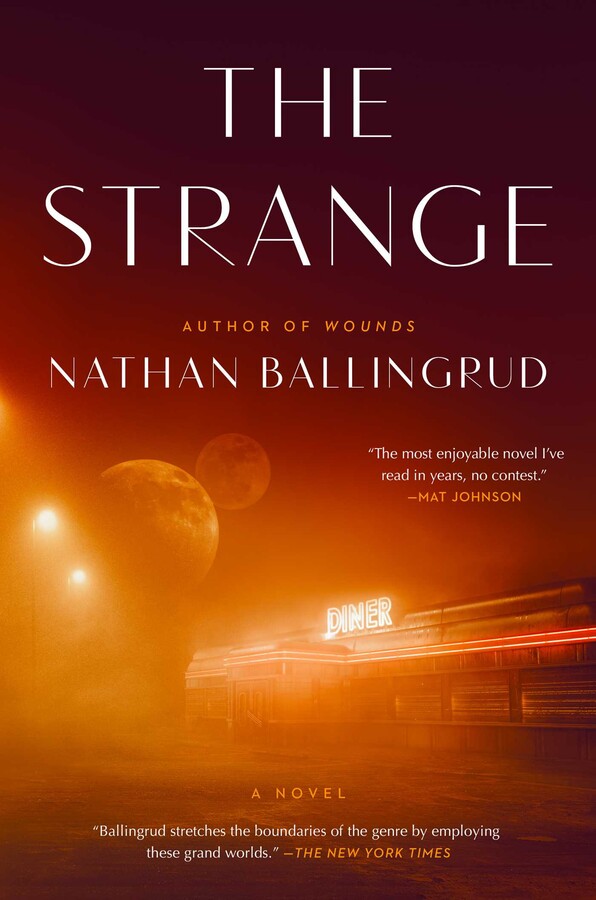 OTHER NEWS
Durham author Monica Byrne's The Actual Star was announced as the winner of the 2022 Manly Wade Wellman Award at Con-Gregate
Locus Award nominations for NC authors included T. Kingfisher (Ursula Vernon) was nominated for the for fantasy novel Paladin's Strength, Cadwell Turnbull for fantasy novel No Gods, No Monsters
Turnbull's No Gods, No Monsters was also announced the winner of the Lambda Award for LGBTQ Speculative Fiction, and was a finalist for the Shirley Jackson Award
Kingfisher was also a finalist for the Hugo Award for Series for "The World of the White Rat"
Tracy Deonn was a finalist for the Astounding Award for Best New Writer
John Kessel's "The Dark Ride" was a finalist for the Theodore Sturgeon Memorial Award
Mur Lafferty was a finalist for the Hugo Award for Editor (Short Form) and Semiprozine for Escape Pod
Raleigh author Peter Wood's novelette "The Less than Divine Invasion" is in the latest Asimov's, and an essay on writing "Less is More" is available online at the Asimov's blog
SHOUT-OUT
Lastly, a shout-out to Durham Hillsborough author Eryk Pruitt. He was an early and often supporter of Bull Spec back when, and he's continued to be generous to the local sf/f community through hosting his Noir at the Bar nights at Hillsborough's Yonder Bar. Already an accomplished author, he's got not only a new novel coming out soon, Something Bad Wrong (May 1, Thomas and Mercer) he's also been foolish enough to start his own print magazine, Dark Yonder, co-edited by Katy Munger, which debuts its first issue on January 24. Congrats, man, and best wishes for what's next.