Vol 11 No 2. Wednesday, March 22, 2023: New events, new books, awards news, let's get right to it!
New events since the last newsletter first, since the first of these is literally tonight: Asheville's Nathan Ballingrud (North American Lake Monsters, Wounds) is back in Raleigh to visit Quail Ridge Books, for his debut novel, the Mars-set weird-sf The Strange (Gallery/Saga Press). And he's brought a friend! The absolutely fantastic Dale Bailey (In the Night Wood, "The End of the End of Everything", "A Rumor of Angels") will be in conversation as these two masters of the short form set up for what should be a wonderful evening.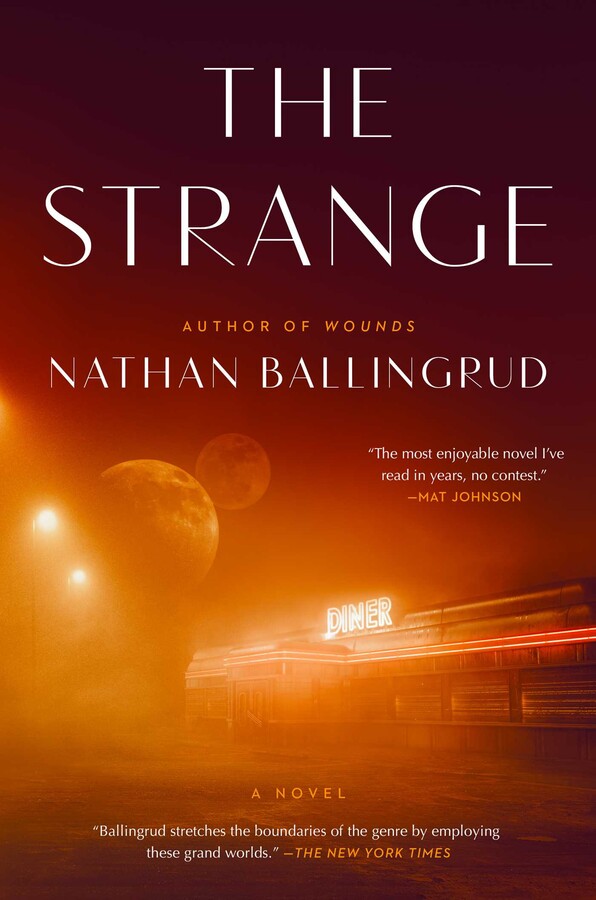 And! under a week from now, Tuesday, March 28, Chapel Hill's Flyleaf Books welcome back Pittsboro author T. Kingfisher (Ursula Vernon) for her newest novel, A House with Good Bones (Tor/Nightfire), the latest of Kingfisher's big-time horror novels after 2022's What Moves the Dead and 2020's The Hollow Places.
Sandwiched in between these bookstore events is a busy weekend, from the FantaSci convention at the DoubleTree RDU with guest of honor Richard A. Knaak and special guests Katie Cross, Howard Andrew Jones, and Marisa Wolf, to an online (on Discord) convention from Color of Fandom, and! up in Stem, NC there's The Viking Experience. See the full event listings below for more details, along with more new events in April (Terry J. Benton-Walker in conversation with Kwame Mbalia, BRUCE-O-RAMA with Bruce Campbell at Durham's Carolina Theatre, Noir at the Bar Hillsborough, and The 10th Annual Festival of Legends) and more new events on into the summer including The Old Gods of Appalachia live at the Carolina Theatre on July 7.
Some new books since the last newsletter include:
Meanwhile, the eligibility list for the Manly Wade Wellman Award is nearing completion, but not quite in time for this newsletter. Speaking of…
NEWS and NOTES
OK, that's it, that's all the time I have before I absolutely must click send. (Although nobody will yet get an email, as the old email list fell victim to inactivity during the pandemic and was delisted by the newsletter service.) I may pick a new service and get back to a proper email newsletter, but for now, just keep an eye out on the website/Twitter/Facebook, OK?
-Sam
UPCOMING EVENTS, MARCH 2023
March 18-19 — Playthrough — Raleigh, NC, billed as "the largest gaming convention in North Carolina", at the Raleigh Convention Center, including video games, eSports, and tabletop gaming.
March 22 — Book release day for Seven Tears in the Sea by Hillsborough author Adrienne Moore (Aquarian Answers): "For orphaned Silas, it's welcome oblivion to loneliness and grief, but instinct keeps forcing him back to human form, first to conceive a daughter, and later to guard and deliver her sealskin."
NEW: March 22 (Wednesday) 7 pm — Quail Ridge Books hosts Nathan Ballingrud | The Strange (IN STORE) as the Asheville author will be in conversation with fellow NC author Dale Bailey about Ballingrud's new novel: "1931, New Galveston, Mars: Fourteen-year-old Anabelle Crisp sets off through the wastelands of the Strange to find Silas Mundt's gang who have stolen her mother's voice, destroyed her father, and left her solely with a need for vengeance."
March 24-26 — FantaSCI — Durham, NC, at the DoubleTree RDU, with Guest of Honor Richard A. Knaak, an anthology writing contest sponsored by Chris Kennedy Publishing, and more.
NEW: March 25-26 (Sat-Sun) — Online convention Color of Fandom V-Con 2023 hosted on Discord. In the week leading up (March 20-24) a series of "preview week" watch parties and panels as well.
NEW: March 25-26 (Sat-Sun) — Stem, NC's The Barn at Vino (3200 Bliss Trail) hosts The Viking Experience Festival. Activities for the festival include: interactive characters, fairies, dragons, barbarians, reenactors, music, dancing, games, vendors, food, kids area, LARP Adventures, Fight Pits, Queen's Court and a Dinner Theater. Day tickets are $18.
NEW: March 28 (Tue) 5:30 pm — Flyleaf Books hosts T. Kingfisher presents A HOUSE WITH GOOD BONES. "A haunting Southern Gothic from an award-winning master of suspense, A House With Good Bones explores the dark, twisted roots lurking just beneath the veneer of a perfect home and family." Signing Line at 5:30 pm, Talk begins at 6:00 pm.
March 28 — Book release day for A Door in the Dark by Scott Reintgen (Margaret K. McElderry Books). "A fantasy thriller that follows six teenage wizards as they fight to make it home alive after a malfunctioning spell leaves them stranded in the wilderness."
NEW: March 29-31 — Scares That Care Writers Retreat — DoubleTree by Hilton Hotel Williamsburg (VA) with instructors Brian Keene, Maurice Broaddus, Mary SanGiovanni, Jeff Strand, Norman Prentiss, and John Urbancik.
NEW: March 31-April 2 — Scares That Care Authorcon — DoubleTree by Hilton Hotel Williamsburg (VA) hosted by Brian Keene with guests of honor Armin Shimerman, Sherrilyn Kenyon, Tim Lebbon, Maurice Broaddus, Rio Youers, and more, and featuring among other programming workshops by Tim Waggoner ("Writing Personal Horror") and Richard Dansky ("Writing For Video Games"). Preceeded by a
March 31-April 2 — Triad Anime Con — Winston-Salem, NC, part of the Carolinas Anime Con 2023 Season Pass along with Ichibancon and Banzaicon.
APRIL
NEW: April 4 (Tuesday) 7 pm — Quail Ridge Books hosts Terry J. Benton-Walker | Blood Debts (IN STORE). Atlanta author Benton-Walker will be in conversation with NC author Kwame Mbalia (the Tristan Strong trilogy). About the young adult novel: "Thirty years ago, a young woman was murdered, a family was lynched, and New Orleans saw the greatest magical massacre in its history. In the days that followed, a throne was stolen from a queen."
April 4 — Book release day for Never Steal From Dragons: Pixiepunk, Book 1 by Patrick Dugan (Distracted Dragon Press). "In Hub, a city of treachery and deceit, Gelsey, a pixie, is one of the best thieves around. When a smash and grab assignment turns into a job interview with a powerful dragon, Gelsey finds herself a part of a crew including five more of the best criminals Hub has to offer. Her crew includes Silai, a con artist with a deadly secret. Kelthar, a mage who's bent on self-destruction. Aikila, a smuggler set on avenging her father's murder. Nyx, a hacker coming off a busted run, and Lorcan, a mercenary whose child is being held hostage. The dragon pulls all their strings, forcing them to accept an impossible job: break into a fortress nobody in all of Hub's long history has ever cracked. And if they fail, they'll end up dead one way or another."
April 4 — Book release day for Southern Hexes: Max Porter, Book 16 by Stuart Jaffe.
NEW: April 8 (Saturday) 2 pm — Quail Ridge Books hosts Marjorie Hudson | Indigo Field (IN STORE). NC author Hudson's (The Accidental Birds of the Carolinas) new novel: "In the rural South, a retired colonel in an upscale retirement community grieves the sudden death of his wife on the tennis court. On the other side of the highway, an elderly Black woman grieves the murder of her niece by a white man. Between them lies an abandoned field where three centuries of crimes are hidden, and only she knows the explosive secrets buried there. When the colonel runs into her car, causing a surprising amount of damage, it sparks a feud that sets loose the spirits in the Field, both benevolent and vengeful."
NEW: April 10 (Monday) 8 pm — Durham, NC's Carolina Theatre hosts BRUCE-O-RAMA Starring Bruce Campbell.
NEW: April 13 (Thursday) 7 pm — Hillsborough's Yonder Bar hosts its latest Noir at the Bar reading. Hosted by Tracey Reynolds, with stories by Eryk Pruitt, Todd Robinson, Rob Hart, Jamie Mason, PM Raymond, Katy Munger, and Dana King.
April 18 — Book release day for The Valley: A Lee Harden Novel by D.J. Molles: "In a quiet valley in northern California, a settlement of survivors called the Redoubt is threatened by Colin Horner, a savagely pragmatic ranch boss, whose land they've been squatting on for years."
NEW: April 18-20 — The Raleigh Convention Center hosts ECGC, the East Coast Game Conference. While primarily a conference for active and aspiring game developers, there is also an Expo Pass option which includes both the keynote addresses and the expo hall "showcasing some of the best national and local game companies and technologies in the gaming industry."
NEW: April 22-23 — Apex, NC's Optimist Farm hosts The 10th Annual Festival of Legends. "Join us as we celebrate 10 years of magic with mythical monsters, amazing acrobats, fantastic food, mesmerizing magicians, and so much more!"
April 22-23– Fayetteville Comic Con — Fayetteville, NC, guests TBA.
MAY
NEW: May 2 (Tue) 7 pm — Quail Ridge Books hosts Peggy Payne | My Life on Earth and Elsewhere (IN STORE). A Duke graduate now living in Chapel Hill, Payne's new novel for young adults is a contemporary fantasy about the intersection of the spiritual and physical worlds.
May 6 — Concord Micro-Con — Concord, NC, 12 pm to 5 pm at Cabarrus Brewing Company.
May 11 — Book release for The Cold Light of Stars by Rysa Walker (Starry Night Books), the first in a new sci-fi thriller series "The Icarus Code".
May 16 — Book release for The Drama with Doomsdays by Scott Reintgen (Aladdin), the second book in his middle grade Celia Cleary contemporary fantasy series.
NEW: May 20-21 (Saturday and Sunday) — SABLE CON — Knightdale's "The ACE" Center (7027 Knightdale Blvd) hosts Sable Con, "a black comic convention, happening on May 20-21 in Knightdale, NC! If you love comics and the idea of a unique convention experience inspires an indescribable feeling inside, this event is for you! Come meet amazing indie comic creators and be part of something special."
NEW: May 25 (Thursday) 5:30 pm — Flyleaf Books hosts Regal House Showcase with authors Marjorie Hudson & Valerie Nieman, and publisher Pam Van Dyk. "Join us for an evening of fun as we celebrate our local literary community with Regal House Publishing! The event will feature two of their award-winning authors, Marjorie Hudson (whose debut novel Indigo Field explores what happens when the dire history buried in a rural Southern place rises to confront contemporary neighbors) and Valerie Nieman (whose previous novel, To the Bones, was a finalist for the 2020 Manly Wade Wellman Award), reading from their most recent books."
May 26-28 — Animazement — Raleigh, NC, at the Raleigh Convention Center. Guests include (among others) voice actor Aaron Roberts (My Hero Academia, Tokyo Ghoul, One Piece), producer Koji Nagai (My Hero Academia), rakugo performer Someta Hayashiya, and band ROOKiEZ is PUNK'D.
May 26-28 — Carolina Fear Fest — Raleigh, NC, a horror convention with media guests including Dee Wallace, Seth Gilliam, and Brett Wagner.
JUNE
June 2-4 — ConCarolinas — Charlotte, NC, at the Hilton Charlotte University Place, with guests (among others) including Mikey Mason, Alex Matsuo, Tally Johnson, Crymsyn Hart, Michael G. Williams, Rachel Brune, James Tuck, Maya Preisler, Jim Nettles, Darin Kennedy, David Ashura, Jody Lynn Nye, Natania Barron, Jason T. Graves, Chris A. Jackson, William C. Tracy, Dr. Charles E. Gannon, and Jay Requard.
June 5 — Book release for The Master of Samar by Melissa Scott (Candlemark and Gleam) — "Rejected by his aristocratic family, Gil Irichels has been content to make his living as a traveling cursebreaker, working with his lover, the feral mage Envar Cassi, and their bodyguard, swordswoman Arak min'Aroi."
June 16-18 — Heroes Con — Charlotte, NC, with guests (among many others) including Rich Case and John Hartness.
June 23-25 — Cosplay America — Cary, NC, which says of itself: "Join us for the first East Coast Convention dedicated to all aspects and genres of Cosplay! Our event unites a community of amazing and creative people. While celebrating the DIY attitude of cosplay, we create a space for sharing skills and knowledge of Cosplayers from around the world."
JULY
July 4 — Book release for Prophet's Lamentation by Robert Creekmoore (Cinnabar Moth Publishing), sequel to his 2022 novel Prophet's Debt.
NEW: July 7 (Friday) 8 pm — The Carolina Theatre of Durham hosts Old Gods of Appalachia Presents The Price of Progress: A Live Theatrical Experience. "Old Gods of Appalachia is an eldritch horror fiction podcast set in an Alternate Appalachia, a world where these mountains were never meant to be inhabited."
July 14-16 — ConGregate 9 — Winston-Salem, NC, with Guests of Honor John Scalzi and Michael A. Stackpole, and additional guests (among others) including Allen Wold, Patrick Dugan, John G. Hartness, Darin Kennedy, Gail Z. Martin, Larry N. Martin, Misty Massey, J. Matthew Saunders, Melissa Scott, and Fraser Sherman.
July 27-30 — GalaxyCon Raleigh — Raleigh, NC, with celebrity guests (among others) including Paul Wesley, Billy Dee Williams, William Shatner, Kate Mulgrew, Gates McFadden, Denise Crosby, Armin Shimerman, Jaleel White, Dave Foley, and Mick Foley, featured creators (among others) including John Jackson Miller and Travis Langley, as well as voice actors and cosplayers.
AUGUST
August 15 — Book release for Thornhedge by T. Kingfisher (Tor Books), "the tale of a kind-hearted, toad-shaped heroine, a gentle knight, and a mission gone completely sideways."
August 18-20 — Creation North Carolina — Concord, NC, at the Embassy-Suites Charlotte Concord, starring Jared Padalecki, Jensen Ackles, Misha Collins, and more guests from "Supernatural" and other J&J projects.
August 22 — Book release for Five Years After: A John Matherson Novel by William R. Forstchen (Tor/Forge), the 4th book in his EMP apocalypse series which began with One Second After in 2009.
SEPTEMBER
September 29-Oct 1 — Beer City Comic Con — Asheville, NC, at Harrah's Cherokee Center.
OCTOBER
October 3 — Book release for Night of the Witch by Sara Raasch and Beth Revis (Sourcebooks Fire), the first ins a new series "Witch and Hunter".
October 5 — Book release for Tranquility 3.0 by Rysa Walker (Starry Night Press)
October 21 — Smoky Mountain Geek Expo — Waynesville, NC, 10 am to 5 pm at the Smoky Mountain Event Center.
NOVEMBER
November 4-5 — NC Comicon — Durham, NC at the Durham Convention Center, boasting "We're better, badder, and can't wait to show off for our 10th anniversary!"
November 7 — Book release for Chaos Terminal by Mur Lafferty (Ace Books), the second book in her "The Midsolar Murders" series after 2022's Station Eternity.
November 7 — Book release for We Are the Crisis by Cadwell Turnbull (Blackstone Publishing), the second book in his "The Convergence Saga" after 2021's No Gods, No Monsters.