Posted: 11 May, 2015
Filed under:
Coming to Town
| Tags: flyleaf books, lady trent, malaprops bookstore, marie brennan, mary robinette kowal, quail ridge books
1 Comment
Fantasy author Marie Brennan is on tour for Voyage of the Basilisk, the third novel in her Memoirs of Lady Trent series which began with the World Fantasy Award nominated A Natural History of Dragons. Once again, she's touring with fellow fantasy novelist Mary Robinette Kowal, and this time, as Kowal and I hoped at about this time last year in Kowal's now-yearly return to her Raleigh hometown, Brennan will be joining Kowal for not one but three reading in North Carolina next week: Monday (May 18th) at Raleigh's Quail Ridge Books, Tuesday (May 19th) at Chapel Hill's Flyleaf Books, and Wednesday (May 20th) at Asheville's Malaprop's Bookstore. Brennan and Kowal have been on tour since May 6, with readings this week at Powell's in Beaverton (Tuesday, May 12th), Weller's in Salt Lake City (Thursday, May 14th), The Poisoned Pen in Scottsdale (Saturday, May 16th), and Houston's Murder by the Book (Sunday, May 17th), with the tour concluding at San Francisco's legendary Borderlands Bookstore on Thursday, May 21st.
As in their previous tours together, Brennan and Kowal have more than the usual readings planned, ranging from puppet shows to Regency costume, and invite fans to come in period costume of their own for both "a small prize" as well as "a great deal of squeeing." Here via email, Brennan answers some questions about the series, ranging from the meta (what did trilogies ever do to her, that's she's avoided them thus far in her career?) to the embarrassing (for the interviewer; indeed, what is it about a book cover with the internal musculature of a dragon that sets my heart a-flutter?) to her quest for anthropological ideas in need of plots. Read on for this and more, though, sadly I neglected to ask the all-important barbecue question. And, really: catch her and Kowal at a reading if you can. Their books are really something not to be missed.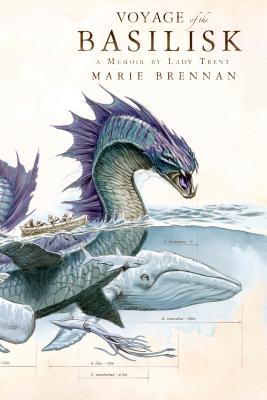 BS: In fantasy, we're as readers seemingly conditioned for the trilogy. However, this is a form you've yet to commit, with a duology, a quartet, and the planned five books in The Memoirs of Lady Trent. What did trilogies ever do to you?
They snubbed me once in high school, so now I'm snubbing them back.
More seriously: I didn't make a conscious decision to avoid trilogies, though I did notice at one point that I hadn't written one yet, and that amused me. I'm actually mid-trilogy right now: the Wilders series (Lies and Prophecy and the upcoming Chains and Memory) will be three books long when it's done. But I think that structure works best for things that are telling a more continuous story, which isn't true of the Onyx Court series (the quartet) and the Memoirs: both of those have a through-line, but each volume is a stand-alone episode in that larger picture. That means I can choose the number based on other considerations. In the case of the Memoirs, it was "what's a nice middle range where I can send Isabella to lots of different places, but not run out of scientific things for her to discover?"
BS: One of my weaknesses as a reader has been tending to avoid books which might focus too much on romance. Even after A Natural History of Dragons was named a World Fantasy Award finalist, I put off picking up the series for far too long, only to later kick myself for missing out on the (equal parts?) science travelogue, adventure, and mystery, and yes, some (particularly well done) romance. Do you see the books in any kind of "balancing act" sense, with knife fights, dragon autopsies, politics, and romance as equal players, or is that a gross simplification? Read the rest of this entry »
---