As we turn the page on 2012, and all of its local and regional books, it's time to take a look at 2013 in terms of local and regional authors. While there are always surprises — particularly later in the year — here's what I know about so far. Meanwhile, I'm going back on Carolina Book Beat on Monday, January 7th at 10 AM to talk about this list and whatever else comes up. So! On to 2013:
Witchbreaker (Dragon Apocalypse #3) by James Maxey (Solaris, Dec 25) — "Five hundred years ago, the famed Witchbreaker, Lord Stark Tower, launched a war against the cult of witches, nearly wiping them out. Today, only a handful of women still practice the craft in secret. A young witch named Sorrow has dedicated her life to changing this reality, vowing to wipe out the Church of the Book and launch a new golden age of witchcraft. In pursuit of her goals, she bonds her soul with Rott, the primal dragon of decay, giving her nearly limitless powers of destruction. Unfortunately, tapping this power comes at the cost of her humanity, leading her into a desperate quest to find the greatest witch of all time, Avaris, in hopes of mastering her dark magic before it destroys her. But she's not alone in hunting Avaris, as fate throws her into an uneasy partnership with a man who wants to be the new Witchbreaker. Can either of them survive their mutual quests when their journey leads them into battle with Tempest, the primal dragon of storms?" (Hillsborough, NC)
Ice Forged by Gail Z. Martin (Orbit, January 8) — Charlotte epic fantasy author Martin sets foot in new territory after 6 books in the world of her Chronicles of the Necromancer. "Condemned as a murderer for killing the man who dishonored his sister, Blaine "Mick" McFadden has spent the last six years in Velant, a penal colony in the frigid northern wastelands of Edgeland. Harsh military discipline and the oppressive magic of the governor's mages keep a fragile peace as colonists struggle against a hostile environment. But the supply ships from Dondareth have stopped coming, boding ill for the kingdom that banished the colonists. Now, McFadden and the people of Velant decide their fate. They can remain in their icy prison, removed from the devastation of the outside world, but facing a subsistence-level existence, or they can return to the ruins of the kingdom that they once called home. Either way, destruction lies ahead…" (Charlotte)
ADDED: Nevermore – A Novel of Love, Loss, & Edgar Allan Poe by David Niall Wilson and Lisa Snellings (Crossroad Press, Jan 14, 2013) — "On the banks of Lake Drummond, on the edge of The Great Dismal Swamp, there is a tree in the shape of a woman. One dark, moonlit night, two artists met at The Lake Drummond Hotel, built directly on the borderline of North Carolina and Virginia. One was a young woman with the ability to see spirits trapped in trees and stone, anchored to the earth beyond their years. Her gift was to draw them, and then to set them free. The other was a dark man, haunted by dreams and visions that brought him stories of sadness and pain, and trapped in a life between the powers he sensed all around him, and a mundane existence attended by failure. They were Eleanore MacReady, Lenore, to her friends, and a young poet named Edgar Allan Poe, who traveled with a crow that was his secret, and almost constant companion, a bird named Grimm for the talented brothers of fairy-tale fame. Their meeting drew them together in vision, and legend, and pitted their strange powers and quick minds against the depths of the Dismal Swamp itself, ancient legends, and time. Once, upon a shoreline dreary, there was a tree. This is her story."
The Six Gun Tarot by R.S. Belcher (Tor Books, January 2013) — Billed as "Buffy meets Deadwood" and described as: "Nevada, 1869: Beyond the pitiless 40-Mile Desert lies Golgotha, a cattle town that hides more than its share of unnatural secrets. The sheriff bears the mark of the noose around his neck; some say he is a dead man whose time has not yet come. His half-human deputy is kin to coyotes. The mayor guards a hoard of mythical treasures. A banker's wife belongs to a secret order of assassins. And a shady saloon owner, whose fingers are in everyone's business, may know more about the town's true origins than he's letting on." (Roanoke, VA)
Shades of Earth (Across the Universe #3) by Beth Revis (Jan 15, Razorbill) — "Amy and Elder have finally left the oppressive walls of the spaceship Godspeed behind. They're ready to start life afresh–to build a home–on Centauri-Earth, the planet that Amy has traveled 25 trillion miles across the universe to experience."
The Madman's Daughter by Megan Shepherd (Balzer + Bray, January 29) — "Sixteen-year-old Juliet Moreau has built a life for herself in London—working as a maid, attending church on Sundays, and trying not to think about the scandal that ruined her life. After all, no one ever proved the rumors about her father's gruesome experiments. But when she learns he is alive and continuing his work on a remote tropical island (inspired by The Island of Dr. Moreau), she is determined to find out if the accusations are true."
2013 Campbellian Pre-Reading Anthology edited by M. David Blake (Rampant Loon/Stupefying Stories, Feb 8) — free e-anthology "Containing 80 complete short stories by 43 different authors, as well as additional information about another 58 potential candidates" for this year's John W. Campbell Award for Best New Writer, including locals Rebecca Gomez Farrell, Mur Lafferty, Rich Matrunick, T.C. McCarthy, and more.
Six Heirs (The Secret of Ji, #1) by Pierre Grimbert, translated from French by Matthew Ross and Eric Lamb (AmazonCrossing, February 19) — Translator Ross hails from the Raleigh-Durham area; also available in audio, read by Michael Page for Brilliance Audio — "From France's most celebrated author of fantasy. The Known World is a sprawling region ruled by mortals, protected by gods, and plied by magicians and warriors, merchants and beggars, royals and scoundrels. Here, those with the gift of the Erjak share a psychic bond with animals; a far-reaching fraternity unites criminals of every persuasion in a vast army of villainy; and upon the mighty river Alt, the dead will one day sail seeking vengeance on the enemies of their descendants. But for all the Known World's wonders, splendors, and terrors, what has endured most powerfully is the strange legacy of Ji. Emissaries from every nation—the grand Goranese Empire; desolate, frozen Arkary; cosmopolitan Lorelia; and beyond—followed an enigmatic summons into the unknown. Some never returned; others were never the same. Each successive generation has guarded the profound truth and held sacred the legendary event. But now, the very last of them—and the wisdom they possess—are threatened. The time has come to fight for ultimate enlightenment…or fall to infinite darkness. The first book in the highly acclaimed Ji series, available for the first time in English."
The Office of Mercy: A Novel by Ariel Djanikian (Viking Adult, February 21) — Debut novel for this new Chapel Hill author: "Weaving philosophy and science together into a riveting, dystopian story of love and adventure, The Office of Mercy illuminates an all-too-real future imagined by a phenomenal new voice in fiction. Twenty-four-year-old Natasha Wiley lives in America-Five—a high-tech, underground, utopian settlement where hunger and money do not exist, everyone has a job, and all basic needs are met. But when her mentor and colleague, Jeffrey, selects her to join a special team to venture Outside for the first time, Natasha's allegiances to home, society, and above all to Jeffrey are tested. She is forced to make a choice that may put the people she loves most in grave danger and change the world as she knows it." (Chapel Hill)
Star Trek: The Original Series: Devil's Bargain by Tony Daniel (Pocket Books/Star Trek, Feb 26) — "Captain James T. Kirk and the crew of the Enterprise are sent to evacuate the Federation mining colony Vesbius, a frontier settlement that is on the brink of an extinction-level event, threatening the lives of all the colonists and the disruption of ore production vital to Starfleet. However, the colonists refuse to abandon this settlement, not wanting to leave their claims. It is after these irrational decisions that Spock suggests that perhaps an unexpected ally could aid the colony and help complete the mission…." (Wake Forest)
Keeper of the Black Stones (Stone Ends) by PT McHugh (Glass House Press, Feb 26, 2013) — "Awkward in his own skin, shy around girls and worried about anything and everything, Jason Evans is just like a million other teenage boys in high school, with one very large exception: he has been given a gift that allows him to jump through time. A set of stones has fallen into his lap that gives him access to any place – and any time – that he chooses. But along with that gift comes the responsibility of stopping the man who is using those very stones to travel through time and change history for his own purposes. A man who is now holding Jasons grandfather hostage, and threatening the worlds very existence. Jumping through time with his best friend and body guard, Jason must enter the world of Medieval England, learn its customs, navigate unimaginable danger, and help Henry VII win the Battle of Bosworth, in the name of finding his grandfather, rescuing a beautiful girl from the clutches of a corrupt church, and destroying the one man who pledges to turn history inside out." (Raleigh)
Snowbird Gothic by Richard Dansky (NECON Contemporary Horror, Feb 4 in ebook, March 12 in paperback) — "Richard Dansky was named one of the top 20 videogame writers in the world by Gamasutra in 2009, but as he explains in his introduction, game writiing doesn't offer "the chance to run off and play in your own sandbox. That's what fiction's for, and that's why I write it." In this collection, Dansky delivers "all the scary bits and bobs … filtered through a lens of late nights and off-kilter glances and that little nagging voice in the back of my head that constantly says, 'But what if…?' What if. It's a question I ask a lot. I hope you enjoy the answers."
Shadow of Freedom (Honor Harrington #14) by David Weber (Baen, March 5) — "Michelle Henke, Queen Elizabeth of Manticore's first cousin, Honor Harrington's best friend, and the commanding officer of Manticore's Tenth Fleet, is just a bit surprised when a messenger arrives from the Mobius System to inform her that the Mobius Liberation Front is prepared to rise in rebellion against the hated regime President Svein Lombroso." Also coming this year are a guide to the Honor Harrington universe (House of Steel: The Honorverse Companion) and an anthology of guest author stories (Beginnings: Worlds of Honor 6). (Greenville, SC)
Cyberpunk: Stories of Hardware, Software, Wetware, Evolution, and Revolution edited by Victoria Blake (Underland Press, March 12) — includes (among a long list of luminaries in the genre) a story by Lewis Shiner.
Shadow on the Sun (Black Hole Sun #3) by David Macinnis Gill (Greenwillow, March 26) — "The stakes couldn't be any higher for Durango. He's lost just about everything, and even his memories are now suspect. Durango's father is bent on transforming him into the Prince of Mars and stealing Mimi, but Durango and Mimi have other plans. And then there's Vienne. Can she find Durango before it is too late?" (Wilmington)
Blood Trade (Jane Yellowrock, #6)  by Faith Hunter (Roc, April 2) — "The Master of Natchez, Mississippi has a nasty problem on his hands. Rogue vampires—those who follow the Naturaleza and believe that humans should be nothing more than prey to be hunted—are terrorizing his city. Luckily, he knows the perfect skinwalker to call in to take back the streets."
The Heretic (Raj Whitehall) by Tony Daniel and David Drake (Baen, April 2) –An all-new novel in this series, being re-launched through re-issues until: "Humanity settled the stars, only to fall into a catastrophic collapse. On one planet, a single artificial intelligence, a computer program known as Center, found a military genius of grit and daring in Raj Whitehall, and the Galactic Republic rose again."
ADDED: Gnomaggedon by Tonia Brown (April 2013) — "Pack up your dice and character sheets and join us for the release of the goriest, goofiest, gnomeiest novel to ever hit your Kindle. Gnomaggedon has all of the elements of a traditional fantasy with just enough filthy humor and bloody conquest to make you want to wash your hands when you're done reading it."
Rogue Descendant (Nikki Glass, #3) by Jenna Black (Pocket Books, April 30) — "No longer the leader of the Olympians, Konstantin has now gone into hiding. Konstantin is vulnerable, and Anderson believes now is the perfect time to destroy his nemesis. He orders private eye Nikki Glass to use her powers to locate Konstantin, and she balks at the idea until a series of attacks leads her to believe that Konstantin is gunning for her and Anderson instead of remaining safely in hiding."
The Kings and Queens of Roam: A Novel by Daniel Wallace (Touchstone, May 7) — "From the celebrated author of Big Fish, an imaginative, moving novel about two sisters and the dark legacy and magical town that entwine them. Helen and Rachel McAllister, who live in a town called Roam, are as different as sisters can be: Helen older, bitter, and conniving; Rachel beautiful, naïve – and blind. When their parents die an untimely death, Rachel has to rely on Helen for everything, but Helen embraces her role in all the wrong ways, convincing Rachel that the world is a dark and dangerous place she couldn't possibly survive on her own … or so Helen believes, until Rachel makes a surprising choice that turns both their worlds upside down."
ADDED: Ending (The Laurian Pentology, Book 4) by Danny Birt (Dark Quest Books, May 24) — "Alaris has enacted his continent-spanning plans, and he races against time to get to the ancient tower of mages, Pinnacle, to enact yet more.  But Pinnacle is not his ultimate goal: even mage-kind is but a tool to Alaris.  How much, then, do mere individuals matter to him?"
ADDED: Vaporware  by Richard Dansky (JournalStone, May 24) — "Video game projects get shut down all the time, but when the one Ryan Colter and his team have poured their hearts into gets cut, something different happens: the game refuses to go away. Now Blue Lightning is alive, and it wants something from Ryan – something only he can give it. And everybody knows how addictive video games can be…" (Durham)
Book 4 of The Black Knight Chronicles by John Hartness (Charlotte) is coming out late Spring from Bell Bridge Books: "Lots of Vampires. No Sparkles. Serious Snark."
The Shambling Guide to New York City by Mur Lafferty (Orbit, May 28) — "Because of the disaster that was her last job, Zoe is searching for a fresh start as a travel book editor in the tourist-centric New York City. After stumbling across a seemingly perfect position though, Zoe is blocked at every turn because of the one thing she can't take off her resume — human. Not to be put off by anything — especially not her blood drinking boss or death goddess coworker — Zoe delves deep into the monster world. But her job turns deadly when the careful balance between human and monsters starts to crumble — with Zoe right in the middle." (Note! This might actually be the cover image public debut? Cover is by Jamie McKelvie.)
ADDED: The Apprentice Journals by J. Michael Shell (Dog Horn, May 30th) — "Spaul is an Apprentice, and he may be one of the last.  Without the Apprentices' ability to speak to the elementals, what's left of humanity may not survive.  But when Spaul meets Pearl—a powerful Female Apprentice thought to exist only in myth—his world and everything he understands about the elementals changes.  Mute from age five, her voice stolen by a mysterious fever, Pearl amazes Spaul with Apprentice Majick he'd never dreamed possible.  Wanting Pearl to be able to explain her majick, Spaul takes her on a quest to find her an elemental voice.  But they soon discover that they're being followed by one of the most powerful of the four types of elementals, who has plans for Pearl and a terrible desire for Spaul.  Eventually, this fire-born lady, known as a "Fierae," merges with Pearl, stealing her body to become the Fierae-human elemental "Starshine." Now Spaul must discover what the Fierae have planned for humankind.  He must also rescue Pearl from her mind-sea, where Starshine holds her prisoner.  And he must do it quickly, before he falls hopelessly in love with the stunningly beguiling "Star."From the slaver land of Tara to the shores of Ginny's Beach, ride the mag lines with Spaul and Pearl as they do their best to deal with fickle elementals, as well as their growing—and dangerous—love for one another.  Dangerous because, as they learn from the "Fierae"—the Lightening Elementals—Love is Above the Rules." (Leesville, SC)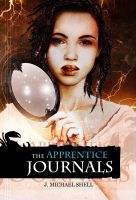 Thieves' Quarry by D.B. Jackson (Tor, July 2) — David B. Coe's pseudonym for historical fantasy continues the US Revolution era series which began with 2012's Thieftaker.
North American Lake Monsters: Stories by Nathan Ballingrud (Small Beer Press, July 16) — "These are love stories. And also monster stories. Sometimes these are mon-sters in their traditional guises, sometimes they wear the faces of parents, lovers, or ourselves. The often working-class people in these stories are driven to extremes by love. Sometimes, they are ruined; sometimes redeemed. All are faced with the loneliest corners of themselves and strive to find an escape." (Asheville, NC)
Replica by Jenna Black (Tor Teen, July 16) — "Sixteen-year-old Nadia Lake comes from a high-class Executive family in the Corporate States. Her marriage has been arranged with the most powerful family in her state, which means she lives a life of privilege but also of public scrutiny, followed everywhere by photographers, every detail of her private life tabloid fodder. But her future is assured, as long as she can maintain her flawless public image — no easy feat when your betrothed is a notorious playboy."
I don't see another Charlie Madigan novel by Kelly Gay in upcoming listings, but she does have a story in the anthology Carniepunk (Pocket Books, July 30) — "A star-studded urban fantasy anthology featuring bestselling authors Rachel Caine, Rob Thurman, Seanan McGuire, Jennifer Estep, and Kevin Hearne, whose stories explore the creepy, mysterious, and, yes, sometimes magical world of traveling carnivals."
Three (Duskwalker Cycle #1) by Jay Posey (Angry Robot, July 31, 2013) –Debut novel, part one of a two-part dark science fiction saga set in a post-apocalyptic America; a dying world where might prevails. There's an excerpt up at io9 as well.
Darwen Arkwright and the School of Shadows (Darwen Arkwright #3) by AJ Hartley (Razorbill, August 1) — "Mr. Peregrine has been kidnapped! Now it's up to Darwen, Rich, and Alexandra to rescue him. They'll embark upon a journey that will take them deeper into Silbrica than they've ever gone before, and there, on the other side of the mirror, they'll find the strangest sight of all: an exact replica of Hillside Academy." (Charlotte)
The Crown Tower (The Riyria Chronicles #1) by Michael J. Sullivan (Orbit, August 3) — "The first book in a new series, The Riyria Chronicles, based on characters from The Riyria Revelations. Unlike the previous series, which was a carefully choreographed interconnected series of books, the Chronicles are designed to be stand-alone stories that can be read independent of each other or the prior novels." (Virginia)
Grave Visions (Alex Craft, #4) by Kalayna Price (Roc, August 6) — No description yet for the fourth book in South Carolina author Price's dark urban fantasy series. UPDATE: Moved to 2014.
ADDED: The Returned by Jason Mott (Harlequin MIRA, August 27) — "THE RETURNED is about a worldwide event in which loved ones are suddenly returned to their families exactly as they were right before they passed away. The book centers on a family whose dead 8-year-old son is returned to them, leaving them to wonder what his return might signify." Soon to be an ABC TV series "Resurrection". (Wilmington)
Monsters of the Earth (Books of the Elements #3) by David Drake (Tor, September 3, 2013) — Book 3 in a planned 4-book fantasy series set in a fantastical Rome-inspired setting, after The Legions of Fire and Out of the Waters.
Hero by Alethea Kontis (Harcourt Children's Books, October 1) — the second book in her Woodcutter series for teens which began last year with the appropriately named Woodcutter
Pull Down the Night by Nathan Kotecki (Houghton Mifflin, October 8) — second book in his YA urban fantasy series after The Suburban Strange (Durham)
Fiddlehead by Cherie Priest (Tor, November 12, 2013) — continuing her Clockwork Century series. (Chattanooga, TN)
ADDED: The Orphans' Promise: The Secret of Ji: Book #2 by Pierre Grimbert, translated by Matthew Ross and Eric Lamb (AmazonCrossing, November 19, 2013) — translator Ross lives in Durham.
Cate Tiernan will begin a new trilogy, with book one coming either in Fall 2013 or Spring 2014.
Charlotte area writers John Hartness and Eden Royce both have stories in Dreams of Steam 3, scheduled for release 1/15 from Kerlak Publishing.
Richard Dansky will also have stories in a few anthologies, notably The New Hero edited by Ed Greenwood (Stone Skin Press — Dansky's long-awaited "rabbi pirate" story) and The Lion & the Aardvark: Aesop's Modern Fables edited by Robin D. Laws (also Stone Skin Press).
Speaking of Stone Skin Press and anthologies, the long-awaited Shotguns v. Cthulhu should be finally arriving in 2013, with cover art by Jason Morningstar and a story from Natania Barron.
And finally in terms of new books, while Georgia author J.M. McDermott? does not have any scheduled releases, 2013 should see both Maze (Apex Books) and the third book in his Dogsland trilogy (after Never Knew Another and When We Were Executioners).
And! There will also be some books with new audiobook editions in 2013:
Lord of the Isles (Isles Series) by David Drake and read by Michael Page (Brilliance Audio, Feb 5, 2013) — also out on the same day are Queen of Demons (Isles Series) and Servant of the Dragon (Isles Series) — Page is the award-winning narrator of Scott Lynch's The Lies of Locke Lamora
David Drake's Books of the Elements series should also start appearing in audio, with The Legions of Fire being up first, read by David LeDoux (who has narrated, among others: Freedom by Jonathan Franzen, The Postman by David Brin, and Water for Elephants by Sara Guen)
The Rift Walker (Vampire Empire, Book 2) by Clay and Susan Griffith, read by James Marsters for Buzzy Multimedia — Marsters ("Spike" on Buffy the Vampire Slayer) also narrated book one in the series, The Greyfriar, as well as being well-known as the narrator on Jim Butcher's Dresden Files series
Cemetery Plot by Alex Granados — coming to audio via ACX
Bitterwood by James Maxey — coming to audio via ACX, read by Dave Thompson
Lost Things: The Order of the Air by Melissa Scott and Jo Graham, read by John Lee for Crossroad Press — available 1/8
Pilgrim of the Sky by Natania Barron, read by the author (Candlemark and Gleam) — hey, a guy can hope, can't he?
(And! And! Early 2013 really should finally bring us Bull Spec #8. UPDATE: Issue #8+9 was published in April!)
2014:
Colossus by Stephen Messer (Random House Books for Young Readers, Autumn 2013) — "an epic fantasy adventure set at the end of time in which children command mighty Colossi — each representing one of the great human civilizations — who, racing against the inevitable Collapse of the universe, battle for the key to the new world to come." (Durham) — UPDATE: Release date moved to 1/28/2014