Posted: 28 February, 2014
Filed under:
Friday Quick Updates
1 Comment
Friday, February 28, 2014: Wow. There's a lot to tell you guys about since my last news roundup 11 days ago. So much I hardly know where to begin! Let's start with what's new at bullspec.com:
Next to get them out of the way, two bits of "Sam, publisher" news. First is that the Duke Chronicle's Annie Piotrowski wrote an absolutely fantastic article on three Triangle-area small press magazines, one of which was Bull Spec, for which she took the time to have a phone conversation with me. I really, really love how it turned out. Second! With a huge nod to local author and film-maker Eryk Pruitt, I'm a guest soup judge at this Thursday's (March 6) Empty Bowls fundraiser for the Urban Ministries of Durham, at the Durham Convention Center. It's not much of an exaggeration to say that I've been training for this event my entire life. If I can do anything, it's eat. A lot. Speaking of Eryk Pruitt, his forthcoming debut novel, the "Southern Fried crime noir" Dirtbags, has a new trailer. And it's awesome.
More new and awesome things? Allen L. Wold just published A Closet for a Dragon: and Other Early Tales, a huge collection of mostly unpublished short stories, across his decades of writing, from his "first real stories" and even before those to his pre-stories, all with story notes and introductions by the author. And there's two new local comic books out in the world, both fantastic, in about as different a way as there can be. Tommy Lee Edwards' VANDROID is a pulpy, dirty, violent riff on 1980s action sf, and Jeremy Whitley's My Little Pony: Friends Forever #2 is a fun-for-all-ages whimsical romp with the Cutie Mark Crusaders and the chaotic "Discord", with much fun being had through some references I honestly don't know how he got past the editors, but he did, and it's printed, so it's TOO LATE. I don't want to give too much away, but: he does make use of the fact that John de Lancie is both the voice of "Discord" on the television series, as well as (of course) the voice of "Q" on Star Trek: The Next Generation. Yes, he does.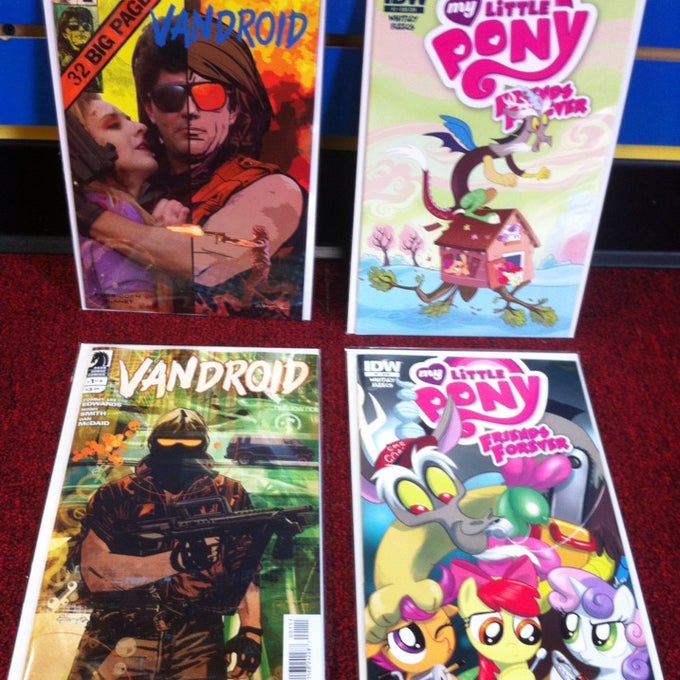 There's also a regional book release, The Narrow Gate: A Supernatural Thriller (Solom) by Scott Nicholson. Nicholson is a prolific author writing near (or in?) Boone. This is book 2 in his "Solom" series: "After the violent death of Katy Logan's psychopathic husband, she inherits a farm in the Appalachian Mountain town of Solom. Determined to protect her teen daughter Jett and not surrender to fear, she builds a new life in the wake of the tragedy. However, the dark forces that drove her husband to madness still lurk in Solom, and a horseback preacher has returned from the grave with a sinister mission. Solom's slumbering spirits are stirring, the herds of goats are restless, and the townspeople are banding together to ward off the sinister force that threatens to destroy them. Katy and Jett discover an unexpected ally as they are drawn into the supernatural showdown, but is anyone–or anything–powerful enough to walk away from Solom's final battleground?"
OK, announcements time, rapid-fire edition: Read the rest of this entry »
---