Friday, February 28, 2014: Wow. There's a lot to tell you guys about since my last news roundup 11 days ago. So much I hardly know where to begin! Let's start with what's new at bullspec.com:
Next to get them out of the way, two bits of "Sam, publisher" news. First is that the Duke Chronicle's Annie Piotrowski wrote an absolutely fantastic article on three Triangle-area small press magazines, one of which was Bull Spec, for which she took the time to have a phone conversation with me. I really, really love how it turned out. Second! With a huge nod to local author and film-maker Eryk Pruitt, I'm a guest soup judge at this Thursday's (March 6) Empty Bowls fundraiser for the Urban Ministries of Durham, at the Durham Convention Center. It's not much of an exaggeration to say that I've been training for this event my entire life. If I can do anything, it's eat. A lot. Speaking of Eryk Pruitt, his forthcoming debut novel, the "Southern Fried crime noir" Dirtbags, has a new trailer. And it's awesome.
More new and awesome things? Allen L. Wold just published A Closet for a Dragon: and Other Early Tales, a huge collection of mostly unpublished short stories, across his decades of writing, from his "first real stories" and even before those to his pre-stories, all with story notes and introductions by the author. And there's two new local comic books out in the world, both fantastic, in about as different a way as there can be. Tommy Lee Edwards' VANDROID is a pulpy, dirty, violent riff on 1980s action sf, and Jeremy Whitley's My Little Pony: Friends Forever #2 is a fun-for-all-ages whimsical romp with the Cutie Mark Crusaders and the chaotic "Discord", with much fun being had through some references I honestly don't know how he got past the editors, but he did, and it's printed, so it's TOO LATE. I don't want to give too much away, but: he does make use of the fact that John de Lancie is both the voice of "Discord" on the television series, as well as (of course) the voice of "Q" on Star Trek: The Next Generation. Yes, he does.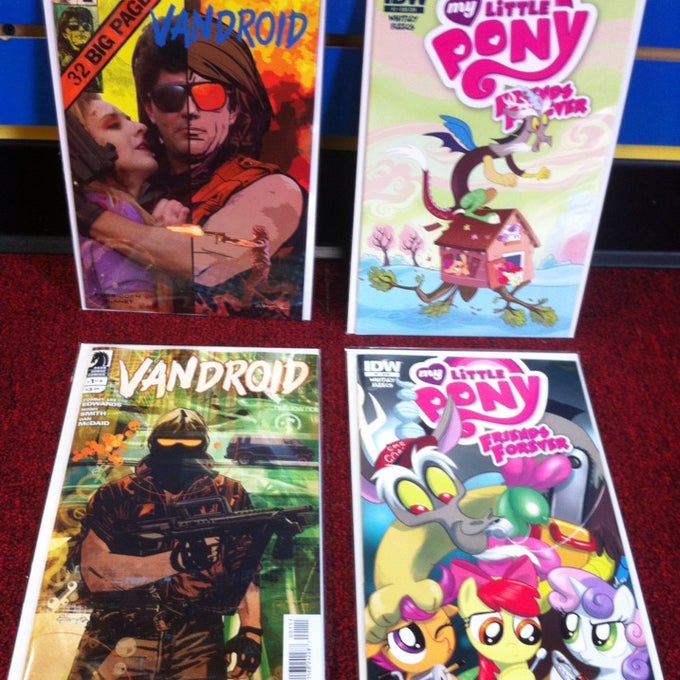 There's also a regional book release, The Narrow Gate: A Supernatural Thriller (Solom) by Scott Nicholson. Nicholson is a prolific author writing near (or in?) Boone. This is book 2 in his "Solom" series: "After the violent death of Katy Logan's psychopathic husband, she inherits a farm in the Appalachian Mountain town of Solom. Determined to protect her teen daughter Jett and not surrender to fear, she builds a new life in the wake of the tragedy. However, the dark forces that drove her husband to madness still lurk in Solom, and a horseback preacher has returned from the grave with a sinister mission. Solom's slumbering spirits are stirring, the herds of goats are restless, and the townspeople are banding together to ward off the sinister force that threatens to destroy them. Katy and Jett discover an unexpected ally as they are drawn into the supernatural showdown, but is anyone–or anything–powerful enough to walk away from Solom's final battleground?"
OK, announcements time, rapid-fire edition:
The NC Literary Festival

announced lineup additions

to their April 5-6 roster, which 

already 

included (among many others) Junot Diaz, Karen Joy Fowler, Peter Straub, R.L. Stine, John Kessel, William Barnhardt, Daniel Wallace, Therese Anne Fowler, and many, many more including Bill Ferris, John Claude Bemis, and Zelda Lockhart. The additions? No less spectacular, including (again, among others) 

Lev Grossman, Nathan Ballingrud, Richard Butner, Richard Case, and Allan Gurganus. Yeah, wow.

Lisa Shearin announced her inclusion in the next Ace Books urban fantasy novella anthology, Night Shift, alongside NY Times bestselling authors Ilona Andrews, Nalini Singh, and Meljean Brook. "My novella is LUCKY CHARMS (already written and turned in to my editor). It tells of Mac Fraser's first day (actually night) of work at SPI. It will be published in December of this year. And on January 6, THE DRAGON CONSPIRACY launches. This will be an incredible exposure opportunity for me."
Mur Lafferty was featured in USA Today for her podcasting; look for more there about her forthcoming book, Ghost Train to New Orleans, soon. Speaking of Ghost Train to New Orleans, it was named a Best Bet for March speculative fiction in Kirkus Reviews. You can read an excerpt of the book already, ahead of the print, ebook, and audiobook release on Tuesday, and the local launch party at Chapel Hill's Flyleaf Books on Thursday night. (And! I'll be talking with Mur on Carolina Book Beat on Monday morning at 10 am on WCOM-FM.)
The Kaiju Rising: Age of Monsters anthology has been out in ebook for a couple of weeks now, and on Facebook the project posted a nifty photo of a few print copies side-by-side, spine out. On the spine? Locals James Maxey and Natania Barron.
Richard Dansky writes: "The fine folks at Stone Skin have highlighted my contribution to The New Gothic today. Check out "A Meeting At The Devil's House"."
WHEW! Almost done. Events! There are two events to mention tonight. First up in Durham, The Carolina Theatre of Durham is playing a Labyrinth and Legend doubleheader showing, starting at 7 pm. More info: http://www.carolinatheatre.org/films/labyrinth-legend
Meanwhile, Asheville's Malaprop's Bookstore hosts a ticketed event with author Karen Russell (Swamplandia! and Vampires in the Lemon Grove: Stories). The program includes an interview by Greta Johnsen followed by a booksigning and wine and cheese reception. More info: http://www.malaprops.com/event/karen-russell-conversation-wcqs-morning-edition-host-greta-johnsen-ticketed-event
OK! That's it. See, not too much going on. Nope, not too much at all. See you out and about…
MARCH 2014
NEW-NEW: 3 (Monday) 6:30 pm — The Orange County Library (Main Branch) hosts a panel discussion about H.G. Wells, with authors Nathan Kotecki, James Maxey, and Clay Griffin. More info: https://www.facebook.com/events/253778568132539/ — NOTE — POSTPONED
4 — Local book release day for Ghost Train to New Orleans (The Shambling Guides) by Durham's Mur Lafferty (Mar 4, 2014).
NEW-NEW: 4 (Tuesday) 7 pm — Internationalist Books and Community Center hosts author Margaret Killjoy to talk about his forthcoming utopian anarchist sf novel A Country of Ghosts, praised by Kim Stanley Robinson as "An exciting and mysterious novel, a story of war and love." More info: https://www.facebook.com/events/1411094312476615/
NEW: 5 (Wednesday) 7:30 pm — Quail Ridge Books hosts Ishmael Beah – 'Radiance of Tomorrow'. (Fiction.)
NEW: 6 (Thursday) 7 pm — Flyleaf Books hosts Mur Lafferty discusses her fantasy novel Ghost Train to New Orleans. Facebook event: https://www.facebook.com/events/276535072512258/
7 (Friday) 7:30 pm — Quail Ridge Books hosts Kim Harrison for The Undead Pool. More info:http://www.quailridgebooks.com/event/theundeadpool

11 — Local book release day for Resistance by Jenna Black.
[for the latest full events listing see the most recent newsletter]