From the Other Side, June 2014
By Paul Kincaid
Okay, we have to accept that, however much we might value its qualities, science fiction can sometimes serve as a repository for the mad, the bizarre, the plain bonkers. Which may be why we get One Three One: A Time-Shifting Gnostic Hooligan Road Novel by Julian Cope (Faber). Cope is, of course, the former lead singer of The Teardrop Explodes who has also written  couple of well-received books on ancient megaliths, and some eclectic works on obscure rock music, so for his first attempt at fiction we could expect pretty much anything; and that's pretty much what we get. It features a Cope-like rock star travelling around Highway 131 in Sardinia, but along the way we get fascist kidnappers, football fans gearing up for Italia 90, counter-arguments to C.S. Lewis, praise for D.H. Lawrence, and a cast of comic eccentrics with the sorts of names that scream 'comic eccentric'. It is, in short, a sort of catch-all mess with bits of thriller and sf and football novel and the whole bizarre list of Julian Cope's obsessions all thrown into the mix, and yet it seems to work. Well, it does if you like time-shifting gnostic hooligan road novels.
One Three One is clearly the oddball novel of the month. Controversy of the month brings us to a debut novel by Jon Wallace, Barricade (Gollancz). I'd been thinking of mentioning the book in this column, since initial reviews suggested it was a moderately-interesting page-turner, but then came Christopher Priest's damning review at Arc, and suddenly the internet was alight. Wallace didn't help his cause with a couple of ill-judged if defensive posts, but the controversy did drive a lot of people to read the book who might not have done otherwise, though I noticed that the general reaction afterwards was that Priest had been too generous. But the best thing to emerge from this mess, and the thing I really wanted to draw your attention to, was this superb post by Tricia Sullivan, which amounts to a heartfelt manifesto for those who want to revisit some of the most well-worn of contemporary sf tropes.
Let's move on from the wild and the angry. Among the other new books this month is The Rhesus Chart, the latest Laundry novel by Charles Stross (Orbit), and to celebrate the launch he's organised a competition or 'the worst, most embarrassing disciplinary hearing we in the Laundry have ever had the misfortune to be involved in'. You'll find details on his blog and you've still got time to win one of five signed first edition hardback copies of the book. Another big name, or in this case pair of names, with a book out this month is Stephen Baxter and Terry Pratchett. The Long Mars (HarperCollins), the third in their ongoing 'Long Earth' series, sees Willis Linsay, the long-vanished originator of the Stepper device, reappear to plan an epic journey across the Long Mars, though it seems he has an ulterior motive.
Meanwhile, Angry Robot brings us The White Towers by Andy Remic, the second in his fantasy sequence The Rage of Kings. Though all is not well at Angry Robot at the moment. It has been one of those plucky little independent publishers that sprang up over the last few years, bringing a number of new authors to our attention including Lauren Beukes and Madeline Ashby, though to be honest I've felt it has tended to be let down by often very poor editing and proofreading. And now it may have over-reached itself. It has just announced that its YA imprint, Strange Chemistry, has closed; there are rumours that parent company Osprey Publishing is looking to sell the imprint, and editor Lee Harris has just cropped up as a new editor at Tor.
Thinking about publishers, Gollancz have just teamed up with the bookseller Waterstones to bring a one-day multi-media Science Fiction and Fantasy Festival to be held at the Waterstones branch in Piccadilly, London. It will be held on 13th August, just after the Nine Worlds Geekfest, and immediately before Loncon 3, the Worldcon, so it adds to the embarrassment of riches already lined up for everyone planning on coming to the Worldcon. Names already lined up for the Festival include Patrick Rothfuss, Joanne Harris, Ben Aaronovitch, Adam Roberts and more, and there is already talk of it becoming an annual event.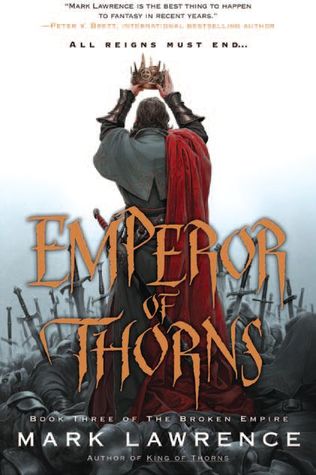 Finally, I said last time that we had finally got to the end of the awards season. I was, of course, wrong. We've just had the announcement of the winners of the Gemmell Awards, staged, appropriately, at the Magic Circle. The Ravenheart Award for cover art went to Jason Chan for Mark Lawrence's Emperor of Thorns, which also won the Legend Award for best novel, while the Morningstar Award for a debut novel went to Promise of Blood by Brian McClellan. And I'd like to think that really is the end of the award season for another year, but somehow I suspect some more awards are suddenly going to appear from nowhere.
—-
British sf critic Paul Kincaid is the author of the Hugo Award-nominated What It Is We Do When We Read Science Fiction and a just-released collection of reviews, Call And Response (Beccon). He has won both the Thomas D. Clareson Award and the BSFA Non-Fiction Award.