Raleigh author Stacey Cochran has written in several genres, from mystery to horror, science fiction to poetry. His latest project, Eddie & Sunny, is a crime novel / love story he's elected to submit to the newly launched Kindle Scout program, a "crowdsourced slush reading" publishing project from Amazon which puts the choice of submitted books to reader votes; the winners receive a $1,500 advance and editing, design, and marketing support. This would be a big deal for Cochran's writing career, so if what you read here sounds interesting, visit the Kindle Scout page for his book and click 'recommend'. You can also read an excerpt from the book, ahd read about Cochran's inspiration for writing it. Here's the pitch: "Eddie and Sunny have never had much in life, save for each other's love. For months they've lived out of a car with their young son. A tragedy on the road one night turns the couple into fugitives of the law, separates them, and eventually leads each to believe that the other has died and all hope is lost. A passionate, triumphant conclusion follows as the very essence of love, hope, and the American Dream unite in a novel of beautiful simplicity."
By Stacey Cochran:
The hardest part of writing Eddie & Sunny was the ending. As the novel started to wind down I could see two logical outcomes for the story, but they were completely different. So I ended up writing both endings and talking a lot about them with my wife and my agent. Aside from that, the book was pretty easy to write.
The opening scene (featured coincidentally on Kindle Scout) was originally published in a slightly different format as a short story in Needle: A Magazine of Noir. And another excerpt was selected as a finalist for the James Hurst Prize in 2011 in a blind review process by Ron Rash. This early positive feedback sustained me during the three years that I wrote the rest of the novel and edited it.
While it's a short novel (about 50k words) the process to write it was grindingly slow. Some people could pop off a 50k word novel in less than a month easy.
I was very, very careful and self-critiqued every little detail over the course of three years. That was hard.
But my agent, when he read it, loved it. Described it as the best "social" novel he'd read in a decade as an agent, so that again boosted my morale.
Probably the hardest part in all of this, though, is self-promoting the book. I'm much more comfortable promoting someone else's work, featuring someone else on a panel, interviewing someone else for a TV interview. I can do it if I have to do it, but I'm much more comfortable flying under the radar these days. So this is hard.
—-
ABOUT THE AUTHOR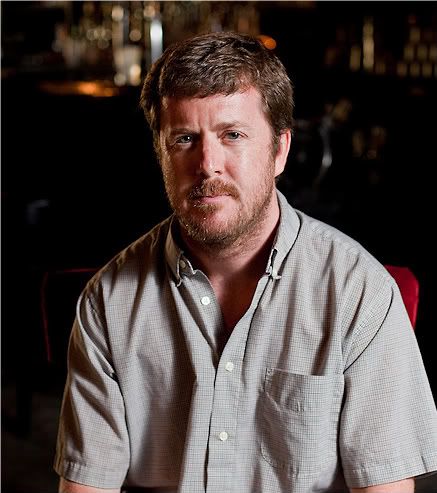 Stacey Cochran was a finalist for the 1998 Dell Magazines Award for Fiction, a finalist for the 2004 St. Martin's Press/PWA Best First Private Eye Novel Contest, and a finalist for the 2011 James Hurst Prize for Fiction. He is the author of In Love with Eleanor Rigby and The Loneliest. He teaches writing at North Carolina State University in Raleigh, where he lives with his wife Susan, son Sam, and daughter Harper Jane. He is chair of the World Mystery Convention in 2015 and is a long-time organizer of The Raleigh Write to Publish Meetup Group.