So, Soft Skull Press is set to publish College of Charleston historian and Lovecraft aficionado W. Scott Poole's new book In the Mountains of Madness: The Life, Death, and Extraordinary Afterlife of H.P. Lovecraft in September, and Poole is set to launch the book at Asheville's Malaprop's Bookstore on Wednesday, September 7, with a second reading in North Carolina on Thursday, September 22 at Greensboro's Scuppernong Books. The book comes bearing blurbs from Victor LaValle, author of The Ballad of Black Tom, Grady Hendrix, Jonathan Maberry, and Sheri Holman, among others, and starred reviews from Booklist and Library Journal. But who else, really, would I turn to for a review of this book other than frequent Bull Spec contributor (and, OK, fellow Lovecraft aficionado and Bram Stoker Award winning editor) Nick Mamatas? So, I asked him to write one. Nick's got his own recent Lovecraftian book out, the horror-murder-mystery-at-a-Lovecraft-convention novel I Am Providence, which I'm giving away 5 copies of to promote people coming to read this review and check out Poole's book and events. To enter and find out more about Nick's novel, see the contest details at the bottom of this post! But now, without further adieu, here's what Nick — never one to pull his punches — thought of Poole's work of biography and criticism of Lovecraft, In the Mountains of Madness: The Life, Death, and Extraordinary Afterlife of H.P. Lovecraft.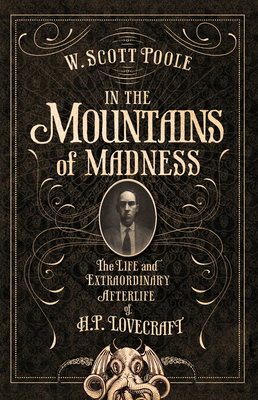 — Review by Nick Mamatas —
Given S.T. Joshi's titanic two-volume biography of H.P. Lovecraft, I Am Providence, does the world need another treatment of the writer's life, just a few years later? When it comes to the details of Lovecraft's life, certainly not. When it comes to matters of interpretation and context, there is always room for more. Lovecraft is a major twentieth-century writer, and, like Poe or Dickens, will be reinterpreted and recontextualized for as long as the twentieth century, with its Holocaust and Hiroshima, remains important. So here we are then, with the release of In the Mountains of Madness: The Life and Extraordinary Afterlife of H.P. Lovecraft by historian and pop culture scholar W. Scott Poole.
But is it any good?
Eh, sure, in parts. Poole does decent work in rehabilitating Lovecraft's mother who has previously been depicted as an oppressive figure responsible for Lovecraft's damaged psyche. In Poole's eyes, she was a bohemian suffragette who indulged Lovecraft's interests and gave him leave to avoid the rigors and responsibilities of daily life. Poole doesn't integrate the revelation Lovecraft shared with his wife Sonia—that "he had not been kissed since he was a very small child"—into this new interpretation of Sarah Susan Lovecraft, however. Poole also makes the bold, if somewhat bizarre, assertion that in a few years all the hip young horror kids will be reading "Hypnos" and other early work by Lovecraft, while the stories that make up the so-called "Cthulhu Mythos" will fade in significance. One had to give him points for trying to turn his personal taste into an audacious prediction. Joshi's literary criticism often makes similar expansive claims, so why the heck not? This reviewer stopped his read of the book to re-read "The Nameless City" at the biographer's prodding, and he did come away with a new appreciation for it.
Poole's version of Lovecraft's life is as speculative as his predictions. Was Lovecraft gay? Was he a pedophile? Poole writes, "I don't believe, by which I really mean I don't know, that Lovecraft's relationships with these young men proceeded to sexual activity. No such assertion can be made even in the suspicious case of [Lovecraft friend and literary executor R.H.] Barlow", which is the sort of vague non-claim claim that in the early days of a better publishing industry would have received, in red ink, the editorial comment "WTF?" You know, "Where's the feature?" He later plainly states without citation or argument, "R.H. Barlow was more than a little in love with H.P. Lovecraft." Wait, what?
Poole's discussion of sex in Lovecraft's fiction is as tendentious; he locates it in Lovecraft's theme of miscegenation and degradation. Yes, even monstrous procreation implies sex, but that doesn't make the writing about sex. One is reminded of the old joke about Ben Franklin's old saw that the only constants in life are death and taxes, after it's been run through the marketing department. Well, "death" requires birth, which means sex, and "taxes" suggest income which means money: good news everyone, the only constants in life are fucking and treasure! Poole quotes Freud on the utility of his theories when it comes to artists and writers—"psychoanalysis must lay down its arms"—but then goes ahead and quotes Stephen King on Lovecraft's sexuality as suggested by the "slurping, sucking genitalia monsters" in Lovecraft's fiction: ""we're in a Freudian three-ring circus."" Well, biographer, do we start looking for penises everywhere in the stories, or is even trying futile, as Freud himself suggested? Which is it?
The core of the book is revealed in the post-colon subtitle. Poole zips through Lovecraft's life, but is more interested in the author's afterlife, that is, his influence. Poole locates Lovecraft, Zelig-like, at the dawn of role-playing games, science fiction fandom, heavy metal music, the films of John Carpenter, and in the contemporary fascination with all things geeky and nerdy. But sometimes he gets ahead of himself. Poole knows that Lovecraft's letter-writing and involvement in amateur press associations were the precursors to fandom as it emerged in the letter columns of the science fiction pulps, but manages to type the sentence, "The world of the fan had its beginnings in the letter columns of the original issue of comics like Spider-Man and the Fantastic Four" anyway—turning history inside-out. (For those who happened upon this website by accident, the first World Science Fiction Convention, or Worldcon, was held in 1939, and those Marvel comics Poole named were launched in the early 1960s.)
Poole compares the ubiquity of Lovecraftian work, imagery, and the like to the rise of Star Wars, The Lord of the Rings, and other pop culture phenomena. Some of his observations are based on pure personal encounters—he met a weird hipster dude once, and claims to have been creepshotted while reading a Lovecraft story, with the photo transmitted to some social medium or other. There's a definite personal essay of interest, or even a book-length Lovecraftian fandom travelogue in embryo here, but Poole doesn't follow up. Instead, he spends some time on the counterculture of the 1960s, and wonders aloud how poorly Lovecraft would have dealt with the reality of the Black Panthers. Conspicuous by his absence from Poole's musings, though, is an actual example of a then-living right-wing genre fiction author who had significant influence on the counterculture: Robert Heinlein with his cult hit Stranger in a Strange Land.
Time and again, when reading In the Mountains of Madness, this reviewer thought, "Yes, but…" or "No, what about…" or "But didn't you just say…", "Haven't you considered…", and sometimes, "Who cares?" Who cares if H.P. Lovecraft probably wouldn't have liked Cradle of Filth? (Or, for that matter, that S.T. Joshi doesn't like Lovecraftian comic books!) The ultimate problem is this: In the Mountains of Madness is half a biography, and half a fannish critical engagement with Lovecraft's influence on contemporary popular culture. But there is no real seed of Lovecraft's influence to be found in Lovecraft's life, except for the "open source" nature of his creations and the faithfulness of his friends and correspondents. We don't need to pretend that Lovecraft's epistolary production was like a slow, paper Internet, or that there is anything other than our old cosmic foe, irony, at work in the fact that Lovecraft died poor and nearly forgotten and now everybody loves him and makes more money on his goofy bullshit than he ever did. The biographical sections do not illuminate the critical sections, and the critical sections never rise above the level of list-making.  We already have a number of good biographies, and The Lurker in the Lobby, The Cthulhu Mythos Encyclopedia, Wikipedia links, and even our own bookshelves for all that fan-inventory stuff.
Poole is an engaging writer, and his discussion of August Derleth, Chaosium, and such suggest that he's not writing for the newcomer to Lovecraft, even as he writes for a general audience. There are occasional insights here, and a few provocations that make the book worth checking out, but in the end In the Mountains of Madness will likely be just one more obscure tome in the labyrinthine libraries of the Great Race of Yith.
RELATED EVENTS
September 7 (Wednesday) 7 pm — Asheville's Malaprop's Bookstore hosts College of Charleston historian W. SCOTT POOLE launches IN THE MOUNTAINS OF MADNESS: THE LIFE, DEATH, AND EXTRAORDINARY AFTERLIFE OF H.P. LOVECRAFT. "We are celebrating the publication of In the Mountains of Madness: The Life, Death, and Extraordinary Afterlife of H.P. Lovecraft, W. Scott Poole's new book about the iconic weird horror author. Kirkus Reviews praises it as "seamlessly weav[ing] biography and criticism . . . thoroughly enjoyable and highly readable." The book follows Lovecraft through his life and into his significant afterlife, tracing his influence on modern horror filmmakers, writers, and readers."
September 22 (Thursday) 7 pm — Greensboro's Scuppernong Books hosts College of Charleston historian Scott Poole for his book In the Mountains of Madness: The Life, Death, and Extraordinary Afterlife of H.P. Lovecraft (Soft Skull Press) which "interweaves the biography of the legendary writer with an exploration of Lovecraft as a phenomenon. It aims to explain this reclusive figure while also challenging some of the general views held by Lovecraft devotees, focusing specifically on the large cross-section of horror and science fiction fans who know Lovecraft through films, Role Playing Games, and video games directly influenced by his work but know little or nothing about him."
ABOUT THE REVIEWER
Nick Mamatas is the author of six and a half novels, including The Last Weekend (PS Publishing), Love is the Law (Dark Horse), The Damned Highway with Brian Keene (Dark Horse), Bullettime (CZP), Sensation (PM Press), Under My Roof (Counterpoint/Soft Skull), and Move Under Ground (Night Shade/Prime). His latest collection is The Nickronomicon, from Innsmouth Free Press. His novels have been translated into German, Italian, and Greek. Nick is also an anthologist and editor of short fiction: with Masumi Washington he co-edited the Locus Award-nominated The Future Is Japanese (Haikasoru), and with Ellen Datlow he co-edited the Bram Stoker Award-winning Haunted Legends (Tor Books). Nick's own short fiction has appeared in genre publications such as Asimov's Science Fiction and Tor.com, lit journals including New Haven Review and subTERRAIN, and anthologies such as Hint Fiction and Best American Mystery Stories 2013. His fiction and editorial work has been nominated for the Bram Stoker award five times, the Hugo Award twice, the World Fantasy Award twice, and the Shirley Jackson, International Horror Guild, and Locus Awards. His writing guide Starve Better: Surviving the Endless Horror of the Writing Life (Apex Publications) has been excerpted in The Writer, and he has also published two joke/reference books: Insults Every Man Should Know and Quotes Every Man Should Know (Quirk Books). His latest book, I Am Providence: A Novel, was published by Night Shade Books in early August.
CONTEST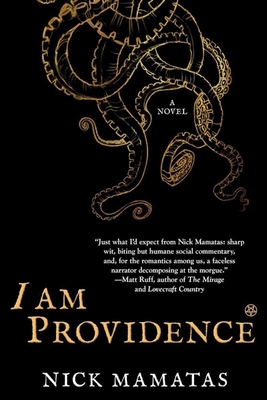 Want to win one of the five copies of I Am Providence? Simply comment right here on this post with your favorite piece of Lovecraftia not written by Mr. Lovecraft himself, whether it's biting criticism, a humorous mashup, or some other "obscure tome". You don't have to explain why, but it would be nice! Five comments at random will be selected and contacted via the (non public, not used for any other purpose) email address linked to the comment for a (again, not used for any other purpose) mailing address. Due to postage requirements, copies can only be sent to United States addresses, including Alaska, Hawaii, and Puerto Rico. And if you want to play along via social media, I'll be keeping my eye on the hashtag #WinIAmProvidence for this one, though contest entries only count if commented here. Good luck! And don't wait too long, as contest entries will only count if accepted by Midnight Eastern Time on Saturday night, September 3.