[Editor's Note: From the Other Side is Paul Kincaid's monthly column on books and news from the other side of the Atlantic.]
From the Other Side, September 2016
By Paul Kincaid
So, we've been away on holiday. Yes, Wales again. And indeed we did have a very good time, thank you for asking. Lots of reading, practically none of it science fiction (it was a holiday, you know).
Actually, I did finish one science fiction novel I'd begun before the holiday, The Gradual by Christopher Priest (Gollancz). Well, I couldn't leave that unfinished, could I?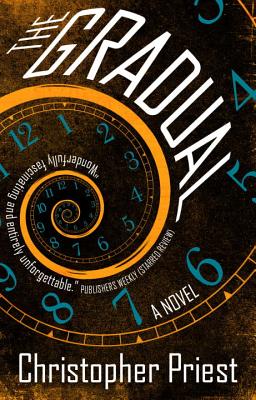 Priest's approach to genre is always, shall we say, oblique. When he writes a murder story (The Islanders), you'd be forgiven for wondering was there actually a murder? And if so, who was the victim? When he writes alternate history (The Separation) it's so dazzling that you can hardly keep track of how many different timelines there are (for the record, I count five). When he writes a virtual reality story (The Extremes) it's about as far from cyberpunk as it's possible to imagine.
Well, The Gradual is his time travel story, so you can be sure that you barely even notice when time starts to mess things up. Most of the time it seems to be a fairly straightforward story of a somewhat uptight composer and musician who lives in one of the fascist states on the northern continent (we're back in the familiar world of the dream archipelago, of course). He is inspired by the sight of the islands from his coastal home, but a chance to tour the archipelago starts to change things; and when he is forced to flee the fascist regime in his home state, we come to realise just how weird life in the archipelago can be.
I admit, The Gradual did not immediately thrill me, but it is one of those books I find myself thinking about more and more since I finished it, and it becomes richer and more complex every time my mind goes back to it. And I find it resonates in unexpected ways with other dream archipelago stories, so I think it is definitely the sort of book that grows on you.
Rather more immediately engaging is another of the big novels of the month, Revenger by Alastair Reynolds (Gollancz). Last month I found myself complaining that China Miéville's new novel is out in America already, but in Britain we have to wait until next year; well now the boot is on the other foot. Revenger is out now in Britain, but apparently isn't published in the US until the New Year. In our modern world of ebooks and international sales and all the rest of it, such discrepancies make no sense to me. We must assume the publishers know what they are doing, but sometimes it isn't that obvious.
Revenger is a novel that starts as it means to go on, fast and active. Adrana and Arafura are the latest recruits aboard a ship that makes its living seeking out technological treasures among the fallen empires and shattered civilisations of the galaxy. But it's a dangerous place out there, with booby traps and enemies and barely understood alien technology all waiting to kill the unwary. This is the beginning of a new swashbuckling series of space pirates and buried treasure that seems to be something of a departure for Reynolds.
Wide screen baroque, as Brian Aldiss once called it, is also on display in Night Without Stars by Peter F.Hamilton (Macmillan), the conclusion to his "The Abyss Beyond Dreams" diptych (and also part of his Commonwealth series). Set centuries after the events of the previous novel, humans and Fallers are locked in a battle for survival in which the humans are vastly outnumbered, and hampered also by the fascist government that has taken over Benvenido. The only hope for survival depends on forbidden Commonwealth technology, and a human baby.
Away from the big names and the science fiction, it has been a rather more low-key month. In the realm of action-thrillers with unlikely fantasy overtones, there has been The Midas Legacy, the 12th volume in the Wilde and Chase series by Andy McDermott (Headline), a series that began with a quest to find the lost city of Atlantis, and now involves a search for the secret of King Midas. In more straightforward fantasy, there is The Fall of the House of Cabal by Jonathan L. Howard (Thomas Dunne Books), the fifth in a series about a notorious necromancer who seeks a cure for death. Unfortunately, the latest clue he has uncovered leads him and his companions into a trap of such complexity that even his enemy doesn't fully understand its true terrors. Or there is The Path of the Hawk by Ian Graham (Orbit), featuring the elite soldiers of the Pilgrim Church, whose latest quest opens up a millennia-old war between nations.
Meanwhile R.B. Russell, the publisher behind Tartarus Press, has a novella of his own out from P.S. Publishing. The Stones Are Singing begins with a minor alteration to the view of the decaying ruins of Venice that John Dowson sees from his living room, but that small change leads him into the complexities of alternate realities and parallel existences. P.S. Publishing also has a new collection of a dozen horror stories by Stephen Volk, The Parts We Play, which includes the British Fantasy Award-winning novella, "Newspaper Heart". There's more of that hinterland between fantasy and horror in Chasing Embers by James Bennett (Orbit), in which the man whose job it is to stop us finding out that many of our myths and legends are real finds that an old rivalry has re-emerged, and as a result the balance between worlds is breaking down.
—
British sf critic Paul Kincaid is the author of the Hugo Award-nominated What It Is We Do When We Read Science Fiction and the BSFA Awards 2014-nominated Call And Response. He has won both the Thomas D. Clareson Award and the BSFA Non-Fiction Award.