North Carolina author Jason Mott's debut novel The Returned has gone from a dream, to a short story, to a novel, and soon is coming both to the small screen (an ABC series set for a 2014 mid-season launch) and to a bookstore near you, with stops across North Carolina (Chapel Hill's Flyleaf Books on Tuesday August 27, Wilmington on August 28, Southern Pines on August 29, and the Bookmarks Festival in Winston-Salem in early September) before heading further afield on a nation-wide book tour. Mott, an accomplished short fiction writer and poet, is from Bolton, NC. He has a BFA in Fiction and an MFA in Poetry, both from the University of North Carolina at Wilmington. He is the author of two poetry collections: We Call This Thing Between Us Love and "…hide behind me…"  The Returned is his first novel, and has been optioned by Brad Pitt's production company, Plan B, in association with Brillstein Entertainment and ABC [trailer]. It will air in March, 2014 on the ABC network under the title "Resurrection."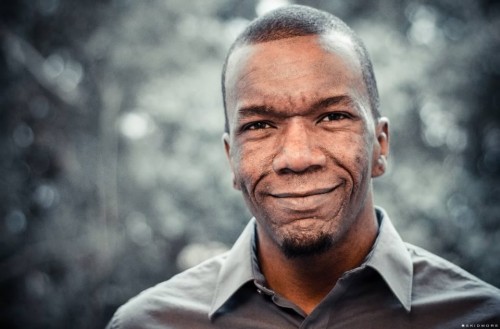 [photo credit: Randy Skidmore]
The Returned has been hailed as "A beautiful meditation on what it means to be human" (Booklist), "an extraordinary and beautifully realized novel" (Douglas Preston), and "A deft meditation on loss that plays out levels of consequence on both personal and international stages" (Aimee Bender). In the novel: "Harold and Lucille Hargrave's lives have been both joyful and sorrowful in the decades since their only son, Jacob, died tragically at his eighth birthday party in 1966. In their old age they've settled comfortably into life without him, their wounds tempered through the grace of time…. Until one day Jacob mysteriously appears on their doorstep—flesh and blood, their sweet, precocious child, still eight years old. All over the world people's loved ones are returning from beyond. No one knows how or why this is happening, whether it's a miracle or a sign of the end. Not even Harold and Lucille can agree on whether the boy is real or a wondrous imitation, but one thing they know for sure: he's their son. As chaos erupts around the globe, the newly reunited Hargrave family finds itself at the center of a community on the brink of collapse, forced to navigate a mysterious new reality and a conflict that threatens to unravel the very meaning of what it is to be human."
Here for the new "Coming to Town" series, Mott answers some questions about poetry vs. prose, the background of the novel, the themes behind his favorite books, and the difficulty of letting a manuscript go. Enjoy!
Q: Thanks very much for taking the time for "Coming to Town". As an NC author, do you make many trips up to the Triangle area?
All the time!  Some of my best friends live in Raleigh and Carrboro.  I'm literally up this way at least once a month.  And I've got a sister and a pair of nieces living in High Point.
Q: Your collections have been critically well-received, and the early reviews for The Returned have been high on the story and even higher on the language. Does a poet have a language advantage when approaching a novel, or are they just too different to compare?
I think it varies with styles of writers.  I certainly won't say they're too different to compare.  For me, fiction and poetry have always dovetailed one another.  I began writing fiction and only really discovered writing poetry much later.  So, as a result, my poetry tended to be a bit more narrative driven.  And, from writing poetry, I learned a lot about line integrity and how to be concise when needed.  I think that helps me conquer certain hurdles that arise when writing a novel.  Writers should never limit their creative journey by building walls between genres.
Q: Not many debut novelists get sent on a 15-city book tour or a high-visibility free audiobook prequel series to promote the book. [See covers for these free story-length audio prequels above.] Certainly a lot of that comes with the attention given any book picked up for media production — in your case the anticipated 2014 ABC series "Resurrection" from Brad Pitt's Plan B. But that comes from having a compelling book to start with, right? Can you tell me a bit about the road from conceiving the novel, to writing it, to knowing you really had something really quite good on your hands?
This novel began in the summer of 2010. Both of my parents have passed away, and in the summer of 2010 I had a dream that I came home from work and found my mother sitting at the kitchen table, waiting for me. For the rest of the dream she and I just sat together and talked about all the things that had happened in my life since her death—college, new friends I've made, my focus on becoming a writer. She even teased me a little on not being married yet. It was one of the most warm, comforting dreams I've ever had.
I woke from that dream certain that it had been a real experience. I genuinely expected to find her in the living room. In the days that followed, I couldn't get the dream out of my head. And, one day, I was having lunch with a friend and I told him about it. At some point he said "What if that really happened? And what if it wasn't just her?"
And that was where The Returned began.  I wrote a short story soon thereafter and read it at a reading series my friend and I used to host in Wilmington.  The audience responded so strongly to the short story that I knew I had to take a swing at making it into a larger project.  And, honestly, I never expected any of this attention that the book is getting.  I'm just really, really grateful and excited that so many people seem to be responding to the story.
Q: Your list of favorite books runs the gamut from graphic novels to a "writer's writer" novel, John Gardner's Grendel, to a very recent magical realism novel, Eowyn Ivey's Snow Child. Other than perhaps a theme of "otherness", or perhaps more specifically of the "otherness of children", what seems to unite the works which most intrigue and interest you?
I see what you're saying.  And I think you're right:  there is a bit of a theme of "the power of childhood"  that runs through all of those stories.  As far as The Returned is concerned, the focus on the broken Hargrave family came as a reaction to my own personal journey and the death of my parents.  I didn't want to turn this novel into simply my own catharsis on the page, so rather than have the story center around a man whose mother had returned—the parent returning to the child/my mother coming to me—I chose to invert it and have the child return to the parent. That little inversion helped me get some healthy critical distance from the story which, I believe, has helped make all of the difference.
Q: I saw on Twitter that you're about to send your next manuscript to your editor, but it's hard to be ready to "let go" and click send. As a poet you can take the time to craft word by word, but the deadline demands of a novel series mean the drafts have to be turned in for others to read. How hard is that process of letting go and turning off the wordsmith perfectionist for you?
That's one of the most difficult parts of the process.  No manuscript is ever really "ready."  Even now, if the publisher suddenly handed me The Returned and said "Is there anything you'd like to change?" I'd be all over that manuscript.  I think all writers go through that.  It's a process very akin to sending a child out into the world.  One never feels ready.  But, inevitably, it has to happen.
Q: Thanks again, and best of luck both with the next book and your upcoming tour!
No problem!  Thanks so much for letting me play along!
—-
Jason Mott will launch his new novel The Returned at Chapel Hill's Flyleaf Books on Tuesday, August 27 at 7 pm [Facebook event], with a reading and book signing, where he will also be in conversation with Durham author Nathan Kotecki (The Suburban Strange). This event is free and open to the public.