I recently had the chance to play chauffer for Georgia author Delilah S. Dawson, in town for appearances both at the SFWA Southeast Reading Series and the SIBA trade show. I learned many things. Dawson: knows her D&D editions; is as fascinated as anyone would be by a display of bizarre medical texts and archaic medical apparatus; has an appreciation of American transcendentalism; will totally impulse buy and eat Frankenstein candies of unknown provenance; and she had a really, really, really intriguing book coming out soon, pitched as "It's Lonesome Dove meets Buffy the Vampire Slayer with a biracial, genderqueer heroine." That book, Wake of Vultures, is out now in print, ebook, and audiobook editions. Elsewhere, Dawson wrote about the Big Idea behind the book, and here she writes about the hard part of giving into a story of questionable marketability she was starting to obsess about (and would instigate a new pseudonym!) instead of playing it safe and writing another "Delilah S. Dawson" young adult book. Enjoy!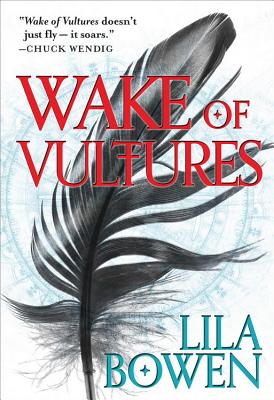 — Essay by Delilah S. Dawson, writing as Lila Bowen —
Every story involves the writer taking the reader's hand and urging them to jump out into the unknown. Some books are like hopping in a shallow, pretty rain puddle, but Wake of Vultures was more like leaping off a cliff. The hardest part was getting over my own fear of failure.
The inspiration for Wake was a late night tweet. This one, in fact:
New book idea: Urban fantasy x Lonesome Dove. Gus and Call hunt the actual Wendigo instead of Blue Duck. *waits for money to fall from sky*

— Delilah S. Dawson (@DelilahSDawson) December 4, 2013
It started as a joke but quickly became an obsession.
When I pitched it to my agent, she had concerns. Neither Westerns nor Paranormal were currently big sellers in the traditional market, and when I decided the heroine, Nettie Lonesome, was half black, half native, and lived her life as a man, it became an even riskier sell. Still, I had to write it. The world called to me, Nettie had a list of demands, and I quickly realized that I'd rather leap and crash than tap my feet in the rain puddles, where it was safe. Instead of worrying about whether or not the book would sell, I focused on writing the best damn unsellable book I could. And that meant I could throw in all sorts of fun, impossible things: a siren in the middle of the desert, a Commanche monster, a vampire bordello, and even some mouthy harpies.
The monsters were easy, but the people weren't. I was writing about populations who'd suffered bigotry and genocide in the Fantasy equivalent of 1800s Texas, not to mention an unconventional heroine best identified as genderqueer. I wanted to do justice to the character and Nettie's world while doing honor to the real people who suffered in our world. The hard thing about writing outside of your own experience is that you're bound to get some of it wrong, and people are going to let you know about it. I've always hated being criticized, but writers can no longer avoid that aspect of the author-reader relationship. It's scary, knowing that your story will hurt or offend some people no matter what you do. For me, now, I can only do my research, write my story, and listen to the feedback so that I'll do better the next time.
Right before Wake of Vultures went on submission, I was bucked off my horse and broke my back. I'd never been helpless before, never had an accident that brought me so close to death. For a while there, I thought I'd have to sell my horse or give up my favorite activity. But Nettie taught me not to let fear take the reins. The day we found out that Wake had sold was the same day my back brace came off, and I drove straight to the barn to begin retraining my horse. A few weeks later, I was back in the saddle.
So far, I'm glad I jumped off that cliff and chose to write a story I'm passionate about instead of playing it safe. I hope y'all will give Wake of Vultures a read and see if you like flying, too.
ABOUT THE BOOK
A rich, dark fantasy of destiny, death, and the supernatural world hiding beneath the surface.
Nettie Lonesome lives in a land of hard people and hard ground dusted with sand. She's a half-breed who dresses like a boy, raised by folks who don't call her a slave but use her like one. She knows of nothing else. That is, until the day a stranger attacks her. When nothing, not even a sickle to the eye can stop him, Nettie stabs him through the heart with a chunk of wood, and he turns into black sand.
And just like that, Nettie can "see."
But her newfound ability is a blessing and a curse. Even if she doesn't understand what's under her own skin, she can sense what everyone else is hiding — at least physically. The world is full of evil, and now she knows the source of all the sand in the desert. Haunted by the spirits, Nettie has no choice but to set out on a quest that might lead to her true kin… if the monsters along the way don't kill her first.
ABOUT THE AUTHOR
Delilah S. Dawson is the author of the Blud series, the Hit series, Servants of the Storm, a variety of short stories and comics, and Wake of Vultures, written as Lila Bowen. She teaches writing classes online for LitReactor and lives in the north Georgia mountains with her family. Find her online at whimsydark.com.