From: Bull Spec #10
Durham author J.J. Johnson is the author of the contemporary young adult novels This Girl is Different (2011) and The Theory of Everything (2012), but before committing book-length fiction she counseled at-risk teens, both her vocation, education (Master of Education from Harvard University, with a concentration in Adolescent Risk and Prevention), and avocation, having navigated the corridors of a treatment center as a teen. For new new book, Believarexic, she draws on that period of her life to create an "autobiograpical novel" which Kirus Reviews calls "a powerful story of healing and self-acceptance".
EVENT: Durham's The Regulator Bookshop hosts Johnson for a reading and signing on Saturday, October 3 at 7 pm.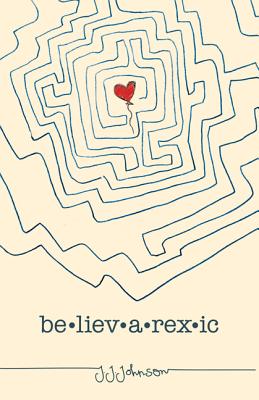 — Interview by Stephen Messer —
Q: This week marks the launch of your new book, Believarexic, which has been described as an "autobiographical novel". How do you define this term, and why did you decide to use this approach for your story?
Calling a book an autobiographical novel is a lot like saying something is "true make-believe," right? Believarexic is an autobiographical novel because it's the fictionalized story of actual events in my life.
So: the challenge is to tell the truth, without being limited by the truth.
I think of it as a sine wave drawn over a straight line. The straight line represents what really happened. Believarexic is the wavy line: it follows the direction of the straight line, and the two lines intersect a lot. But, to craft a better narrative, I exaggerated some things, consolidated a few characters, and slid timelines around a bit. My intention in doing so was to tell a good story, not to be deceptive or practice "truthiness." In the interest of transparency, I've posted my real journal from my actual hospitalization on my website, www.believarexic.com.
Q: Your previous novels, This Girl is Different and The Theory of Everything, are set in the present day and take place in the same fictional world, but are not overtly autobiographical. All three books share the same upstate-New-York setting, however. Did you have any connections between the three in mind when writing Believarexic?
This Girl is Different and The Theory of Everything are contemporary and take place two years apart; they have a lot of intentionally overlapping characters. Believarexic is set more than two decades before TGID and TTOE, so obviously there isn't a lot of character overlap. But in my mind, Sarah's house in TTOE is my house in Believarexic. (Her family buys our house from my parents after I've left for college.) And there is some reference to parties near the quarry on West Hill in all three books. Trust me, those parties are a recurring Norwich theme in fiction and real life.
Q: Your hospital stay, as described in Believarexic, took place in 1988. How do you think things might be different now for a high schooler seeking the same treatment in 2015?
I'm definitely not an expert in current methodologies, but from what I've read, a lot has changed, but some things are the same. One new treatment, The Maudsley Approach, is fascinating, and the complete opposite of my treatment. Maudsley keeps restrictive-type, adolescent eating disorder patients at home; it centers care within the family. Contrast that to the late 1980s, when there was a de-facto assumption that patients were dysfunctionally "enmeshed" with our families—especially our mothers. Separation from the family was a cornerstone of treatment. And it just about killed me. You have to appreciate the irony.
Some things have stayed the same, though. The emphasis on re-feeding and achieving a healthy weight remains, as does the need for individual and family therapy, good nutrition education, and healthy coping strategies.
Q: The novel is deeply personal, with your relationships with friends and family described in vivid detail, and real names used. How did some of those people react to their portrayals as characters in the novel?
I used the real names for my mother, father, brother, and best friend, Kelly—with permission. All other names have been changed. The Kelly stuff was easy, and she's ready for fame. But my family—writing about them was intensely difficult. I didn't hold back. I wrote about our dynamics, our history, our therapy sessions. For the book to feel authentic, I needed to be honest and real about those things. But the truth can be brutal. I didn't want to hurt them. I've already put them through a lot! But my parents have read every draft, and have been unwaveringly supportive and good-humored. Their generosity is humbling.
Q: Now that Believarexic is out, what can J.J. Johnson fans look forward to next?
Dude. I'm going back to my roots in contemporary YA, and adding a touch of utopianism.
Sarah from The Theory of Everything and Evie from This Girl is Different are teaming up. They'll meet in college—in the county clink, specifically—after being arrested during a protest. They decide they are tired of fighting and protesting What Is, and want to build What Could Be. So they build a sustainable, co-operative eco-community. Basically: they start a commune. Hijinks will ensue. They'll have tons of fun… until they don't. Bad guys close in. Things go wrong. Haters start hating. Can they salvage what they've built? Or has it all been for nothing? Can two young women really change the world? Read it to find out.
—-
ABOUT THE INTERVIEWER
Stephen Messer was born in Maine in the northeastern United States and grew up there and in lots of other places. As a child he was inspired by the desert skies of Arizona, as well as his many trips to the public library. Nowadays, he writes books for young readers. His debut novel, Windblowne (Random House 2010), is a fantasy adventure about a boy who is blown away from his mountain wind-world of treehouses and kites, and his encounters with a mad genius, mechanical hunters, a missing moon, and the secrets of the powerful night winds. The New York Public Library named Windblowne to its Children's Books 2010 list. The dark and whimsical fantasy The Death of Yorik Mortwell (Random House 2011) features grotesquely delightful illustrations by the masterful Gris Grimly. School Library Journal said of Yorik: "Full-page, macabre illustrations appear throughout. Lemony Snicket, Harry Potter, and Neil Gaiman enthusiasts will appreciate this engaging, eccentric adventure."
He and his wife live in an old house in Durham, North Carolina.