Introduction and interview by M. David Blake:
Christopher J Garcia, who bears the dubious distinction of having delivered the only Hugo Award acceptance to ever subsequently receive its own nomination for a Hugo Award in a different category, is the fan guest of honor at this weekend's illogiCon at the Embassy Suites RDU. His schedule includes speculation upon the future, spacefaring worth of contemporary, earthbound culture; steampunk, and the "Weird West"; Thunderbirds, Bone-Sharps, and their kin (think Jim Ottaviani's comic novel, Bone Sharps, Cowboys, and Thunder Lizards, rather than anything having to do with Gerry Anderson's Supermarionation); Greek sports; and a star-studded, far-ranging, extemporaneous exploration of "The History of Anything You Wanna Know".
Q: You've had an interesting relationship with fandom, from a very early age. Arguably, any of us who ventured into editing did so because it was cheaper than therapy… but it takes a special type of insanity to assemble a fanzine. What made you want to do so? Was it simply a matter of exposure, or were there deeper influences at play?
A: I've always loved writing. That's really my passion, and I foolishly majored in it at Emerson College. I was taught to read from copies of Granfalloon and Niekas, so maybe it was pre-determined, but for years, I just had no interest. I guess it was a combination of turning 30 and having my first mid-life crisis, followed by basically deciding to give up on fiction writing that led me to look for an outlet for my own words. It also helped that eFanzines.com made it very easy to get a zine out to a wide swatch of people, and that I was reading Earl Kemp's eI regularly, which is enough to inspire anyone to go out and try their hand at it!
Q: Seems to have worked out well, because the last time I saw you was only a few hours after your memorable acceptance of the 2011 Hugo Award for Best Fanzine. At that point you told me about your big plans for the 300th issue of The Drink Tank. Now, a few minutes ago I glanced at eFanzines.com, and realized you are fast approaching another milestone. So, more big plans? How do you top the post-Hugo extravaganza with which you celebrated, a little over three years ago?
A: HUGE plan is the final Drink Tank issue, #400, to be released on January 31st. It's been a decade, it's time to fold up shop, and we're trying to gather everyone to write for us! Our themes (two of them!) are "Closing the Door" and "Decades," both of which we have some amazing pieces for. We've got a great cover, pieces from some amazing writers, and most importantly, I've got James Bacon and Vanessa Applegate to keep me sane!
Q: Wait a minute. Will issue #400 really be the end of The Drink Tank? I can't believe you'd really walk away, so what can you tell us about the next project?
A: Yup, we're done. No more new Drink Tanks… for at least a decade.  The next project is so many projects! We'll still be doing Journey Planet (3-time Hugo nominated! http://journeyplanet.weebly.com) and Klaus at Gunpoint(http://klausatgunpoint.weebly.com) but the big project is going to be called The Drink Tank Review of Dinosaurs! We're getting a bunch of folks to write reviews of hundreds of different kinds of dinosaurs. Not just "This is what this dinosaur did, how it looked' kind of reviews, more like we're reviewing cars. It'll be weird, funny, and educational. Think of it as the paleontological version of The Onion.
Q: I'm about 72% convinced that's a serious answer, which means whatever comes next, it should be interesting. Do you ever worry that you'll get burned out, or exhaust your own stores of fandom? Or is there always something new, to lure you?
A: There's always something new. I had a brief stoppage last year (my Second Mid-Life Crisis!) and that really showed me what fanzines meant to me. It was amazing to see just how much of my head and heart I poured into my writing, and when I started back up after a month, I was amazed at how much better I started to feel. Plus, I've got TONS of fandom to run through yet!
Q: Since the Campbells are near and dear to my heart, I'd be remiss if I didn't ask about your own Campbellian connection. A few summers ago you assembled a Worldcon exhibit to highlight the John W. Campbell Award for Best New Writer recipients. What brought that about, and what can you share about the experience?
A: As with many things, it was all Jay Lake's fault. He was one of the prime movers in gaining the Campbell Award more visibility, and he'd been talking to Peggy Rae Sapienza about doing something at a WorldCon. I heard about it and we came up with the idea of doing an exhibit, but as often happens, it went to the back-burner. But Peggy Rae, she never forgets! At Chicon, there was a fake parcel of grass and a toy lawnmower with a sign marked 'Mow Peggy Rae's Lawn' and the folks who pretended to mow got a Ribbon saying "I mowed Peggy Rae's Lawn." I did the mowing, but Peggy Rae refused me a ribbon until I did the Campbell exhibit, which led to me doing it the next year at Lonestarcon. I'm working on putting the AV portion on-line, though it might be a while!
Q: I certainly understand. For our last question, a "coming to town" interview wouldn't be complete without something about the town. The illogiCon website lists a selection of restaurants in the area, but I am curious: Since you have something of a reputation as a gourmand, are there any particular menus you'd like to sample, during your stay?
A: OMG I love BBQ! Gotta get me some Carolina, the one true BBQ while I'm out there! Vanessa and are were talking about places, which can be hard as she can't do Gluten. What I hear about Baba Ghannouj Grill makes my mouth water! One of my favorite things about going to out-of-town cons is the fact that I can try so many different foods, and this year, I know I'm gonna eat good!
—
ABOUT THE INTERVIEWER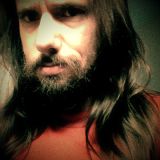 Although currently known as a science fiction writer, editor, and anthologist,  M. David Blake once utterly flunked a study of genre. In the third aforementioned role, he assembles the annual Campbellian Anthology; under guise of the second he edits STRAEON. The first garners infrequent publication royalties under an assortment of bylines. Forthcoming publications include "The Soldier Who Swung at the End of a Thread" in XIII (Resurrection House), as well as a reprint of "Absinthe Fish" in An Alphabet of Embers (Stone Bird Press).