Friday, October 11, 2013: The "Quick Updates" come fast and furious indeed this week, so here we go:
The Wilton Barnhardt reading and signing at Flyleaf Books which was originally set for tonight (Friday) has just been rescheduled to tomorrow (Saturday) — take note! The old date was on the email newsletter and a few stacks of flyers that are out and about. If you show up tonight, there will be no whiskey tastings, no matter how much you ask. Come back tomorrow!
Teen writers (and their parents and teachers) take note! Jeff VanderMeer announced "that National Book Award winner Will Alexander will be a guest writer at Shared Worlds, the SF/F teen writing camp I help run, in 2014, along with the previously announced Carrie Vaughn, Mur Lafferty, Steven Barnes, Nathan Ballingrud, and Ann VanderMeer. And Karin Steen Tidbeck will be a guest in 2015, to join Patrick Rothfuss, Kelly Link, Gavin Grant, David Anthony Durham, and more."
Speaking of John W. Campbell Award winning Durham author Mur Lafferty (I still like saying this very much) is one of a fantastic lineup of writers in an "anthology of improbable, futuristic, magical & alternate-world crowdfunding projects" being, er, crowdfunded itself via a Kickstarter campaign, John Joseph Adams HELP FUND MY ROBOT ARMY!!!
Jason Strutz's graphic novel adaptation of Edgar Allen Poe's classic story "The Cask of Amontillado" debuted yesterday at New York Comic Con. He has a 3-page preview up at his site, so check it out!
Richard Dansky guest posts on the Ubisoft's blog, On Becoming a Game Writer: "One of the questions I get asked most frequently is How do I get into game writing? … This is a perfectly reasonable question to ask, and in a just and fair and logical world, it would have a simple and concise answer. Unfortunately, we are not living in that world."
Comic Book Resources breaks the news that Tommy Lee Edwards has sold the comic book version of his Vandroid project to Dark Horse, with a trailer and comic preview. "Dark Horse has announced the Feb. 29 debut of Vandroid, a miniseries written by Edwards and Noah Smith, with art by Dan McDaid and colors by Jordie Bellaire. Edwards will provide the covers."
Meanwhile, it was great seeing so many people back — and new — at The Escapist Expo last weekend. Special thanks to Issue #8 cover illustrator Cynthia Sheppard for providing table space for some copies of Issue #8, and to Jen Hilton for providing table space for the "Community Fiction Project", which invited passers-by to type on my ancient Underwood manual typewriter, anything they'd like. I put quite a few "action" shots on the Bull Spec Facebook page, and hope to find time to scan the pages in soon and comment on the resulting "story". And! I had the privilege of talking to Durham author Nathan Kotecki on Monday on Carolina Book Beat, ahead of his book launch for Pull Down the Night on Tuesday.
And! This week also saw two fantastic local author sf panels in the Wake County Public Libraries month-long series, which still has several additional events to go including this Sunday afternoon at the Eva Perry Regional Library. And! There are four performances this weekend of "William Shakespeare's Land of the Dead" at Durham's Common Ground Theatre. For more info on these and other upcoming events, see below.
-Sam
OCTOBER 2013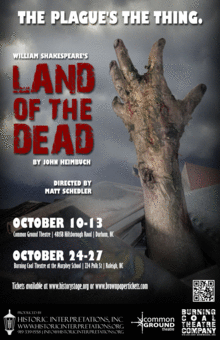 10-13 (Thursday to Sunday) — Durham's Common Ground Theatre hosts a staging of "William Shakespeare's Land of the Dead", a zombie/Shakespeare mashup. More info: http://www.brownpapertickets.com/event/283158
NEW: 11 (Friday) 8 pm — the North Carolina Symphony presents the Music of John Williams: "Friday @ 8pm. Meymandi Hall, Raleigh. Superman, Star Wars, Harry Potter, Raiders & more!" Tickets: http://www.ticketmaster.com/north-carolina-symphonythe-music-of-john-raleigh-north-carolina-10-11-2013/event/0E004AE5B3B58254?artistid=804126&majorcatid=10002&minorcatid=203
UPDATED: 12 (Saturday) 7 pm — Flyleaf Books hosts Wilton Barnhardt reads and signs his novel Lookaway, Lookaway. "Join us for a bourbon tasting with Gary Crunkleton at 6:30 pm so we'll be properly prepped to hear the larger-than-life Wilton Barnhardt discuss his fantastic new novel Lookaway, Lookaway.  We'll have sweet tea for the teetotalers and pearl necklaces for all the ladies! Bourbon tasting is for 21 years and older and while supplies last… In Lookaway, Lookaway, Wilton Barnhardt has written a headlong, hilarious narrative of a family coming apart, a society changing beyond recognition, and an unforgettable woman striving to pull it all together." **THIS EVENT WAS MOVED FROM FRIDAY, 10/11!**
13 (Sunday) 2 pm – Science Fiction panel (one of six in an October series) at Wake County's Eva Perry Regional Library. With Jenna Black, Clay & Susan Griffith, S. Mark Rainey, and Lisa Shearin. More info: http://www.wakegov.com/libraries/events/Pages/scifiauthors.aspx
15 (Tuesday) 7 pm — Author John Claude Bemis, who is serving this year as the Piedmont Laureate for Children's Literature, is leading a series of roundtable discussions with local children's and YA authors about writing craft, creativity, and the magic of children's literature.  The series includes events at the Regulator Bookshop in Durham on Tuesday, September 17 at 7 pm, Flyleaf Books in Chapel Hill on October 5 at 2 pm, and Quail Ridge Books on Tuesday, October 15 at 7 pm.  For more information, visit John's website at www.johnclaudebemis.com or the Piedmont Laureate website at www.piedmontlaureate.com. From John: "I'm still working on the line-up, but once I know I'll let you know who will be speaking at each event.  Should be lots of fun!" At least one confirmed panelist for this event is Durham author Nathan Kotecki (The Suburban Strange, Pull Down the Night).
16 (Wednesday) 6 pm — Quail Ridge Books hosts Adam Gidwitz for The Grimm Conclusion, a third volume of Grimm-inspired fairytales for ages 9+ after A Tale Dark and Grimm, then In a Glass Grimmly. More info: http://www.quailridgebooks.com/event/adam-gidwitz-chills-grimm-conclusion
18-24 (Friday to Thursday) — The Carolina Theatre of Durham hosts a special film series, "The Studio Ghibli Collection Part III".
20 (Sunday) 2 pm – Science Fiction panel (one of six in an October series) at the Wake County East Regional Library. With Tony Daniel, Ariel Djanikian, and James Maxey. More info: http://www.wakegov.com/libraries/events/Pages/scifiauthors.aspx
[More? As always for the full events listing see the most recent newsletter.]