Raleigh native Mary Robinette Kowal has not been a stranger: she launched her debut novel (and with it her Glamourist Histories series), Shades of Milk and Honey in August 2010 at NASFIC in Raleigh; a year ago today she returned for book 3, Without a Summer; in January this year she was co-guest-of-honor at illogiCon; and! on Monday (May 12) at 7:30 pm, she's back again, this time to close her tour for book 4, Valour and Vanity, at Quail Ridge Books. Her events are always fantastic: Regency attire, a puppetry show (Kowal is a professional puppeteer), a performance — not just a reading! — of her book (Kowal is also an accomplished narrator and voice actor, including on her own novels), a no-holds-barred Q&A… these are just some of the possibilities in store. So! Get your calendars cleared, invite your friends, and enjoy this short interview with Kowal, ahead of the last three stops on her tour: today (Saturday May 10) at Mysterious Galaxy in Sand Diego; tomorrow (Sunday May 11) at the fantastic Borderlands Books in San Francisco; and of course, Monday night at Raleigh's Quail Ridge Books. See you there!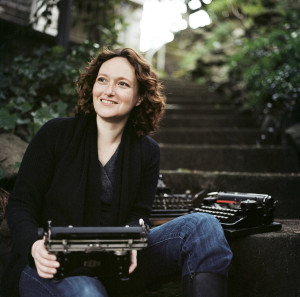 Does it get old, where "it" is seeing your new book on shelves, promoting a new book, touring?
Not yet and I really hope it never does. I actually enjoy touring, but then I started out as a touring puppeteer so traveling feels like second nature. Plus, I don't have to haul in 50 pound speakers and a full set.
Every novel takes work, a lot of work, but was "Jane Austen writes Ocean's Eleven with magic" at least a little bit of fun to write?
It was SO much fun to write. I love trying new things and figuring out how a heist works was intensely satisfying. Plus, anytime you get to write scenes with Lord Byron, I mean, you know that's going to be fun.
You and fellow Tor author Marie Brennan have been on tour together thus far. How does your approach to a reading change when it's not a solo event? (And it's too bad she's not coming to Raleigh!)
I know! I wish Marie was coming with me, but our last stop together is in her home town, just like my last stop is in mine. The reading itself is more or less the same, what changes most is our Q&A session. Because we both have a fascination with the historical, it's fun to have someone to toss answers back and forth with.
Monday night will make eight readings in eleven days, and! your third event in Raleigh in the past year. How do you keep your appearances fresh not just for your audiences but for yourself as well?
For perspective: When I was touring as a puppeteer, I would go on nine month tours, doing shows a day every day that a child was in school. I did 450 performances of The Pied Piper over the course of three years. So, eleven days feels like I'm just warming up. The big thing that I learned from touring is that every show is different because of the audience. The people who come to see the show are what keeps it fresh.
Your presentation at illogiCon on applying some of the principles of puppetry to writing fiction was fascinating. In the other direction, have you found anything you've learned about fiction working its way into your puppetry?
Recently I had the opportunity to take a Sesame Street Puppetry Workshop. It's the first time I've felt the transfer of story-telling back into puppetry. What I carried back was an understanding of plot structure and character arc that gave me very solid tools for approaching a script and crafting a compelling scene.
A fifth Glamourist Histories novel is coming out next year and you're also booked for two more novels outside the Glamourist Histories continuum. Is it hard to believe that your debut novel, Shades of Milk and Honey, was published less than 4 years ago?
It is still hard to believe that I'm published, period. At the same time, since I've been working on the Glamourist Histories for most of my publishing career at this point, the transition to other novels is a little bittersweet. I'm excited to get to play with WWI and Vaudeville, but I will miss Jane and Vincent. Much like touring, I feel like I'm just warming up.