Whew. Even though I've been updating the 2013 book preview during the course of the year, there were still quite a few things I learned about only recently here in late 2013, and of course plenty I missed ahead of time and during the year. So! Like I've done in 2012, 2011, and 2010…, here is my run-down of 2013 in regional science fiction and fantasy, and as always, let me know of the (likely many) omissions and errors, and! in a first this year, come by the 2013 Bull Spec regional author holiday book expo on Saturday, December 7, at Durham's Atomic Empire from 3 pm to 8 pm, where a score of the authors below will be gathered to personalize books, chat, and there will also be comics, books, games, collectibles, and indeed beer on hand as well. And! The trusty Underwood manual typewriter which has made a few appearances over the years will be in attendance for a special community holiday fiction project. Enjoy!
SCIENCE FICTION
The Office of Mercy: A Novel by Ariel Djanikian (Viking Adult and Tantor Audio, February 21) — Debut novel for this new Chapel Hill author, recommended for readers who have aged up from The Hunger Games and are looking for something just a bit more meaty. "Weaving philosophy and science together into a riveting, dystopian story of love and adventure, The Office of Mercy illuminates an all-too-real future imagined by a phenomenal new voice in fiction. Twenty-four-year-old Natasha Wiley lives in America-Five—a high-tech, underground, utopian settlement where hunger and money do not exist, everyone has a job, and all basic needs are met. But when her mentor and colleague, Jeffrey, selects her to join a special team to venture Outside for the first time, Natasha's allegiances to home, society, and above all to Jeffrey are tested. She is forced to make a choice that may put the people she loves most in grave danger and change the world as she knows it." (Chapel Hill)
Star Trek: The Original Series: Devil's Bargain by Tony Daniel (Pocket Books/Star Trek, Feb 26) — "Captain James T. Kirk and the crew of the Enterprise are sent to evacuate the Federation mining colony Vesbius, a frontier settlement that is on the brink of an extinction-level event, threatening the lives of all the colonists and the disruption of ore production vital to Starfleet. However, the colonists refuse to abandon this settlement, not wanting to leave their claims. It is after these irrational decisions that Spock suggests that perhaps an unexpected ally could aid the colony and help complete the mission…." (Wake Forest)
Shadow of Freedom (Honor Harrington #14) by David Weber (Baen and Audible Frontiers, March 5) — "Michelle Henke, Queen Elizabeth of Manticore's first cousin, Honor Harrington's best friend, and the commanding officer of Manticore's Tenth Fleet, is just a bit surprised when a messenger arrives from the Mobius System to inform her that the Mobius Liberation Front is prepared to rise in rebellion against the hated regime President Svein Lombroso." Also coming this year are a guide to the Honor Harrington universe (House of Steel: The Honorverse Companion) and an anthology of guest author stories (Beginnings: Worlds of Honor 6). (Greenville, SC)
The Heretic (Raj Whitehall) by Tony Daniel and David Drake (Baen, April 2) –An all-new novel in this series, being re-launched through re-issues until: "Humanity settled the stars, only to fall into a catastrophic collapse. On one planet, a single artificial intelligence, a computer program known as Center, found a military genius of grit and daring in Raj Whitehall, and the Galactic Republic rose again."
Three (Duskwalker Cycle #1) by Jay Posey (Angry Robot and Angry Robot on Brilliance Audio, July 31, 2013) –Debut novel, part one of a two-part dark science fiction saga set in a post-apocalyptic America; a dying world where might prevails. There's an excerpt up at io9 as well.
Killer Green By David Niall Wilson (Crossroad Press for both prose and audio) — "Welcome to Killer Green… Quentin Tarantino meets Smokey & The Bandit in this noir, science-fiction thriller. Sometimes, people just need killing. When Sam West wanders into the Sunny-Side-Up Diner for the last time, hoping for a last slice of Mort's world-class pie, and one last look at a waitress named Delilah, he has no idea he's about to become the instrument of a great, karmic cleansing. The only thing crazier than the seemingly inevitable trail of bodies following Sam and Delilah south is the fact that – as State Police and local sheriffs begin to investigate – they find no evidence. Nothing. And the missing bodies are just the start, as an unlikely band of companions are drawn together in a scientific experiment more in line with the TV Series Fringe than anything in reality, with the threat of alien probes, local law enforcement, and rednecks around every corner. Killer Green began life as a joking conversation on Twitter. It became a phenomenon – was written into a screenplay – shared on the Internet, optioned by a production company, and continues it's social media-born roll toward the Mexican border. It's ecologically relevant. It's good for the environment.  It's a novel you will not forget, that will leave you laughing and hold your attention to the last word.     Wouldn't you rather be green?"
The Fifth World: The Times That Try Men's Souls (Oraibi Series) by Jacob Foxx (Sep 7, 2013) — "Gaia's struggle for freedom continues in the sequel to The Fifth World. Their secret is out. The Gaian rebels hoped that by stopping the starship Prophet from returning to Earth, they could hide their existence and live in peace. They were wrong. Five years after the destruction of the Prophet, Earth has learned of the rebellion on planet Gaia and the plot of the mysterious Oraibi Brotherhood. A powerful army is sent over sixty light years to destroy the Oraibi and place Gaia back under Earth rule. Gaian Prime Minister Alex Newman faces an impossible choice of surrender or a war they are sure to lose. For his sister Becca, a survivor of the Prophet and witness to the ruthless brutality of Earth, the choice is simple. They must fight. The Times That Try Men's Souls is the story of a rebellion against a totalitarian world order that has devastated and oppressed Earth. Their heroic fight against overwhelming odds is a testament to the human spirit and its inherent desire to live free."
CassaStorm by Alex J. Cavanaugh (Sep 16, 2013) — third in Carolinas author Cavanaugh's space sf series after CassaStar and CassaFire. "A storm gathers across the galaxy… Commanding the Cassan base on Tgren, Byron thought he'd put the days of battle behind him. As a galaxy-wide war encroaches upon the desert planet, Byron's ideal life is threatened and he's caught between the Tgrens and the Cassans. After enemy ships attack the desert planet, Byron discovers another battle within his own family. The declaration of war between all ten races triggers nightmares in his son, threatening to destroy the boy's mind. Meanwhile the ancient alien ship is transmitting a code that might signal the end of all life in the galaxy. And the mysterious probe that almost destroyed Tgren twenty years ago could return. As his world begins to crumble, Byron suspects a connection. The storm is about to break, and Byron is caught in the middle…"
Pirates of the Timestream (Blood of the Heroes, #3) by Steve White (Baen, Aug 6) — "Pirates of the Caribbean meets times traveling heroes and godlike aliens. Sequel to Sunset of the Gods and Blood of Heroes. Special operations officer Jason Thanou of the Temporal Regulatory Authority must once again plunge into Old Earth's blood-drenched past to combat the plots of the Transhumanist underground to subvert that past and create a secret history leading upto the fulfillment of their mad dream of transforming humanity into a race of gods and monsters." (Charlottesville, VA)
Murder & Mochas (Beowulf Chronicles 1) by Rhett Bigler (December 11, 2013) — "Kurt West always has a hard time getting green alien blood out of his clothes. At least the diplomat's blood was blue. Kurt is a bounty hunter living in a small southern town, but when an alien diplomat is murdered on the street, Kurt is contracted to use his knowledge of the alien underground to track down the murderer. Even though his bail bondsman boss is breathing down his neck to bring in a bail jumper before he loses the business, Kurt must find the killer or Earth risks losing the protection that keeps a dangerous flood of aliens at bay. A Southern noir sci-fi detective story, Murder & Mochas bounces a sarcastic and gritty detective off aliens and life in a small southern town to produce a fun, page-turning mystery." (Chapel Hill, NC)
Earth Afire by Orson Scott Card and Aaron Johnston (Tor and Macmillan Audio, June 4)
FANTASY
Witchbreaker (Dragon Apocalypse #3) by James Maxey (Solaris, Dec 25) — "Five hundred years ago, the famed Witchbreaker, Lord Stark Tower, launched a war against the cult of witches, nearly wiping them out. Today, only a handful of women still practice the craft in secret. A young witch named Sorrow has dedicated her life to changing this reality, vowing to wipe out the Church of the Book and launch a new golden age of witchcraft. In pursuit of her goals, she bonds her soul with Rott, the primal dragon of decay, giving her nearly limitless powers of destruction. Unfortunately, tapping this power comes at the cost of her humanity, leading her into a desperate quest to find the greatest witch of all time, Avaris, in hopes of mastering her dark magic before it destroys her. But she's not alone in hunting Avaris, as fate throws her into an uneasy partnership with a man who wants to be the new Witchbreaker. Can either of them survive their mutual quests when their journey leads them into battle with Tempest, the primal dragon of storms?" (Hillsborough, NC)
Dawn of Dragons (Bitterwood Series) by James Maxey (Apr 6, 2013) — "Dawn of Dragons is a prequel to the Bitterwood Trilogy, but should be read after finishing the trilogy due to numerous spoilers regarding events in the later books. Set 1000 years before the events of Bitterwood, Dawn of Dragon tells the story of the first dragon, Morningstar, as he escapes from captivity in the final days of the Human Age. It explains the origins of Atlantis, shows the beginnings of Hezekiah as a Bible-thumping, ax-wielding prophet, and explains how Jazz came to learn of Underspace. A must read for any fan of the Bitterwood Trilogy."
Ice Forged by Gail Z. Martin (Orbit, January 8, and Recorded Books in audio) — Charlotte epic fantasy author Martin sets foot in new territory after 6 books in the world of her Chronicles of the Necromancer. "Condemned as a murderer for killing the man who dishonored his sister, Blaine "Mick" McFadden has spent the last six years in Velant, a penal colony in the frigid northern wastelands of Edgeland. Harsh military discipline and the oppressive magic of the governor's mages keep a fragile peace as colonists struggle against a hostile environment. But the supply ships from Dondareth have stopped coming, boding ill for the kingdom that banished the colonists. Now, McFadden and the people of Velant decide their fate. They can remain in their icy prison, removed from the devastation of the outside world, but facing a subsistence-level existence, or they can return to the ruins of the kingdom that they once called home. Either way, destruction lies ahead…" (Charlotte)
Gnomaggedon by Tonia Brown (April 2013) — "Pack up your dice and character sheets and join us for the release of the goriest, goofiest, gnomeiest novel to ever hit your Kindle. Gnomaggedon has all of the elements of a traditional fantasy with just enough filthy humor and bloody conquest to make you want to wash your hands when you're done reading it."
Six Heirs (The Secret of Ji, #1) and The Orphans' Promise: The Secret of Ji: Book #2 by Pierre Grimbert, translated from French by Matthew Ross and Eric Lamb (AmazonCrossing and Brilliance Audio, February and November) — Translator Ross hails from Durham where he is a pursuing PhD in ecology; the books are also available in audio, read by Michael Page for Brilliance Audio — "From France's most celebrated author of fantasy. The Known World is a sprawling region ruled by mortals, protected by gods, and plied by magicians and warriors, merchants and beggars, royals and scoundrels. Here, those with the gift of the Erjak share a psychic bond with animals; a far-reaching fraternity unites criminals of every persuasion in a vast army of villainy; and upon the mighty river Alt, the dead will one day sail seeking vengeance on the enemies of their descendants. But for all the Known World's wonders, splendors, and terrors, what has endured most powerfully is the strange legacy of Ji. Emissaries from every nation—the grand Goranese Empire; desolate, frozen Arkary; cosmopolitan Lorelia; and beyond—followed an enigmatic summons into the unknown. Some never returned; others were never the same. Each successive generation has guarded the profound truth and held sacred the legendary event. But now, the very last of them—and the wisdom they possess—are threatened. The time has come to fight for ultimate enlightenment…or fall to infinite darkness. The first book in the highly acclaimed Ji series, available for the first time in English."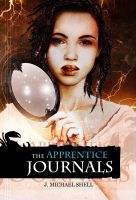 Ending (The Laurian Pentology, Book 4) by Danny Birt (Dark Quest Books, May 24) — "Alaris has enacted his continent-spanning plans, and he races against time to get to the ancient tower of mages, Pinnacle, to enact yet more.  But Pinnacle is not his ultimate goal: even mage-kind is but a tool to Alaris.  How much, then, do mere individuals matter to him?"
The Apprentice Journals by J. Michael Shell (Dog Horn, May 30th) — "Spaul is an Apprentice, and he may be one of the last.  Without the Apprentices' ability to speak to the elementals, what's left of humanity may not survive.  But when Spaul meets Pearl—a powerful Female Apprentice thought to exist only in myth—his world and everything he understands about the elementals changes.  Mute from age five, her voice stolen by a mysterious fever, Pearl amazes Spaul with Apprentice Majick he'd never dreamed possible.  Wanting Pearl to be able to explain her majick, Spaul takes her on a quest to find her an elemental voice.  But they soon discover that they're being followed by one of the most powerful of the four types of elementals, who has plans for Pearl and a terrible desire for Spaul.  Eventually, this fire-born lady, known as a "Fierae," merges with Pearl, stealing her body to become the Fierae-human elemental "Starshine." Now Spaul must discover what the Fierae have planned for humankind.  He must also rescue Pearl from her mind-sea, where Starshine holds her prisoner.  And he must do it quickly, before he falls hopelessly in love with the stunningly beguiling "Star."From the slaver land of Tara to the shores of Ginny's Beach, ride the mag lines with Spaul and Pearl as they do their best to deal with fickle elementals, as well as their growing—and dangerous—love for one another.  Dangerous because, as they learn from the "Fierae"—the Lightening Elementals—Love is Above the Rules." (Leesville, SC)
The Crown Tower (The Riyria Chronicles #1) and The Rose and the Thorn (The Riyria Chronicles, #2) by Michael J. Sullivan (Orbit and Recorded Books, August and September) — "A new series, The Riyria Chronicles, based on characters from The Riyria Revelations. Unlike the previous series, which was a carefully choreographed interconnected series of books, the Chronicles are designed to be stand-alone stories that can be read independent of each other or the prior novels." (Virginia)
Monsters of the Earth (Books of the Elements #3) by David Drake (Tor and Audible Frontiers, September 3, 2013) — Book 3 in a planned 4-book fantasy series set in a fantastical Rome-inspired setting, after The Legions of Fire and Out of the Waters. (Pittsboro)
Lost Cantos of the Orobouros Caves by Maggie Schein (Hunt Press, January 2013) and read by Janis Ian for Skyboat Media (October 2013) — "A collection of fables in the literary tradition of Italo Calvino, Lost Cantos of the Ouroboros Caves brings together medicine men, monks, immortals, witches, seekers, souls in various stages of their cycles in and out of lived-life, and the occasional talking animal, all searching for the meaning of it all and each other. Each fable is a meditation on love, death, growth, pain, identity, self, spirit, and the natural world, as seen from the perspectives of the primal, the celestial, or the spiritual. Fragile yet beautifully strong, Lost Cantos of the Ouroboros Caves is for anyone seeking stories for a larger life." (Beaufort, SC)
Lonely in the Heart of the World by Mindi Meltz (Logosophia, Sep 30) — A hefty 832 pages, complete with "calligraphy and illuminated letters." The Publishers Weekly starred review says: "The search for love resonates throughout this fiercely imaginative epic. A princess/goddess flees her glass tower to find the prince who was supposed to rescue her. Named Lonely by the wind, she embarks on a voyage of discovery that includes a unicorn, a wily huntress, gods and goddesses, and a prolonged reflection on why we live. In contrast, independent Delilah has no need for love; she opts for a desert existence but finds her solitude threatened by Dragon, a youth impelled to go on his own quest. The City, built by Lonely's father at the heart of the world, exalts technology but stifles the spirit of another, unnamed character. In her leisurely but potent narrative, Meltz (Beauty) sustains a rhapsodic tone that embraces both the sacred and the decidedly profane, and presents humanity as both threatening and compassionate. The disparate elements harmonize in unexpected and startling ways. Sometimes gushing, frequently heart-tugging, and always gripping, despite its length, this tale will reward the reader with a pantheistic glimpse of destruction, rebirth, and the tantalizing nature of desire and union." (Asheville)
URBAN / CONTEMPORARY / HISTORICAL FANTASY
Steel Blues – Book II of The Order of the Air by Melissa Scott and Jo Graham (Crossroad Press for both prose and audio, Feb 24, 2013) — "In this sequel to Lost Things, when the Gilchrist Aviation team tries to win the money to keep the business going by placing first in a coast-to-coast air race, things get complicated! A stolen necklace, a runaway Russian countess, and a century-old curse seem like trouble enough, but then there's New Orleans, and the unsolved murders of the New Orleans Axeman. But what if the murderer is one of them?"
Blood Trade (Jane Yellowrock, #6)  by Faith Hunter (Roc and Audible Frontiers, April 2) — "The Master of Natchez, Mississippi has a nasty problem on his hands. Rogue vampires—those who follow the Naturaleza and believe that humans should be nothing more than prey to be hunted—are terrorizing his city. Luckily, he knows the perfect skinwalker to call in to take back the streets." Also: Collection: Cat 'O Nine Tales: The Jane Yellowrock Stories and Non-Fiction: The Jane Yellowrock World Companion by Faith Hunter with Carol Malcolm (Dec 10)
Rogue Descendant (Nikki Glass, #3) by Jenna Black (Pocket Books and Tantor Audio, April 30) — "No longer the leader of the Olympians, Konstantin has now gone into hiding. Konstantin is vulnerable, and Anderson believes now is the perfect time to destroy his nemesis. He orders private eye Nikki Glass to use her powers to locate Konstantin, and she balks at the idea until a series of attacks leads her to believe that Konstantin is gunning for her and Anderson instead of remaining safely in hiding."
Paint it Black: Book 4 of the Black Knight Chronicles by John Hartness (Charlotte) is coming out late Spring from Bell Bridge Books: "Lots of Vampires. No Sparkles. Serious Snark."
The Shambling Guide to New York City by Mur Lafferty (Orbit and read by the author for Hachette Audio, May 28) — "Because of the disaster that was her last job, Zoe is searching for a fresh start as a travel book editor in the tourist-centric New York City. After stumbling across a seemingly perfect position though, Zoe is blocked at every turn because of the one thing she can't take off her resume — human. Not to be put off by anything — especially not her blood drinking boss or death goddess coworker — Zoe delves deep into the monster world. But her job turns deadly when the careful balance between human and monsters starts to crumble — with Zoe right in the middle." (Note! This might actually be the cover image public debut? Cover is by Jamie McKelvie.)
The Six Gun Tarot by R.S. Belcher (Tor Books, January 2013) — Billed as "Buffy meets Deadwood" and described as: "Nevada, 1869: Beyond the pitiless 40-Mile Desert lies Golgotha, a cattle town that hides more than its share of unnatural secrets. The sheriff bears the mark of the noose around his neck; some say he is a dead man whose time has not yet come. His half-human deputy is kin to coyotes. The mayor guards a hoard of mythical treasures. A banker's wife belongs to a secret order of assassins. And a shady saloon owner, whose fingers are in everyone's business, may know more about the town's true origins than he's letting on." (Roanoke, VA)
Selkie by Diana Bastine (Helm, April 2) — "When Kathleen Flynn's partner, Anna, mysteriously vanishes while swimming along the Irish coast one day, her brother Niall and niece Caitlin immediately shift into action to find her. Has Anna chosen simply to abandon her long-time companion, or has she met with foul play? The Flynns' friends from the underground enclave of Hamelyn and the world of Faerie join in to help uncover the reasons behind Anna's disappearance, while at the same time a far more sinister team is forming – one which doesn't have the Flynns' best interests at heart…"
The Way of the Blade (The Malja Chronicles) (Volume 4) by Jaffe, Stuart (Nov 29, 2013) — fourth in this post-apocalyptic fantasy series after The Way of the Black Beast, The Way of the Sword and Gun, and The Way of the Brother Gods: "When Malja leaves her post-apocalyptic world, she has one goal in mind — find Harskill and make him lead her to the rest of her kind. But when she discovers a world ravaged by a civil war that Harskill created, she is compelled to stop his madness before other innocent lives are lost. Now, with the aid of Fawbry and Tommy, she seeks to unite a divided world while searching for her own — efforts that may destroy both at the same time."
Real Magic by Stuart Jaffe and Cameron Francis (Jun 5, 2013) — "Duncan Rose, magician and card cheat, accidentally slips back in time to 1934. Swindling his way through this bizarre new world, he searches for a doorway home, until a ruthless mobster takes notice – a man who wants to use time travel for his own purposes. To get home, Duncan will need all his card skills, but more importantly, he'll need to trust those around him or risk losing everything. REAL MAGIC is an exciting time travel fantasy packed with real card tricks designed specifically for this story by renowned card magician, Cameron Francis."
Southern Belle (Max Porter Paranormal Mystery) by Stuart Jaffe (Aug 26, 2013) — "Max, Drummond, and Sandra return for a third exciting mystery! While dealing with their constant foe/benefactor, the nefarious Hull family, has always been a challenge, our team of paranormal sleuths will now face a cursed witch coven and the FBI!  The case will bring up a past that still haunts Drummond, even as he does haunting of his own. Max can't decide which is the worse to deal with, but he's sure to find out."
Thieves' Quarry by D.B. Jackson (Tor and Audible Frontiers, July 2) — David B. Coe's pseudonym for historical fantasy continues the US Revolution era series which began with 2012′s Thieftaker. (Tennessee)
Fiddlehead by Cherie Priest (Tor, November 12, 2013) — continuing her Clockwork Century series. (Chattanooga, TN)
The Grendel Affair (An SPI Files Novel) by Lisa Shearin (Ace, December 31) — first in a new series, a mass market paperback original: "When I moved to New York to become a world famous journalist, I never imagined that snagging a job at a seedy tabloid would change my career path from trashy reporter to undercover agent. I'm Makenna Fraser, a Seer for SPI. I can see through any disguise, shield, or spell that a paranormal pest can come up with. I track down creatures and my partner, Ian Byrne, takes them out. Our cases are generally pretty routine, but a sickle-wielding serial killer has been prowling the city's subway tunnels. And the murderer's not human."
OTHER / HORROR / UNCLASSIFIABLE
Nevermore – A Novel of Love, Loss, & Edgar Allan Poe by David Niall Wilson and Lisa Snellings (Crossroad Press in prose and audio, Jan 14, 2013) — "On the banks of Lake Drummond, on the edge of The Great Dismal Swamp, there is a tree in the shape of a woman. One dark, moonlit night, two artists met at The Lake Drummond Hotel, built directly on the borderline of North Carolina and Virginia. One was a young woman with the ability to see spirits trapped in trees and stone, anchored to the earth beyond their years. Her gift was to draw them, and then to set them free. The other was a dark man, haunted by dreams and visions that brought him stories of sadness and pain, and trapped in a life between the powers he sensed all around him, and a mundane existence attended by failure. They were Eleanore MacReady, Lenore, to her friends, and a young poet named Edgar Allan Poe, who traveled with a crow that was his secret, and almost constant companion, a bird named Grimm for the talented brothers of fairy-tale fame. Their meeting drew them together in vision, and legend, and pitted their strange powers and quick minds against the depths of the Dismal Swamp itself, ancient legends, and time. Once, upon a shoreline dreary, there was a tree. This is her story."
The Kings and Queens of Roam: A Novel by Daniel Wallace (Touchstone and AudioGO, May 7) — "From the celebrated author of Big Fish, an imaginative, moving novel about two sisters and the dark legacy and magical town that entwine them. Helen and Rachel McAllister, who live in a town called Roam, are as different as sisters can be: Helen older, bitter, and conniving; Rachel beautiful, naïve – and blind. When their parents die an untimely death, Rachel has to rely on Helen for everything, but Helen embraces her role in all the wrong ways, convincing Rachel that the world is a dark and dangerous place she couldn't possibly survive on her own … or so Helen believes, until Rachel makes a surprising choice that turns both their worlds upside down."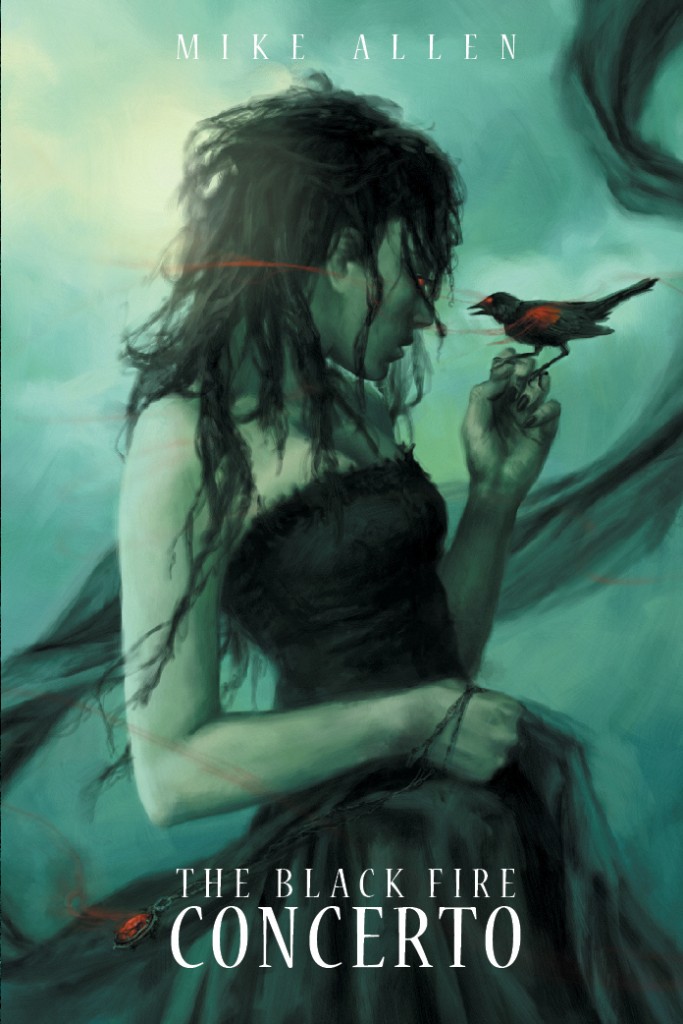 Vaporware  by Richard Dansky (JournalStone, May 24) — "Video game projects get shut down all the time, but when the one Ryan Colter and his team have poured their hearts into gets cut, something different happens: the game refuses to go away. Now Blue Lightning is alive, and it wants something from Ryan – something only he can give it. And everybody knows how addictive video games can be…" (Durham)
The Black Fire Concerto by Mike Allen (Haunted Stars Publishing) — I know Roanoke, VA author Mike Allen primarily through his fantastic speculative poetry (his poem "Hungry Constellations" is currently featured at Goblin Fruit) and in his role as editor of both his poetry journal Mythic Delirium and his anthology series Clockwork Phoenix. But he's also quite an accomplished short fiction writer, with stories in Solaris Rising 2, Beneath Ceaseless Skies, Weird Tales, and his Nebula Award nominated story "The Button Bin" in Helix. (Though, admittedly, I didn't catch it until it was podcast at Pseudopod.) And, with The Black Fire Concerto, he's a published novelist as well. You can read a sample chapter of The Black Fire Concerto or even have it read to you by C.S.E. Cooney at the Haunted Stars Publishing website. And the book has picked up a great blurb from Tanith Lee among other early reviews: "A true departure from Mike Allen–Two unusual female heroes, a deceptively musical quest, and some very black magic indeed, should make this a prize for the multitude of fans who relish strong Grand Guignol with their sword and sorcery." (Roanoke, VA)
The Returned by Jason Mott (Harlequin MIRA and Brilliance Audio / Audible, August 27) — "THE RETURNED is about a worldwide event in which loved ones are suddenly returned to their families exactly as they were right before they passed away. The book centers on a family whose dead 8-year-old son is returned to them, leaving them to wonder what his return might signify." Soon to be an ABC TV series "Resurrection". Additionally, three (free) prequel audiobooks were released: The First, The Sparrow, and The Choice. (Wilmington)
Kara Was Here by William Conescu (Soft Skull Press, Oct 15) — "Brad Mitchell's life is falling apart. His marriage is in limbo. The woman he thought he would marry, Kara, died from an overdose. An old friend keeps trying to convince him that Kara was actually murdered. And he has started to see double. Literally. When Kara—or, rather, her ghost—returns to Brad, his past and present blur into a fog." (Durham)
Devouring Milo by Tonia Brown (Jul 12, 2013) — "Something is devouring Milo, and this time it isn't just his guilty conscience. Meet the Bentley brothers; Milo, a troubled young man who slaughters women at the behest of his cruel older brother, Spencer. Their already complicated lives slip into a spiral of madness when Milo is attacked by a werewolf during a routine body disposal. While Milo is unsure what is happening to him, Spencer finds he prefers the company of the wolf, and does everything he can to keep Milo from discovering the truth. The truth, however, is a complication all its own, with or without the beast. The family that preys together stays together, in this wild take on the werewolf mythology."
Railroad! Volume Seven:Questions Abound (Jun 8, 2013) and Railroad! Volume Eight: Buffalo Gals (Oct 21, 2013) by Tonia Brown — the latest volumes in Brown's Railroad! web serial. "Join us as we follow the strange stand-alone train known as the Sleipnir (pronounced Schlipnear); eight cars of free traveling steam powered might. Able to lay her own tracks, as well as pick them up again, the train is a marvelous feat of engineering, and as an unbound entity she can travel anywhere her master desires. The only trouble is the trouble she attracts. Her owner and creator, one Professor Hieronymus J. Dittmeyer, can't seem to help but catch the attention of all manner of unwanted and odd characters. From run of the mill outlaws to world-class super villains, the crew of the Sleipnir needs protecting and they need it fast!"
COLLECTIONS / ANTHOLOGIES
Snowbird Gothic by Richard Dansky (NECON Contemporary Horror, Feb 4 in ebook, March 12 in paperback) — "Richard Dansky was named one of the top 20 videogame writers in the world by Gamasutra in 2009, but as he explains in his introduction, game writiing doesn't offer "the chance to run off and play in your own sandbox. That's what fiction's for, and that's why I write it." In this collection, Dansky delivers "all the scary bits and bobs … filtered through a lens of late nights and off-kilter glances and that little nagging voice in the back of my head that constantly says, 'But what if…?' What if. It's a question I ask a lot. I hope you enjoy the answers."
Writers of the Future Volume 29 includes a story by Carrboro writer Alex Wilson, "Vestigial Girl." Publishers Weekly, in their starred review for Writers of the Future volume 29 wrote: "Selected by a panel of judges and edited into a cohesive collection by Wolverton, this year's Writers of the Future collection is exciting and engrossing, with stories that range across the spectrum of SF and fantasy. Eschewing tried-and-true space opera and epic fantasy, these stories explore new mysteries and ideas. Death takes a bride in Marilyn Guttridge's "The Ghost Wife of Arlington." The secrets of the clock that powers the world are revealed in Christopher Reynaga's "The Grande Complication." Shannon Peavey's "Scavengers" introduces the Vulture Lady and explains why no one who leaves her domain ever returns. Adventurous, lighthearted, thought-provoking, and grim, these stories cover a wide range of science and magic, each unique, refreshing, and innovative in a variety of different ways. The anthology is fleshed out by essays from the late Hubbard, Nnedi Okorafor, and artist Larry Elmore. This book is not to be missed, full of exciting new writers to watch."
Cyberpunk: Stories of Hardware, Software, Wetware, Evolution, and Revolution edited by Victoria Blake (Underland Press, March 12) — includes (among a long list of luminaries in the genre) a story by Lewis Shiner.
North American Lake Monsters: Stories by Nathan Ballingrud (Small Beer Press and Audible, July 16) — "These are love stories. And also monster stories. Sometimes these are mon-sters in their traditional guises, sometimes they wear the faces of parents, lovers, or ourselves. The often working-class people in these stories are driven to extremes by love. Sometimes, they are ruined; sometimes redeemed. All are faced with the loneliest corners of themselves and strive to find an escape." (Asheville, NC)
Pendragon Variety: In Memory of Dragons (Pendragon Variety, July 23, 2013) — "Pendragon Variety presents "In Memory of Dragons," a themed speculative fiction anthology dedicated to the memory of Anne McCaffrey. Foreword by Cat Rambo and stories by David B. Coe, Sam Schreiber, Matthew Healey, Melissa Prange, Cindy Ray, Rachel Bellairs, and Lauren Harris, with a dedication by Rosemary Tizledoun and afterword by Michelle "Mica" Ristuccia." (e-book only)
I didn't see another Charlie Madigan novel by Kelly Gay this year, but she does have a story in the anthology Carniepunk (Pocket Books and Simon & Schuster Audio, July 30) — "A star-studded urban fantasy anthology featuring bestselling authors Rachel Caine, Rob Thurman, Seanan McGuire, Jennifer Estep, and Kevin Hearne, whose stories explore the creepy, mysterious, and, yes, sometimes magical world of traveling carnivals."
Writers for Relief: Volume 3 edited by Davey Beauchamp and Stuart Jaffe, with stories by John Hartness, Edmund Schubert, Danny Birt, Jaym Gates, and Gray Rinehart (October 28) — "The Writers for Relief anthology series feature collections of short fiction by top talents in the realms of fantasy and science fiction writing. The first and second volumes have brought help to Hurricane Katrina survivors through the Red Cross and Bay Area Food Bank, respectively. This third volume turns the focus to those who suffered in Oklahoma and features some of today's best known speculative fiction authors: Kevin J. Anderson, Ben Bova, Stephen Euin Cobb, Jason Sandford, Bobby Nash, Todd McCaffrey, A.H. Sturgis, John Hartness, Edmund Schubert, Mike Resnick, Danny Birt, Jaym Gates, Gray Rinehart, Janinie Spendlove, and Eugie Foster."
Kicking It edited by Faith Hunter and Kalayna Price (Roc Trade and Tantor Audio, December 3) — "Featuring stories by SHANNON K. BUTCHER * RACHEL CAINE * LUCIENNE DIVER * CHRIS MARIE GREEN * CHRISTINA HENRY * FAITH HUNTER * CHLOE NEILL * KALAYNA PRICE * ROB THURMAN. New York Times bestselling author Rachel Caine has modern-day potions witches Holly and Andrew facing off against a firebrand politician who wears literally killer boots in a Texas-sized rodeo of trouble. Boot-loving Cadogan vampire Lindsey must team up with off-again, on-again vampire partner Luc when a woman from her past is targeted by supernaturals in New York Times bestselling author Chloe Neill's all-new adventure. And New York Times bestselling author Rob Thurman features Trixa Iktomi from her Trickster series dealing with magical vengeance and magical footwear. Taking kick-ass urban fantasy literally, USA Today bestselling authors Kalayna Price and Faith Hunter bring together the best of the genre to once again prove when you're fighting supernatural forces, it helps to keep your feet on the ground."
In Space No One Can Hear You Scream (Sep 16) and A Cosmic Christmas 2 You edited by Hank Davis (Oct 15) — a Halloween and a second Christmas themed anthology, both published by Wake Forest-based publisher Baen Books.
Horror Library, Vol. 5 (Volume 5) by Boyd E. Harris (Nov 15, 2013) — includes a story by North Carolina author Tonia Brown: "My story is 'Whispers in the Wax' and is a steampunk horror tale about WVP: Wax Voice Phenomenon, where they are capturing the voices of the dead on wax cylinders."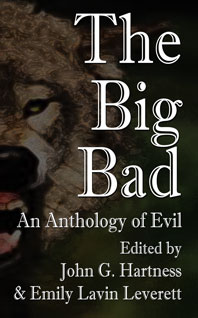 Shadows of the New Sun: Stories in Honor of Gene Wolfe (Tor and Brilliance Audio) — includes a new David Drake short story, "Bedding".
The Big Bad: An Anthology of Evil edited by John Hartness and Emily Lavin Leverett (Dark Oak Press) — "Everybody loves bad guys, and these are some of the baddest of them all. Forget the rules. There aren't any heroes. No one is going to save you from the wickedness in the darkness. Monster hunters can easily become the hunted. Twisted perverts can find themselves on the receiving end of their own deviant desires. No matter how big and bad someone or something may be, there is always something bigger and badder just waiting. Even the classics like a dragon, werewolf, or supernatural being can fall victim to something even more evil. Take a peek, if you dare, inside the malevolent world of super-villains, monsters, demons and just plain evil folk. Be careful, what you see there might be disturbingly familiar …" And includes (among many other local writers) a dear friend of Bull Spec, Jay Requard ("The Chase").
The Irreal Reader: Fiction & Essays from The Cafe Irreal edited by G.S. Evans and Alice Whittenburg (Guide Dog, November 2013) — includes Triangle-area writer Brian Biswas via his story "A Betrayal." Here is the blurb from the publisher: "The Cafe Irreal: International Imagination, a pioneering web-based literary magazine, first went online in 1998 with the intention of publishing a type of fantastic fiction most often associated with writers such as Franz Kafka, Kobo Abe and Jorge Luis Borges. To this end, it has published more than 250 authors from over 30 countries. In the course of the past fifteen years, it has also seen its editors nominated for a World Fantasy Award and been named by Writer's Digest as one of the Top 30 Short Story Markets. In this anthology, edited by G.S. Evans and Alice Whittenburg, Guide Dog Books presents a selection of the fiction and essays from The Cafe Irreal that take us most definitively into the realm of the Irreal. These include pieces by Diploma de Honor Konex winner Ana María Shua (Argentina), Michal Ajvaz (winner of the Magnesia Litera prize in the Czech Republic), Pulitzer Prize winner Charles Simic, and Pushcart Prize winners Bruce Holland Rogers and Caitlin Horrocks."
Charlotte area writers John Hartness and Eden Royce both had stories in the Dreams of Steam series from Kerlak Publishing.
Ministry Protocol: Thrilling Tales of the Ministry of Peculiar Occurrences (Dec 1, 2013) — A Steampunk anthology in Virginia authors Tee Morris and Pip Ballantine's "Ministry of Peculiar Occurrences" setting, which also includes stories by Lauren Harris (Raleigh) among other local and regional authors.
Richard Dansky had stories in a few anthologies, notably The New Hero edited by Ed Greenwood (Stone Skin Press — Dansky's long-awaited "rabbi pirate" story) and The Lion & the Aardvark: Aesop's Modern Fables edited by Robin D. Laws (also Stone Skin Press).
Speaking of Stone Skin Press and anthologies, the long-awaited Shotguns v. Cthulhu finally arrived in 2013, with cover art by Jason Morningstar and a story from Natania Barron.
The End Was Not the End: Post-Apocalyptic Fantasy Tales edited by Joshua H. Leet (Seventh Star Press, March 26) — includes Steven S. Long's story "Blade of Fire".
Thunder on the Battlefield: Sword and Thunder on the Battlefield: Sorcery edited by James R. Tuck (Seventh Star Press, August) — Sorcery includes Steven S. Long's "The Two Fires" and Sword includes Jay Requard's "Paper Demons".
Urban Fantasy: an anthology (KY Story, Aug 23, 2013) — "Urban Fantasy is a collection of stories with supernatural beings and events exploring contemporary themes. In "The Daughters," a southern gothic tale jumps through time so a girl can uncover a dark secret that implicates her in a long-forgotten family murder. "In an Instant" creates a post apocalyptic world where crazed cowboys rule Oklahoma City after the devastation of the New Flu. An officer in "Deadland Patrol" investigates a racing accident in the engineered future of Earth where autos are illegal. In "The Bull Riding Witch" a female soul from another realm is placed inside the body of a rodeo rider.  Authors include Brian Wamsley, Rebecca Daff, Ed Hamilton, Jamie Marchant, John Biggs, Marcelle Thiébaux, and (Greensboro author) Tera Fulbright."
Clarkesworld: Year Five edited by Neil Clarke and Sean Wallace (Wyrm Publishing, December 2013) — "Since 2006, Clarkesworld Magazine has been entertaining science fiction and fantasy fans with their brand of unique science fiction and fantasy stories. Collected here are all of the original stories this Hugo Award-winning magazine published during their fifth year. Included in this volume are twenty-four stories by visionary writers of short fiction, including Ken Liu, Nnedi Okorafor, Robert Reed, N.K. Jemisin, Yoon Ha Lee, E. Lily Yu, and more!" Includes "Perfect Lies" by Durham author (and frequent Bull Spec contributor) Gwendolyn Clare.
Angela Pritchett had stories in several anthologies this year, including Another 100 Horrors, Dark Bits (QuickLII), Twelve, Tales of the Undead – Suffer Eternal Anthology: Volume Iii (Volume 3), and Horror Society Stories Volume 1.
YOUNG ADULT
Shades of Earth (Across the Universe #3) by Beth Revis (Jan 15, Razorbill) — "Amy and Elder have finally left the oppressive walls of the spaceship Godspeed behind. They're ready to start life afresh–to build a home–on Centauri-Earth, the planet that Amy has traveled 25 trillion miles across the universe to experience."
The Madman's Daughter by Megan Shepherd (Balzer + Bray and HarperAudio, January 29) — "Sixteen-year-old Juliet Moreau has built a life for herself in London—working as a maid, attending church on Sundays, and trying not to think about the scandal that ruined her life. After all, no one ever proved the rumors about her father's gruesome experiments. But when she learns he is alive and continuing his work on a remote tropical island (inspired by The Island of Dr. Moreau), she is determined to find out if the accusations are true."
A Glimpse of Her Soul (Gillian Boone #1) by Stuart Jaffe (Feb 6) — Reviewed as a "coming of age horror" and described as: "When 16-year-old Gillian Boone discovers that a secret message has been etched into her soul, her world of normal teenage life is destroyed. Now, bizarre monstrosities seek to kill her so they can read this message as her soul departs and use its information to escape back to the world they came from. Though she has the aid of her father and some new friends, there is only one who has the real power to help. A rogue monster named Jackhammer Jack. But he might want her secret, too, even as he helps her evade the clutches of those pursuing her. With threats surrounding her, Gillian will have to lead her allies in a struggle for survival – a struggle all the more treacherous when her allies are just as dangerous as her enemies."
Shadow on the Sun (Black Hole Sun #3) by David Macinnis Gill (Greenwillow, March 26) — "The stakes couldn't be any higher for Durango. He's lost just about everything, and even his memories are now suspect. Durango's father is bent on transforming him into the Prince of Mars and stealing Mimi, but Durango and Mimi have other plans. And then there's Vienne. Can she find Durango before it is too late?" (Wilmington)
A Lasting Cure for Magic by Michael Jasper (Unwrecked Press, May 2013) — "Two minutes after the shocking end to A Wild Epidemic of Magic, this third book in the series finds Kelley and Jeroan stranded in Dubuque, Iowa, after losing their parents—and all the Sorcerers they met in the past two months—to the vengeful Druid. Apparently, the Druid did not enjoy his 200-year banishment. And as if that wasn't bad enough, the twins must once again work together to find a way to regain all of their magic, before time—and magic—runs out for good." Also out this year, a 3-volume omnibus of the Contagious Magic series.
Replica by Jenna Black (Tor Teen, July 16) — "Sixteen-year-old Nadia Lake comes from a high-class Executive family in the Corporate States. Her marriage has been arranged with the most powerful family in her state, which means she lives a life of privilege but also of public scrutiny, followed everywhere by photographers, every detail of her private life tabloid fodder. But her future is assured, as long as she can maintain her flawless public image — no easy feat when your betrothed is a notorious playboy."
The Lotus Effect by Bridget Ladd (July 19, Obese Rhino Publishing) — "Lily Emerson, daughter of the Head of Council and Mistress of Science, has lived a privileged life. It's Lily's 18th nameday, the day she is to follow in her mother's footsteps, becoming the next Mistress of Science—the most powerful woman in all of City Prosper. The Architect and designer of Prosper's future. During the night of her Coronation, the corruption of the Council spreads before her . . . opening her eyes to the cruelty that resides in the Council, even within her own parents. Lily realizes now the title of Mistress only comes with superficial power, that to truly save the citizens—she has to fight."
Exorcising Aaron Nguyen (The Millroad Academy Exorcists) by Lauren Harris (Aug 22, 2013) — "The murder of Millroad Catholic Academy's resident genius, Aaron Nguyen, shuts down student life at the boarding school in rural North Carolina…for about a week. With the resilience of youth, the student body bounces back, and the memory of murder is nothing but a streamer of caution tape fluttering in the breeze. Unfortunately for them, Aaron's spirit has some resilience as well. The school priest's exorcism fails, and before long Aaron is breathing chills down the students' necks and hurling bunsen burners at nuns." (e-book only)
Hero by Alethea Kontis (Harcourt Children's Books, October 1) — the second book in her Woodcutter series for teens which began last year with Enchanted, which in turn was recently selected as a World Book Night 2014 book.
Pull Down the Night by Nathan Kotecki (Houghton Mifflin, October 8) — second book in his YA urban fantasy series after The Suburban Strange (Durham).
The Unexpected Enlightenment of Rachel Griffin by L. Jagi Lamplighter (Dark Quest, September 2013) — "Rachel Griffin wants to know everything. As a freshman at Roanoke Academy for the Sorcerous Arts, she has been granted to opportunity to study both mundane and magical subjects. But even her perfect recollection of every book she has ever read does not help her when she finds a strange statue in the forest-a statue of a woman with wings. Nowhere-neither in the arcane tomes of the Wise, nor in the dictionary and encyclopedia of the non-magic-using Unwary-can she find mention of such a creature. What could it be? And why are the statue's wings missing when she returns?" (Centreville, VA)
The Gate Thief by Orson Scott Card (Tor and Blackstone Audio, March 19)
YOUNG READER / MIDDLE GRADE
Keeper of the Black Stones (Stone Ends) by PT McHugh (Glass House Press, Feb 26, 2013) — "Awkward in his own skin, shy around girls and worried about anything and everything, Jason Evans is just like a million other teenage boys in high school, with one very large exception: he has been given a gift that allows him to jump through time. A set of stones has fallen into his lap that gives him access to any place – and any time – that he chooses. But along with that gift comes the responsibility of stopping the man who is using those very stones to travel through time and change history for his own purposes. A man who is now holding Jasons grandfather hostage, and threatening the worlds very existence. Jumping through time with his best friend and body guard, Jason must enter the world of Medieval England, learn its customs, navigate unimaginable danger, and help Henry VII win the Battle of Bosworth, in the name of finding his grandfather, rescuing a beautiful girl from the clutches of a corrupt church, and destroying the one man who pledges to turn history inside out." (Raleigh)
Darwen Arkwright and the School of Shadows (Darwen Arkwright #3) by AJ Hartley (Razorbill, August 1) — "Mr. Peregrine has been kidnapped! Now it's up to Darwen, Rich, and Alexandra to rescue him. They'll embark upon a journey that will take them deeper into Silbrica than they've ever gone before, and there, on the other side of the mirror, they'll find the strangest sight of all: an exact replica of Hillside Academy." (Charlotte)
Dragonbreath #8: Nightmare of the Iguana and Dragonbreath #9: The Case of the Toxic Mutants by Ursula Vernon (The Dial Press, January 29 and August 29) — Hugo Award winner Vernon writes and illustrates these young reader books from Pittsboro; "in the smoking hot Dragonbreath series for fans of Diary of a Wimpy Kid , Bad Kitty, and Big Nate will make you laugh until smoke comes out your nose!"
Castle on the Crag: an epic poem about an Evil Queen, and Eviler Dragon, and a surprising Hero by Gabriel Dunston (April 6) — "8×10 inches and 46 full color pages. An epic poem about an evil queen, an evil dragon, and the one hero who tries to set it all right. What happens when a kingdom is ruled by an evil queen? What happens when an evil dragon tries to out-evil the queen?  What happens when a hero tries to save the day? What happens when the whole story is told in rhyme?"
COMICS / ART
Princeless Book Two: Get Over Yourself by Jeremy Whitley and Emily Martin (Action Labs, June 26) — A second trade collection after the Eisner-nominated first book (Princeless: Save Yourself) from local writer Whitley: "Princess Adrienne is back and she's bringing back her dragon Sparky and girl-blacksmith Bedelia! This time they're out to save the first of Adrienne's sisters, Angelica. Unfortunately, Angelica is the most beautiful girl in the whole kingdom and she knows it. Not only will Adrienne have to fight her jealousy of the attention Angelica gets, but she'll have to face Angelica's mysterious guardian. Meanwhile, Adrienne's father has hired a motley crew of bounty hunters to track down the knight he believes killed his daughter. What he doesn't know is that the knight he is after is Adrienne! Collecting issues 1–4 of volume 2, Princeless Book 2: Get Over Yourself is 100 pages of feel-good, girl-powered adventure for young readers or comic fans of any age."
Ehmm Theory, Volume One by Brockton McKinney and Jason Strutz (Action Lab, February 20) — from the Fangoria review: "EHMM THEORY is one of those comics that just starts off right. It takes everything that is great about the world – such as kittens, zombies and wise-cracking – and smashes it all together into what is arguably the best three opening pages of the year so far."
A print of John Hurt as Dr. Who by Jason Strutz; Strutz also provides the art for an original graphic short story adaptation of Edgar Allen Poe's The Cask of Amontillado.
Raleigh writer Zack Smith had two comic scripts published this year: "REGULAR SHOW #3 featuring my story "Sombrero World," on sale here! ADVENTURE TIME #20, featuring my story "Grocery Time," on sale here!"
Digger by Ursula Vernon (Sofawolf Press, October after a successful Kickstarter this summer) — an omnibus edition which "collects all six printed volumes, covering all twelve chapters of the complete story. It contains all the extra materials included in the individual volumes plus: a forward by Phil Foglio, a completely new story about Digger's travels, a (mostly) complete collection of Ursula's comments originally posted alongside the webcomic, and a color section of the original cover art and fan art. This softcover edition has a black and white cover with french flaps and an embossed title on the front and the spine. The hardcover edition is bound in mottled earthen-brown tones, with the title stamped on the front and the spine in a dark burnished copper foil. It also includes a black and white dust jacket with a design matching the softcover edition. 2013 Mythopoeic Awards WINNER and 2012 Hugo Awards WINNER.
Tribute: Nelson Mandela by Clay and Susan Griffith (Bluewater Productions, December 2013) — "The 32-page comic book chronicles his life in pictures, one of the late 20-century's most influential people.  The comic book is  written by Clay & Susan Griffith, illustrated by famed artist Pablo Martinena."
AUDIOBOOKS
While quite a few of the above new books are available in audio as well, there were also quite a few new previously published books which are newly in audio this year. Few have physical editions for gifting (The Rift Walker being an exception) but Audible and iTunes both have fairly straightforward gift options.
The Rift Walker: Vampire Empire, Book 2 By Clay and Susan Griffith, Narrated By James Marsters for Buzzy Multimedia — Also available in physical CD format, an absolute listener favorite read by "Spike" from Buffy the Vampire Slayer. "The Rift Walker is the second installment in the Vampire Empire trilogy. Set in a postapocalyptic world, this tale of courage, sacrifice, and heroism takes place against the backdrop of an age of steam and rational humanism, where the social elite have rejected religion and spiritualism as nothing more than quaint superstition. Brutal Vampire Clans rule half the world, keeping human herds for food, and Princess Adele, heir to the throne of Equatoria, is faced with grim choices. War is imminent and her marriage to the odious Senator Clark of America will cement an alliance uniting the Equatorian Empire and the American Republic. This integration of war machines is to be the opening volley in the campaign to reclaim the Northern Hemispheres. Unfortunately, Adele's betrothed has a bloodthirsty war strategy, one the Princess finds as repulsive as the actions of the vampires they fight."
Lord of the Isles: Lord of the Isles, Book 1 By David Drake, Narrated By Michael Page for Audible Frontiers — along with the entirety of the Lord of the Isles series as well as the The Crown of the Isles series; additionally the first three books of his current fantasy series, Books of the Elements, were released, Narrated By David Ledoux.
The Third Cry to Legba and Other Invocations: Selected Stories of Manly Wade Wellman, Volume 1 By Manly Wade Wellman, Narrated By Brian Troxell for Audible Frontiers — as part of a 5-volume set this year which also includes The Devil Is Not Mocked and Other Warnings: Selected Stories of Manly Wade Wellman, Volume 2, Fearful Rock and other Precarious Locales: Selected Stories of Manly Wade Wellman, Volume 3, Sin's Doorway and Other Ominous Entrances: Selected Stories of Manly Wade Wellman, Volume 4, and Owls Hoot in the Daytime and Other Omens: Selected Stories of Manly Wade Wellman, Volume 5. Additionally, Audible published Wellman's novel Strangers on the Heights and Blackstone Audio published Still Valley: The Twilight Zone Radio Dramas.
Never Knew Another: Dogsland, Book 1 By J. M. McDermott, Narrated By Eileen Stevens for Audible Frontiers — along with the second in the Georgia author's Dogsland series, When We Were Executioners: Dogsland, Book 2 — "Fugitive Rachel Nolander is a newcomer to the city of Dogsland, where the rich throw parties and the poor just do whatever they can to scrape by. Supported by her brother Djoss, she hides out in their squalid apartment, living in fear that someday, someone will find out that she is the child of a demon. Corporal Jona Lord Joni is a demon's child too, but instead of living in fear, he keeps his secret and goes about his life as a cocky, self-assured man of the law. The first story in the Dogsland Trilogy, Never Knew Another is the story of how these two outcasts meet."
Miserere: An Autumn Tale By Teresa Frohock, Narrated By Eileen Stevens for Audible Frontiers — "Exiled exorcist Lucian Negru deserted his lover in Hell in exchange for saving his sister Catarina's soul, but Catarina doesn't want salvation. She wants Lucian to help her fulfill her dark covenant with the Fallen Angels by using his power to open the Hell Gates. Catarina intends to lead the Fallen's hordes out of Hell and into the parallel dimension of Woerld, Heaven's frontline of defense between Earth and Hell. When Lucian refuses to help his sister, she imprisons and cripples him, but Lucian learns that Rachael, the lover he betrayed and abandoned in Hell, is dying from a demonic possession. Determined to rescue Rachael from the demon he unleashed on her soul, Lucian flees his sister, but Catarina's wrath isn't so easy to escape!"
Cemetery Plot
By
Alex Granados
, Narrated By
Henry Tenenbaum
— "Vanessa Hawthorne is a zombie…at least, that was the plan. Miserable with her life, she agreed to participate in a fatal ritual that would transform her into one of the Living Dead. Instead, she wakes up decades later alive, unaged and living in a world overrun with graveyards. But when a real estate tycoon finds out about Vanessa, he will stop at nothing to discover how she cheated death. He hopes that this knowledge will give him the power to resurrect the dead. The money he stands to make is incalculable. And he is willing to do whatever it takes – kidnapping, assault and even murder – to get the job done. Luckily for Vanessa she has Mark Nimocks and his friend Emily to protect her, but at what costs? A zombie apocalypse is in the works, and it will take a medium from the future to find a way to undo the end of the world. But can he actually help change the past? Or is the world fated to be destroyed no matter what?"
Bitterwood: Dragon Age, Book 1 By James Maxey, Narrated By Dave Thompson — "Bitterwood has spent the past twenty years hunting down dragons, one at a time. But he is getting old and the hate that he has carried in his heart since a group of dragon-soldiers killed his family is beginning to fade. When he kills the royal prince dragon, the king decides the only retribution is genocide of the human race. Bitterwood is forced to enter the Free City, the grand trap designed to eradicate mankind, with thousands of others. Can he lead from within, or can a select few dragons unite to stop the king's madness from becoming reality. Full of rich characters and drama, this is an amazingly astute vision of our own culture by way of a feudal kingdom where dragons rule, and humans are used as workers or pets."
The All Nations Team By Michael Jasper, Narrated By Robert Slone — "An unlikely team of misfit players, and the coach fighting to hold them all together… The All Nation Team tells the story of the first fully integrated, "post-racial" baseball team, very loosely based on an actual team that played in the years before World War I. In his first season as head coach of the All Nations team, former slave George Grunion must contend with racist crowds, flagging team morale, his own loneliness, and even the ghost of the previous head coach. His players are now the only family he has left, ever since his wife walked out on him two decades ago. And if George can't hold the All Nations together, he loses more than his job. He'll miss his chance to fulfill the prophecy made by his prescient center-fielder Mack – that he will be reunited with his estranged family before the 1918 season ends. If George doesn't score this final run, he loses everything."
Intermusings By David Niall Wilson, Richard Rowand, John B. Rosenman, Stephen Mark Rainey, Brett A. Savory, Brian Keene, Brian A. Hopkins, and Patricia Lee Macomber, Narrated By John Lee for Crossroad Press — "These stories represent decades of collaboration between author David Niall Wilson and a wide array of talented authors. All have been professionally published – some have been reprinted and collected. All are the result of two muses meeting on paper. Meet a modern day Don Quixote, fighting Y2K bug nightmares, and striving to save the woman of his dreams. Learn how Edgar Allen Poe might have found his tales. Face off on a lonely mountaintop with Lovecraftian nightmares. Join a young man in a ghostly race to save a relative from cancer. Follow a cross-wired detective in his hunt for a lycanthropic killer bent on ending every serial killer she encounters." Additional previously-published titles by David Niall Wilson also newly in audio this year include The Fall of the House of Escher & Other Illusions, The Call of Distant Shores, and Kali's Tale: Book IV of the DeChance Chronicles.
Walking Wolf By Nancy A. Collins, Narrated By Mike Gurdy — "Walking Wolf is the orphaned son of white settlers, found as an infant and raised to be a proud Comanche warrior. He also happens to be a werewolf. When he loses control of his darker nature, Walking Wolf heads out into the white man's world to learn more about who – and what – he is. This is his story of self-discovery as he travels the Old West, crossing the paths of deranged serial killers, a traveling medicine show, a vampire gunslinger, even a fellow werewolf, as well as such historical figures as Quanah Parker and Sitting Bull. But of all the dangers he finds himself facing, none is as deadly as the bounty hunter known as Witchfinder Jones, who holds the secret of Walking Wolf's origins."
Slam By Lewis Shiner, Narrated By Stefan Rudnicki for Blackstone Audio — "Slam is a bright and acerbic depiction of the slacker culture of Texas and a testament to a lost and found generation. Dave stepped out of Bastrop Federal Prison after a six-month stretch for tax evasion and into the home of one Margueritte Johnson, a.k.a. the Old Lady. The Old Lady passed on, leaving her house and her fortune to her twenty-three cats. But the cats need a caretaker – or so he thinks. There are others with an eye on the Johnson estate, and soon Dave is caught up in a whirlwind of anarchists, gold diggers, skateboard punks, lawyers, hackers, and arsonists – a population of dropouts and misfits who willdo anything to avoid doing anything."
Collected Stories by Lewis Shiner, read by a full cast for Blackstone Audio — "Collected Stories is the definitive compilation of Lewis Shiner's short work, featuring over forty stories voiced by top narrators in the business. Stories include Perfidia, Stuff of Dreams, The War at Home, Straws, Nine Hard Questions about the Nature of the Universe, White City, Primes, The Long Ride Out, Sitcom, The Death of Che Guevara, His Girlfriend's Dog, Deep without Pity, The Circle, Twilight Time, Jeff Beck, Wild for You, Till Human Voices Wake Us, Flagstaff, Tommy and the Talking Dog, Oz, Love in Vain, Steam Engine Time, Kings of the Afternoon, Sticks, The Tale of Mark the Bunny, The Killing Season, Scales, Snowbirds, Match, Relay, Castles Made of Sand, Prodigal Son, Mozart in Mirrorshades (with Bruce Sterling), Kidding Around, Mystery Train, Secrets, Golfing Vietnam, Stompin' at the Savoy, Gold, Dirty Work, and Lizard Men of Los Angeles."
MUSIC / GAMES
Truths and Lies and Make Believe by Gray Rinehart (August 21) — "Songs inspired variously by: Firefly/Serenity, Star Trek, Star Wars, and many other shows; the Monster Hunter International series by Larry Correia, the Harry Potter series by J.K. Rowling, The Lord of the Rings by J.R.R. Tolkien, and many other stories; every arrogant, megalomaniacal politician who ever served a day in public office; Moses, Peter, Thomas, and many other Biblical figures who show that even inarticulate, inconsistent, and doubting people are welcome in God's Kingdom; and more."
The Monster Hunter International Employee Handbook and Roleplaying Game by Steven S. Long (HERO Games, July 19) — "Vampires, werewolves, zombies, and other horrors have plagued our world unchecked for far too long. Now you can help put an end to these monsters, and many others, with The Monster Hunter International Employees Handbook and Roleplaying Game! Based on the best-selling "Monster Hunter International" novels by Larry Correia, the MHIEHRPG is your official guide to Monster Hunter International and the world it fights monsters in. Even better, it's also a roleplaying game that includes all the rules you need to create characters, play the game, and have amazing adventures in the MHI setting! The MHI Roleplaying Game uses the award-winning HERO System rules. They'll be included in the MHIEHRPG book itself so you don't need to buy any other books to play the game. The MHIEHRPG is a full-color, hardcover, 300 page book."
BULL SPEC
Bull Spec #8+9 was released in April, with the most original fiction yet packed into a special double-issue complete with full-color 4-page centerfold with the 2013 book preview and event calendar, and some of the best speculative poetry in print, a fantastic array of non-fiction interviews and essays and reviews, and the conclusion of Jeremy Whitley and Jason Strutz's 4-part graphic short story. And! An excerpt of Mur Lafferty's The Shambling Guide to New York City.
NOTABLE NON-GENRE FICTION
Z: A Novel of Zelda Fitzgerald by Therese Anne Fowler (St. Martin's Press and Macmillan Audio, March 26) — "When beautiful, reckless Southern belle Zelda Sayre meets F. Scott Fitzgerald at a country club dance in 1918, she is seventeen years old and he is a young army lieutenant stationed in Alabama. Before long, the "ungettable" Zelda has fallen for him despite his unsuitability: Scott isn't wealthy or prominent or even a Southerner, and keeps insisting, absurdly, that his writing will bring him both fortune and fame. Her father is deeply unimpressed. But after Scott sells his first novel, This Side of Paradise, to Scribner's, Zelda optimistically boards a train north, to marry him in the vestry of St. Patrick's Cathedral and take the rest as it comes."
Lookaway, Lookaway by Wilton Barnhardt (St. Martin's Press and Macmillan Audio, August 20) — "Jerene Jarvis Johnston and her husband Duke are exemplars of Charlotte, North Carolina's high society, where old Southern money—and older Southern secrets—meet the new wealth of bankers, boom-era speculators, and carpetbagging social climbers. Steely and implacable, Jerene presides over her family's legacy of paintings at the Mint Museum; Duke, the one-time college golden boy and descendant of a Confederate general, whose promising political career was mysteriously short-circuited, has settled into a comfortable semi-senescence as a Civil War re-enactor.  Jerene's brother Gaston is an infamously dissolute bestselling historical novelist who has never managed to begin his long-dreamed-of literary masterpiece, while their sister Dillard is a prisoner of unfortunate life decisions that have made her a near-recluse."
Local Souls by Allan Gurganus (Liveright Publishing and Audible, September 1) — "With the meteoric success of Oldest Living Confederate Widow Tells All, Allan Gurganus placed himself among America's most original and emotionally engaged storytellers. If his first comic novel mapped the late nineteenth-century South, Local Souls brings the twisted hilarity of Flannery O'Connor kicking into our new century."
27 Views of Raleigh: The City of Oaks in Poetry and Prose (Eno Publishers, September) — edited by and with an introduction by Wilton Barnhardt: "Eno Publishers builds on its successful 27 Views series 27 Views of Durham (2012); 27 Views of Hillsborough (2010); 27 Views of Chapel Hill (2011); 27 Views of Asheville (2012) by showcasing the literary community of Raleigh, North Carolina, in 27 Views of Raleigh: The City of Oaks in Prose & Poetry. The book features prose and poetry by 27 writers, who in poetry, essays, short stories, and book excerpts focus on the famous capital city. Contributors to this anthology include Bridgette Lacy, Tom Hawkins, Margaret Maron, David Rigsbee, Rob Christensen, Angela Davis-Gardner, Lenard Moore, Jimmy Creech, Amanda Lamb, Kelly Starling Lyons, Betty Adcock, Tracie Fellers, Grayson Currin, Eleanora E. Tate, Hillary Hebert, Scott Huler, G.D. Gearino, Dana Lindquist, June Spence, Elaine Orr, Juliana Nfah-Abbenyi, Peggy Payne, and Tina Haver."
Life After Life by Jill McCorkle (Shannon Ravenel Books, March 1) — "From the knowing grandmother in the novel "Tending to Virginia" to the failing mother stressing out her daughter in the short story "Going Away Shoes," elderly characters have always played their parts in Jill McCorkle's small-town, intergenerational fiction. But the "manly voice" with "pipes and whistles in his sound," as Shakespeare put it, reverberates in its own distinctive fashion in the retirement home setting of McCorkle's new novel, where the yoga class finds "a whole roomful of old folks breathing deeply and chanting — one sounding like a sewing machine and another a squirrel."" — Excerpt of New York Times Sunday Book Review.
The Death of Santini: The Story of a Father and His Son by Pat Conroy (Nan A. Talese, October 29, 2013) — "In this powerful and intimate memoir, the beloved bestselling author of The Prince of Tides and his father, the inspiration for The Great Santini, find some common ground at long last." (South Carolina)
Guests on Earth by Lee Smith (Algonquin Books of Chapel Hill, October 15) — "Evalina Toussaint, orphaned child of an exotic dancer in New Orleans, is just thirteen when she is admitted to Highland Hospital in Asheville, North Carolina. The year is 1936, and the mental hospital is under the direction of the celebrated psychiatrist Dr. Robert S. Carroll, whose innovative treatment for nervous disorders and addictions is based upon fresh air, diet, exercise, gardening, art, dance, music, theater, and therapies of the day such as rest cures, freeze wraps, and insulin shock. Talented Evalina is soon taken under the wing of the doctor s wife, a famous concert pianist, and eventually becomes the accompanist for all musical programs at the hospital, including the many dances and theatricals choreographed by longtime patient Zelda Fitzgerald."
The Moon and More by Sarah Dessen (Viking Juvenile, June 4, 2013) — "Luke is the perfect boyfriend: handsome, kind, fun. He and Emaline have been together all through high school in Colby, the beach town where they both grew up. But now, in the summer before college, Emaline wonders if perfect is good enough."
Raleigh Review (Vol. 3 (2012-2013)) edited by Rob Greene (Sheridan Press, 2013) — The third volume of the Raleigh Review, including short stories and poetry.
WHEW!
That's all I have for 2013. Again, please comment and let me know of corrections / additions / mis-files / etc. And support your local authors and bookstores! And if somehow nothing on this list strikes your fancy, head on back to 2012 for books by Mark Van Name, J.L. Hilton, John Claude Bemis, Stephen Messer, Natania Barron, Lisa Shearin, T.C. McCarthy, John Kessel, and…
NOTE: By my count, there's 44 adult speculative fiction novels; 2 single-author collections; 12 young adult novels; 2 middle grade novels; 2 young reader books; and "tons" of anthologies and audiobooks and comics and other projects.
AND: For those who prefer a condensed and audio approach, I was very happy to talk about some of these books on WUNC's "The State of Things" with host Frank Stasio and fellow guest Jamie Fiocco of Flyleaf Books, and the podcast for the show is now available.