Posted: 14 September, 2015
Filed under:
The Exploding Spaceship
| Tags: david b coe, jay posey, john scalzi
1 Comment
Review of Dawnbreaker: Legends of the Duskwalker Book Three by Jay Posey (Angry Robot Books, August  4, 2015)
This is the third volume of Cass and Wren's story. This time they spend much of the story apart, so we have separate narratives. Wren leaves Greenstone with Three's training brother Haiku and goes off to the tower where they live in order to be trained. He learns a great deal from Three's teacher but most of what he learns is about himself. He becomes more confident and secure in himself and much more independent. After the decisions he must make in the final battle, Wren is no longer a child, but a small size man.
Cass is fighting to stay alive because Asher can track her. She and Gamble's group get attacked several times and once Cass realizes she is being tracked she sends Gamble off to Wren (or where she thinks Wren is). Gamble's group go to Greenstone and they and all the local bigwigs help form a plan for defense since the city guard refuse to believe an attack is imminent. Cass and Wren head to Greenstone for the final confrontation with Asher.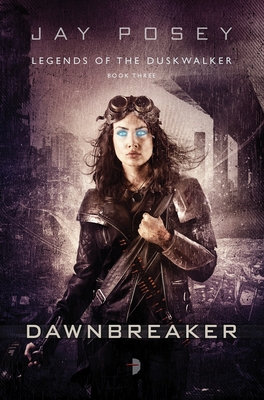 The two viewpoint characters in the book, Cass and Wren, have grown and changed over the course of the series, and both are vastly different at the end of this volume than they were at the beginning of it. Because Wren is a child, showing the changes he goes through without sacrificing his childlike qualities is a difficult stunt to pull off. The author does a good job of making him more responsible and able to strategize and do some things above his age because of the training, but shows that Wren still wants to be a child at the end of the day, and this shows in the choices Wren makes. Cass has to be able to let Wren go in order to protect him and in the end this allows her to learn more about herself as well since Wren isn't there to do some tasks for her.
This is a post-apocalyptic science fiction story which feels sort of like an urban fantasy. There is fighting in amongst buildings and the characters explore urban areas. There is hidden tech which the bad guys use and the good guys want to destroy. There is extensive use of guns and even little Wren fires one in this book.  If you like urban fantasy or low-tech science fiction then this would suit you. It is a character story, primarily focused on a mother and the fight between her two sons, one of whom has gone completely into the digital world and in order to get his little brother threatens their entire known universe.  You really want to root for Cass and Wren and hope they can save the last remnants of civilization. It will be interesting to see if both mother and son enter the training tower of Three's teacher in another book.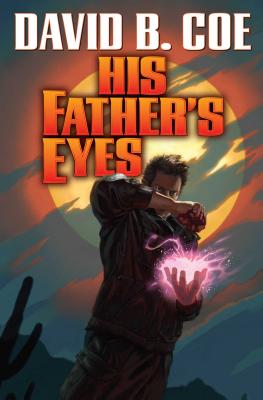 Review of His Father's Eyes (Case Files of Justis Fearsson) by David B. Coe (Baen, August 4, 2015) Read the rest of this entry »
---
Posted: 31 July, 2013
Filed under:
The Hardest Part
| Tags: jay posey
Leave a comment
Durham author Jay Posey has written stories for a living for a while now; Tom Clancy gets his name on the cover of the game box, though. Posey got his own cover treatment yesterday, however, as his debut novel, the post-apocalyptic-set Three, the first in his Legends of the Duskwalker series set to be published by Angry Robot Books. Here, Posey writes about the help and encouragement along the way to getting past attacks of self-doubt and all the way to "The End".
By Jay Posey:
It probably comes as little surprise, but for me, being a first-time novelist, the hardest part of writing Three was believing in it enough to actually finish it.
By the time I started working on Three, I'd already written a number of screenplays, short stories, and video games, so I was no stranger to the hard work that it takes to finish a story.  But by that time, I'd also seen a number of much-beloved projects vanish into the ether without any discernible effect on the world or my bank account.  Looking around, there wasn't really any reason to believe this work was going to be any different.
There were many times over the course of writing where I lost my way, when I told myself that even if I finished this novel no one would care, it would never amount to anything, that I was a terrible hack, and plenty of other self-defeating things. Sacrifices had to be made to carve out that writing time, and most of the time it didn't seem worth it.
But there were two saving graces over that long process.  First off, I'm extremely blessed with a great family and supportive friends who were willing to cheer me on even when I didn't see much point in sticking with it.  There was encouragement without condemnation, and plenty of patience with the Mr. Grumpypants Precious Snowflake Misunderstood Artiste that showed up around the house from time to time.  (Maybe most of the time.)  There was grace for the many missed self-imposed deadlines.  And I had a good friend who was willing to read each chapter of the manuscript as I completed it, and who was also kind enough to continually demand the next chapter until I actually delivered it.
It may also have helped that I specifically chose Three for the sole purpose of proving to myself that I actually could finish something. I'd spent several years working on my Epic Fantasy Trilogy off and on, convinced that it would surely be my ultimate masterpiece. But I'd never been able to get it to a point where I felt like I was achieving my vision for it. After some honest soul-searching, I realized that I just wasn't a good enough writer yet to tell the story I wanted to tell in that world. So, I decided to set that story aside and pick one of my other many ideas to work on, one that I "didn't care as much about". I told myself the only goal for the novel was to finish it.
Of course, as I worked on Three, I came to care about it very much, which sort of started me down the same road I'd been on with the Epic Fantasy Trilogy … I started to convince myself that even if I did finish it, it'd never be what I wanted it to be. But I stuck with it, thanks to a lot of helping hands who wouldn't let me quit.
It's strange to be a writer who sometimes dreads writing. It's sobering to recognize that sometimes you're your own worst enemy.
And it's invaluable to surround yourself with people who believe in your dream so much that they'll keep the faith even when you can't.
—-
Jay Posey is a narrative designer, author, and screenwriter.  Currently employed as Senior Narrative Designer at Red Storm Entertainment, he's spent about 8 years writing and designing for Tom Clancy's award-winning Ghost Recon and Rainbow Six franchises.  He started in the video game industry in 1998, and has been writing professionally for over a decade.
---
Posted: 9 November, 2012
Filed under:
Uncategorized
| Tags: alex granados, jay posey, zack smith
Leave a comment
First, this is something I've been meaning to talk more at length about all week: Raleigh journalist Zack Smith's first published comic "The Stars Below" just hit digital shelves, with art by Portland artist Rich Ellis:
Zack first showed this to me over a year ago, and right away I was blown away by this powerful and actually moving story, told without words from a pigeon's perspective in New York. I'm very glad it is out for a wider audience. It's just a buck from Comixology, and of the list of impressive reviews he's already accumulated, here's one I think which takes the cake: "Here is the quintessential New York survivor's story, told with warmth, humor and vibrancy.  And there's even a chase scene." –Junot Díaz (Drown, This is How You Lose Her, Pulitzer Prize Winner, The Brief Wondrous Life of Oscar Wao).
Second, some great local publishing news as Angry Robot Books announced that it has signed local author Jay Posey to a 2-book deal for his Duskwalker Cycle set in a post-apocalyptic America. Congrats, Jay!
Lastly, some event reminders over the weekend and next week:
---